Kate Schelter has been a contributor to Romy and the Bunnies from the very beginning and in many different ways. She started as one of our illustrators (Mustela, Tata Harper , Bonpoint and many more), until we found out she was pregnant and interviewed her about her pregnancy pilates classes and styling tips!
Now a mother herself to little Charlotte, almost 6 months old already, she steps back in time and shares some of her most important pregnancy tips.
I'm a believer in less is more, or as I like to say "buy better, buy less", especially with pregnancy and babies. There is so much on the market and it can be overwhelming and intimidating. I'm a very organized person but I didn't worry about pregnancy and baby stuff mostly because you really don't need that much. There is so much "over marketing" out there. I got everything I needed from family, friends and my shower– everything fell into place. Babies have been born for a millennia without all the "stuff". Of course there are modern conveniences that are really helpful. I'm here to share mine. Enjoy!
P.S. A word or advice: hand-me-downs are a baby blessing since you are recycling the "tried and true" from friend to friend, passing the stuff that is USEFUL instead of the extra "stuff" that accumulates too quickly. Pay the favor forward: give it to your next pregnant friend, thereby creating more space. That goes for support and advice as well! It's good karma!
OBGYN / MIDWIFE / DOULA
Whether you chose an OBGYN, or midwife in a hospital, a birthing center or home birth, I highly recommend researching all your options as early as possible in pregnancy. I wish I had done more research. There are many decisions to learn about.
DOCUMENTARY FILMS ON CHILD BIRTH
I watched two excellent documentaries, The Business of Being Born (on Netflix) and Birth Story Movie (on iTunes) on midwifery and hospitals and was deeply moved and informed.  
BOOKS
Reading about pregnancy is so fun when you are pregnant. I read little installments as I grew and when I felt like putting my feet up. Books were a nice, quiet companion. Among my favorites are Spiritual Midwivery by Ina May Gaskin, Birth Stories by Ina May Gaskin, What to Expect When You're Expecting by Heidi Murkoff and Sharon Mazel, and The Birth Partner by Penny Simkin.
UNDERPINNINGS
I'm a big believer in non maternity wear while dressing for pregnancy, but here are a few tips to help you "behind the scenes", aka your undergarments.
SELF CARE
• La Mer face cream
• New Chapter or Vitafol-One Prenatal vitamin
• Olio Lusso Body Oil but any brand will do. Apply after a shower to readily absorb into skin.
• Pedicures/foot massage helped tremendously to be nice to my feet since they carried me and the extra weight every day.
• Niseema Massage– my amazing masseuse who specializes in pre and post natal massage (and could also help nudge you into labor if needed) helped heal my whole body of aches and encouraged circulation
CLOTHES
FITNESS
I got as much exercise as I could, while I could, which meant during my second trimester and beginning of my third since I was too sick during the first to do anything! Core strengthening at Power Pilates and stretching with Prenatal Yoga are great. Walking is the best for circulation and exercise. The bigger my belly became (when all I could do was lie on the sofa), is when I needed it the most. Even short walks– then I would put my feet up. I forced myself to take a few flights of stairs– when I could– to keep my hips loose and open.
By Kate Schelter.
 Photos: Ethan James Green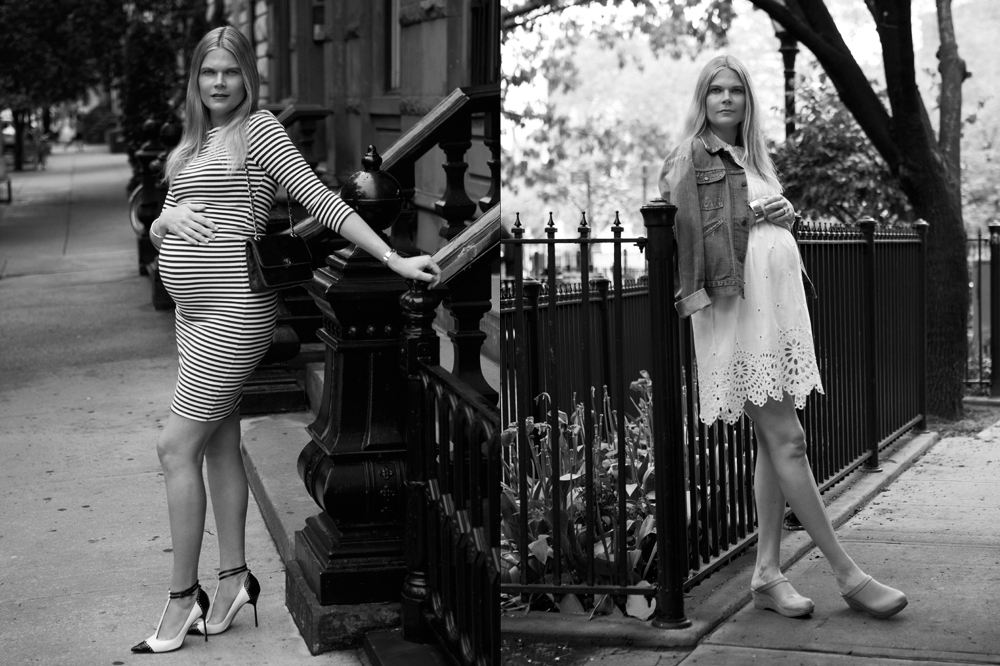 x
Subscribe
Receive all things Romy & The Bunnies direct to your inbox. Don't worry – you information is secret safe with us!