You're a soon-to-be mother of three! Have you settled into a pregnancy routine at this point? Or is anything different this time around?
This time round I have had much more energy. I've started two businesses and travelled extensively to places like Morocco, New York, Paris, Istanbul, Mykonos and Spain. I have also exercised more and approached the challenge of dressing a bump with more confidence this time, realizing you don't have to change your style at all.
Between your job as a fashion editor, business owner, travelling, and motherhood, how do you make everything look so easy?
It always starts with the children. If they are happy, settled and in a good routine, I can grow from there. They attend a wonderful Montessori on our street, which makes things handy. But I have learnt that the younger they are the harder it is to find balance.
You're Australian, based in Dublin, and work in London— are there any big cultural differences when it comes to pregnancy? Or any Aussie traditions you try to maintain?
We currently live in Ireland and women here think nothing of having four children. Most of my friends have three, and several girls I know are one of eight siblings. It really is part of the Irish culture and always has been. Although far away, Australia is a big part of our children's world and we instil it in their upbringing. We visit Australia every Christmas and hire a house by the sea (Portsea, Victoria) which they've grown to adore. They sleep with koalas that play 'Waltzing Matilda' and read bedtime stories like "Rosie and Mack Head Outback" by our friend Celia Shelmerdine, (it's all about her time living in the Kimberley Ranges) and 'Dingo's Tree' by Indigenous author Gladys Milroy. There are many wonderful Aboriginal children's tales.
What are some of your favorite things to do in London and Dublin as a family?
In Dublin we like to explore to the neighboring counties on weekends, like Wicklow or Kildare and let the children run in the green Irish countryside in their Wellington boots. There are lovely, organic spots to eat lunch by mountains or waterfalls. In London we like to go to The Natural History Museum (the children love the dinosaurs), child-friendly art exhibitions (i.e. The Saatchi Gallery in Chelsea) and generally we just love to push around our trusty double Mountain Buggy pram the streets of London, soaking in the wonderful city as a family.
Did you have any go-to pregnancy silhouettes or favorite pieces?
I wear my own wardrobe until five months when I need a bit of 'stretch' (I think pieces from your existing wardrobe look fabulous stretched over a bump as it's the best accessory there is–I like a tighter pregnancy silhouette). Then I invest in some pieces that will stretch over the bump and grow with it. I try to make those pieces fashionable so I feel still good when I get dressed. My favorite pieces have not been 'maternity' styles, simply things that stretch and don't restrict the waist. They are:
–Paige Denim's blue denim 'Lexie' jumpsuit with its low waistband.
-Phillip Lim's 'Patchwork Tweed Dress'–from great pregnancy dressing designer website Nine In the Mirror–that is perfect for day with biker boots, and for night with stilettos.
– Peter Pilotto's 'Pac Intarsia' skirt [similar] and top in a crazy yellow and orange print [similar].
– Lululemon 'Gypsy' yoga trousers, which are surprisingly chic, are my go to basic with thier built in, supportive tummy band.
– Faded vintage Level 501 jeans with holes from Rokit Vintage in London which I cut the waistband off of and had an elastic waist added.
– Alessandra Rich and Emila Wickstead dresses in size 14s for evening events.
– Sandro and Isabel Marant stretchy knitted dresses.
– A fun Marc by Marc Jacobs 'Bunny Hop' printed long jersey dress.
– Antique, traditional dresses from Pakistan bought in the bazaars of Istanbul.
 What about beauty routine? Any favorite products?
I love beauty products! My skin is far more sensitive when pregnant and I try to fill it with extra moisture. This pregnancy's star beauty products are:
– Sisley's Black Rose Precious Face Oil–for heavenly extra moisture at night.
– Susanne Kaufmann's Fruit Acid Peel–provides a very natural lift to for tired skin.
– Omorovicza's Thermal Cleansing Balm–for the most gentle and sublime cleanse that melts onto your skin.
– Aromatherapy Associates De-Stress Muscle Gel–for sore backs in the third trimester.
– My beloved Clarisonic cleansing brush.
– Clarins Tonic Body Treatment Oil–third time around and this is still the best oil for tummies.
– Sisley's Supremya Night Cream–the ultimate night cream and this extra bit of luxury when you're heavily pregnant is a real treat. (Also a great skin savior and a luxurious mental lift for the hospital bag).
– Dr Frances Prenna- Jones Formula 2006–an incredible multitasking potion with a cult following–pregnant or not.
– Dr Kneipp Orange & Linden Blossom Herbal Bath for mornings and Dr Kneipp Valerian & Hops 'Sweet Dreams' Bath for nights.
– Zita West's pregnancy vitamins.
– Extra strength Arnica Homeopathic pills made to order by Nelson's Pharmacy Homeopathic service in London (can be bought on line) taken a week before the due date and for after birth.
– In my hospital bag for after the birth Nelson's Pharmacy Sepia and/or Pulsatilla Homeopathic pills to relieve mood swings when 'the milk comes in' caused by dropping hormones.
– After the birth I wear Belly Bandit's Belly Wrap.
Who are some of the most inspiring moms you know?
Many of my close friends who are mothers inspire me–several of them are older and did the motherhood thing before me. It wasn't until I had my own children that I really saw how brilliant they were and it opened up whole new sides to our friendships. These women live all around the world–from Sydney to Houston–and have managed to create happy, active, fulfilled children whilst maintaining their own careers and keeping themselves challenged, present, and happy. They've given me practical (global) tips on everything from advice on the best London schools, which music classes to attend in Texas, healthy kids recipes and the best sun protection swimsuits for the Australian summers. Along with their motherly wisdom about how to find balance. I'm very grateful to them.
What are some of your favorite ways to relax or treat yourself?
Travelling is my favorite thing to do. It fills me with joy and inspiration. This will become more difficult now with the baby and two small children but I am already dreaming of Calcutta in India for Easter! I prefer to jump on a plane and explore markets in places like Tangier then anything else.
What about exercise?
I didn't really exercise throughout my first two pregnancies and suffered as a result. I was not physically strong after the births, took longer to recover from my C-Sections and subsequently had more weight to lose. Also, I was pregnant again five months after the birth of my first child so felt I lost all control of my body. Not a good feeling! This time I was determined to exercise right up to the birth with my third baby and have achieved my goal. I saw a trainer twice a week for weight lifting, squats, etc and did a weekly pregnancy Pilates reformer class. I am a big fan of Mary Helen Bower's 'Ballet Baby', Tara Lee's pregnancy yoga DVD and Trainer James Duigan's 'Clean and Lean' Pregnancy Guide book
What has surprised you the most about motherhood?
How wonderful it is. I really threw myself into motherhood having a fourteen month old and then a newborn (and a move to America six weeks after the second birth). So after that I feel I can handle anything! Like three children, who are three years old and under. Which will be the case by the end of this week! Although I am a bit daunted by the prospect, I will just take it as it comes. I like the challenge of it and the rewards it brings. I know this intense phase won't last forever so I am going to relish in it, fully enjoy it and work on trying to maintain a balance in my life with time for myself, my work and my children. The wonders of seeing the children grow into little people will make it all worthwhile.
Photo by Sean and Yvette Photography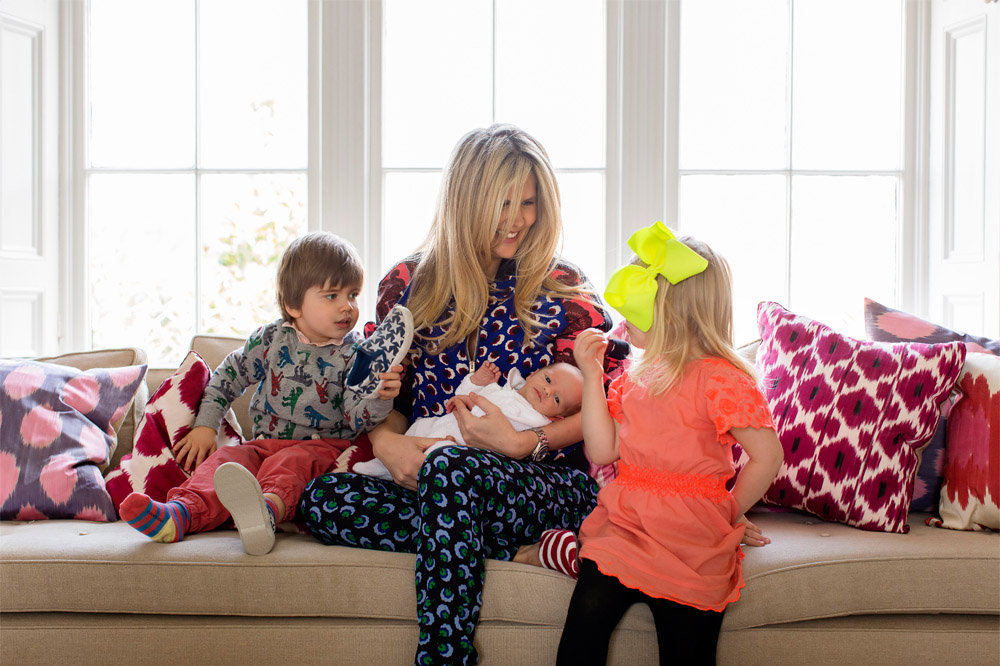 x
Subscribe
Receive all things Romy & The Bunnies direct to your inbox. Don't worry – you information is secret safe with us!