Hi Bara, can you describe yourself in a few words?
I was born in Czech Republic; I'm a model so for some time I was traveling non stop. Now that I have my baby boy we are living here in NYC.
How old is your baby boy?
He just turned 2!
During pregnancy, did you give into maternity clothes? What was your day-to-day look as your bump was growing?
Well my bump wasn't really that big, so I just bought a couple pairs of maternity jeans and would just wear baggy button downs, shirts, and sweaters.
What was your beauty routine? Do you have any beauty tips you would like to share with future mothers? Such as oil, or creams, beauty rituals? 
The first thing I tried was to use coconut oil for my belly but what really worked for me was heavy creams as Nivea so I didn't get any stretch marks, and drinking a lot of water.
What about today, do you have any skincare regimen or products you cannot live without?
I really like Origins. I use the scrubs and masks, skin tone correcting serum and also I am also using the sea berry moisturizing face oil everyday.
As a model, do you have any tips on how you maintained your body during your pregnancy?
Eat healthy, drink a lot of water and keep moving!
You must travel a lot for work, how do you organize it with your baby? 
I'm lucky to have my husband who helps me a lot along with friends, and back in Italy its always grandma who helps.
Do you take him a lot on trips with you? If so, any traveling tips?
Yes, he has been traveling with us. Most of the time it's overseas. I always bring some of his favorite toys and snacks. Looney tunes videos always seem to work too!
What are your favorite children swear brands? 
As most kids Sammy is growing so fast. I always am going to H&M.  The clothes are a good price especially for something you might only be able to use a couple of months.
What are your favorite things to do together? Any child friendly places in NYC you would like to recommend? Things to do together?
We usually hang out in park in our neighborhood.  He loves riding his bicycle and playing with other kids.  He also enjoys music so we do a lot of dancing!
Can you sum up a day in your life, how you organize your time between "me" time, mommy time etc?
We spend almost everyday together. I take him around the city with me to my appointments and about twice a week I go to gym or go hang out with girlfriends to have some "Me" time. I also try to have time for my husband, we go for little dinner dates or hang out with friends, and I think it's very important.
Thank you Bara!
Model: Bara Holotova at Ford Models
Photos: Ethan James Green
Stylist: Mark Jen Hsu 
Hair: Hiraku Hirano
Make up: Tara Pagliara 
Photo Assistant- Daniel Jaramillo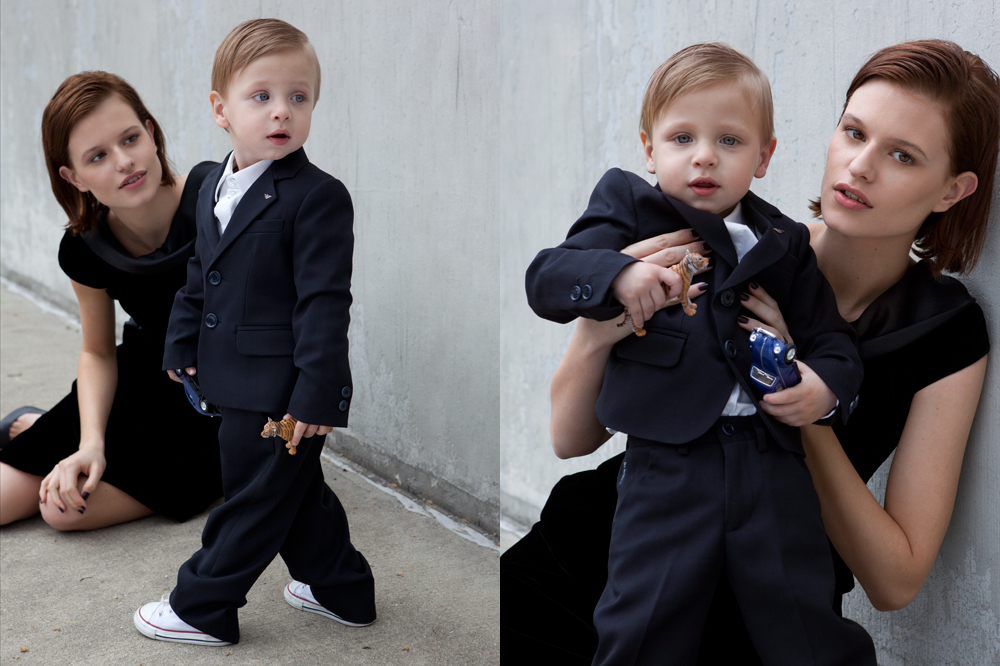 x
Subscribe
Receive all things Romy & The Bunnies direct to your inbox. Don't worry – you information is secret safe with us!