Molly, what do you love the most about becoming a mother?
Becoming a mother and wife is the best thing to ever happen to me! Every day I get to watch my baby grow up in front of me! I couldn't feel luckier or happier.

What surprised you the most?
I'd always heard the expression "It takes a village to raise a child" but I didn't realize how true it was until I had one of my own. It really does take village and I learned that I shouldn't be ashamed of asking for help. I'm always asking my girlfriends for advice and new tips/tricks they learned along the way.

Did you enjoy being pregnant? Upside, downside?
I loved being pregnant and loved the connection I created with Brooks while he was inside of me. For the most part, being pregnant was an amazing experience. It wasn't until the very end that it got difficult. I had a thyroid problem that wasn't detected until after I gave birth. I felt big and uncomfortable and was definitely ready to give birth after those 9 months were up!

What was your day to day pregnancy look and how did it evolve as you were growing more and more?
I've never met a maxi dress I didn't like and was particularly attached to them during my pregnancy. I also wore a lot of long, stretchy skirts and paired them with either a cardigan or leather jacket. During my pregnancy, I continued to buy the same clothes I bought before but in larger sizes. Except during my final month when not even the largest size would fit me. At that point I knew it was time to give birth! 

How did you manage to stay in such impeccable shape?
I love taking classes at Tracy Anderson and Soul Cycle. I also love going on hikes and taking yoga classes. I try to do something different every day so I don't get bored and my muscles don't get lazy! After I had the baby, I would wear a corset and trashbag while working out. But I really believe it's important not to put yourself on a diet too soon. Going through labor and becoming a mom is such an intense experience. I remained active during and after my pregnancy but tried not to put too much pressure on myself.

What was your beauty routine? Any favorite beauty products during your pregnancy?
As a model, I worked with so many hair and beauty experts and always asked them what their favorite beauty tricks and products were. Then I'd go home and try them myself. During my pregnancy, I loved using Tata Harper, RMS Beauty, and Bio Oil is amazing for stretch marks!

And now? Has your beauty routine changed since becoming a busy mom?
It's much quicker than ever before. I've mastered the art of the 3 minute shower and keep my daily look pretty simple. But I'm a big believer in making the time for some sort of beauty routine. I always say "When you look good you feel good and when you feel good you look good". Getting out of those yoga pants and swiping on some bronzer and mascara really does wonders for how I feel the rest of the day when I'm out and about with my son.

You are a model and an actress, how do you manage it all while spending time with your son? What would be a usual day?
As a model and actress, every day really is different. But I'm a big believer in the motto, "Work hard, play hard" and no matter how busy my schedule is, I am insistent on spending quality time with my son and husband every day.  When I'm at work, I have to stay diligent and focused but the second I get home, I snap into mommy-mode. The most important thing I've learned is to stay present. I love modeling and acting and am so grateful for my career. But no job is more important than being a mom and I'm determined to do the best job I can possibly do.

You must travel a lot, any tips on travelling with a toddler? I find it way more difficult than with a newborn!
I don't think traveling with a toddler is ever easy but I've definitely learned the importance of a well-prepared diaper bag! We recently took a 6 hr plane ride to Miami. Before the flight, I went to the drugstore and got little toys. Then wrapped them and put them in bag. Throughout the flight, every time he got antsy I would let him unwrap a new present. It kept his attention and is something I'm definitely going to do again!

What are your favorite things to do together with your son?
We definitely keep very active and love those mommy and me classes! During his first year we took this awesome class with Jackie Rosenberg. Now that he's almost two we go to gym class, music class and love having play dates. And now that it's almost summer, we've started going to the beach!

What are your favorite kids brands?
I love Eggy, Noe and Zoe, Paige Lauren baby, Joe Fresh Baby and Baby Gap.

www.mollysims.com / Follow Molly Sims / Photos by: David Mushegain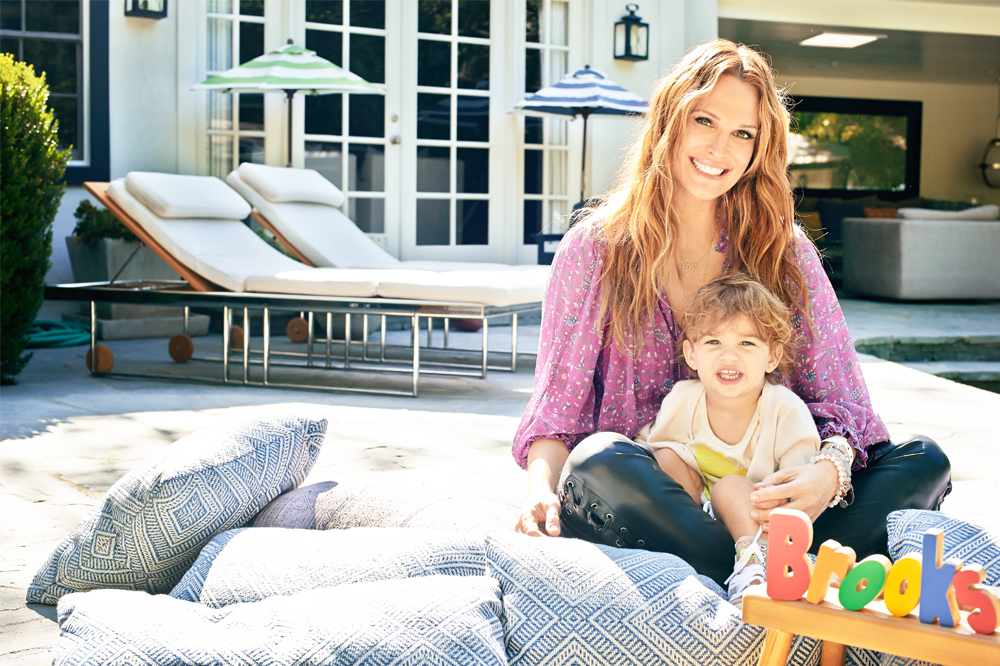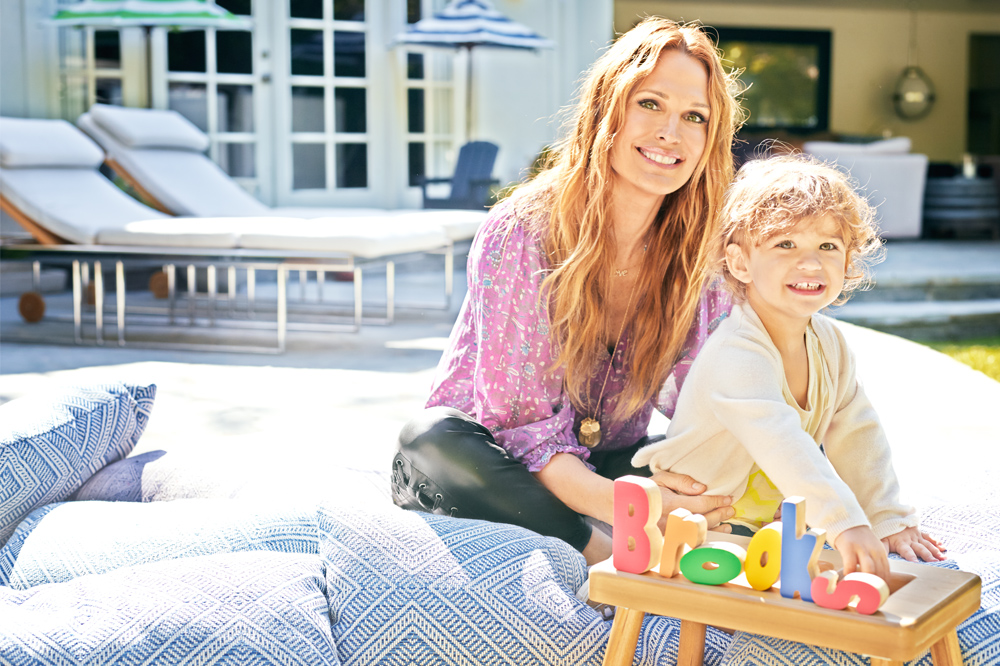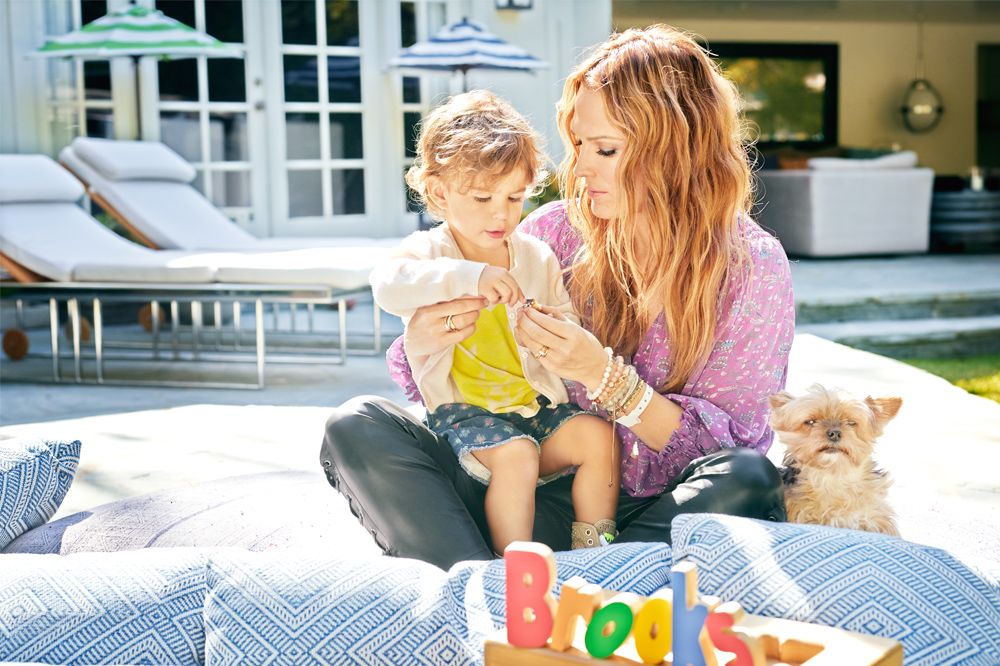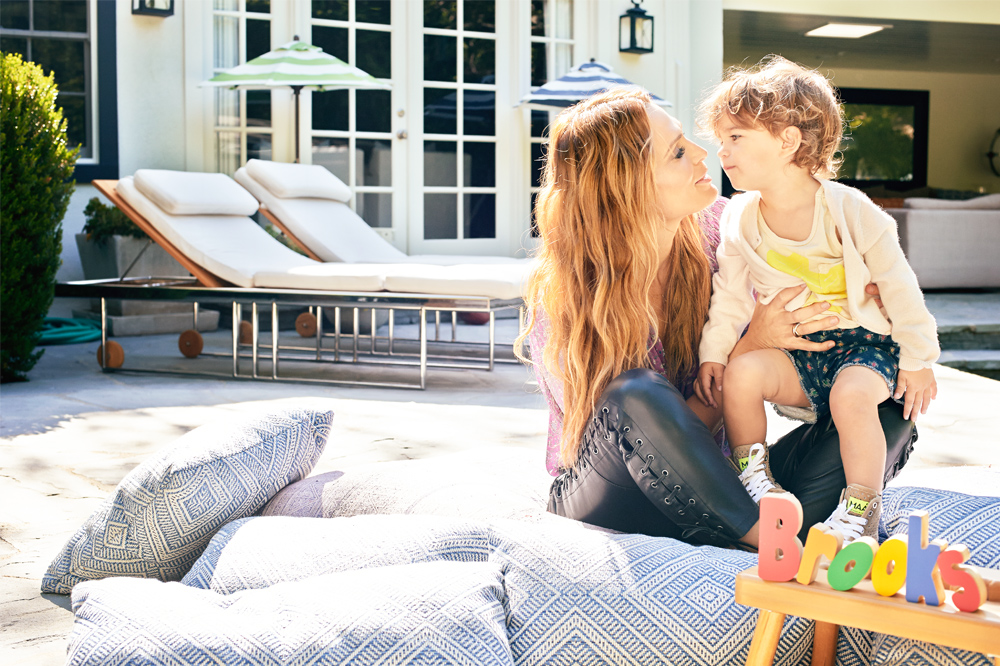 x
Subscribe
Receive all things Romy & The Bunnies direct to your inbox. Don't worry – you information is secret safe with us!