A couple of weeks ago we celebrated Romy's 1st Birthday! I had been planning and preparing for quite some time to make sure everything would be perfect. I'm sure many first time parents can sympathize with the fact that I didn't have many friends with children. With that said, I had to figure out how to make the party not only fun for the babies, but also entertaining for the many adults that came. So here (drumroll please), is a list of things that helped make the party just perfect!
1) The Location
Because my apartment was too small for a party, I needed to find a location that was close to my home and one that I was familiar with. Therefore I decided on a room at The Maritime Hotel, the exact same place where I had my baby shower! This made it so much easier to bring Romy over to the venue, and quicker to plan because I was already familiar with the staff.
2) The Decoration (Pick a Theme!)
I am a strong believer in choosing a theme for parties, whether it be a color scheme or a thematic idea. It really helps to give the event a concentrated direction. For me this was simple! Keeping the website in mind, I opted to feature bunnies and of course different hues of pink, making the party both personal and chic.
I went on Amazon and purchased some bunny ears, which I used as decoration as well as for guests to wear. They were so perfectly in-theme and gave the adults a ton of laughs! And because no birthday is complete without a Happy Birthday sign, I picked up Martha Stewart's pastel version online. We also bought some easy to make paper pom poms by Martha Stewart Craft in different hues of pink, scattering them around the room to soften the mood and break up the space. Personally I used them as table settings, but you can also set the pom poms as hanging decorations.
Then to give the party that spring fling feel, I added homemade bouquets of pink peonies and lilacs on the tables. This helped soften the room and break up the color. The final touch to the decor was jars full of lollies and candies. I had them all within the pink color scheme to keep with the theme and add some fun to the room!
Finally of course, and not to be missed, were the balloons! I ordered a few pink and white ones as well as a big "1st Birthday" balloon to personalize the day. We placed them all over the room to give it a whimsical touch. I ordered the balloons from Balloon Planet who promptly delivered on the day of the party. Made my life so much easier!
3) The Invitation
Paperless post is my go-to for planning any personal events. They have a huge selection of designs, and make it very easy to customize invitations. Guests can simply click "Yes" or "No" to RSVP, which makes it so easy to track your guest list. They also have an iPhone App for easy tracking for Moms on the go! You can also print the invitations, which I did, in order to commemorate and remember the special occasion for Romy!
4) The Cake
Designing the cake was actually my favorite part of the whole process! It was so important to me for Romy's first cake to be special, so I chose to work with Sweet Grace (whom I had previously used for my friend Anya Ziourova's baby shower). The cake was not only delicious but gorgeous as well, making it the perfect focal point of the party.
5) Personalize it
At first I had a hard time choosing the best party favor for a first birthday. After all I needed something that was child and adult friendly. A friend of mine mentioned how you could design custom M&M's and it truly was the perfect favor! I was able to choose different colors, and could even add text and photos as well as choose the packaging. I selected pink and white M&M's and applied an illustration of Romy by Lula on them. They were then individually wrapped in small bags and tied with pink ribbons.
6) The Entertainment
This was the unexpected highlight of the afternoon for both the children and adults! Because Romy loves music and dance, I decided to hire her favorite band, The Pop Ups! The band consists of Jason Rabinowitz and Jacob Stein, both of whom are from a grammy-nominated musical & puppet show. I highly recommend them for any children's occasion! They had all of us on our feet clapping and dancing, and Romy in a fit of giggles and fun!
7) The Catering
Food is always very important for me and I wanted to make sure this aspect was as perfect as possible for Romy's birthday. I opted for an assortment of St Ambroeus mini sandwiches – easy to munch and perfect for both kids and adults!
So there you have it, some tips for the perfect baby birthday celebration!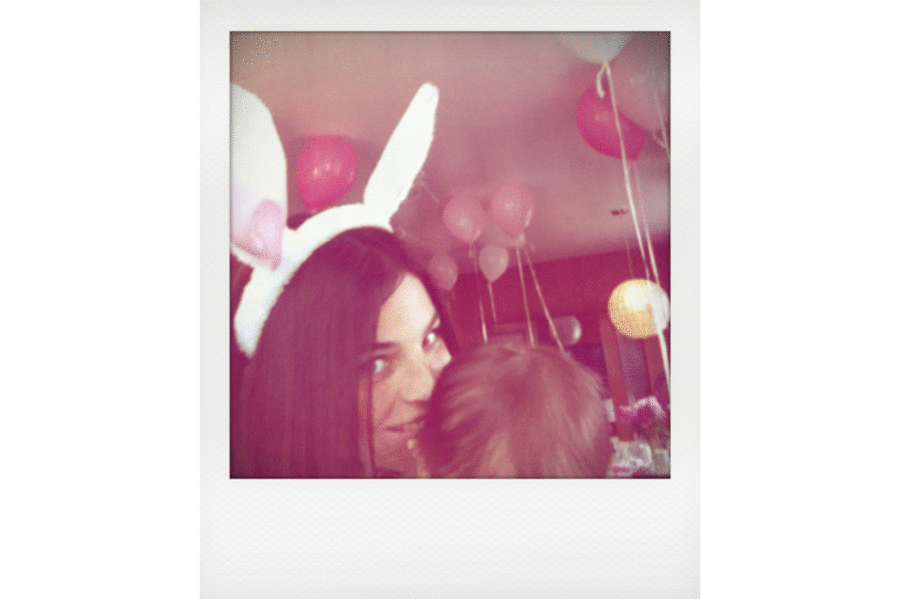 x
Subscribe
Receive all things Romy & The Bunnies direct to your inbox. Don't worry – you information is secret safe with us!