Jewelry designer Pamela Love talks to this multifaceted maman about glowy skin, social media, and the best thing she's ever scored from Carine Roitfeld's closet.
Written By AMBER KALLOR
Photography By CASSANDRA GREY
Hair By TOMMY BUCKETT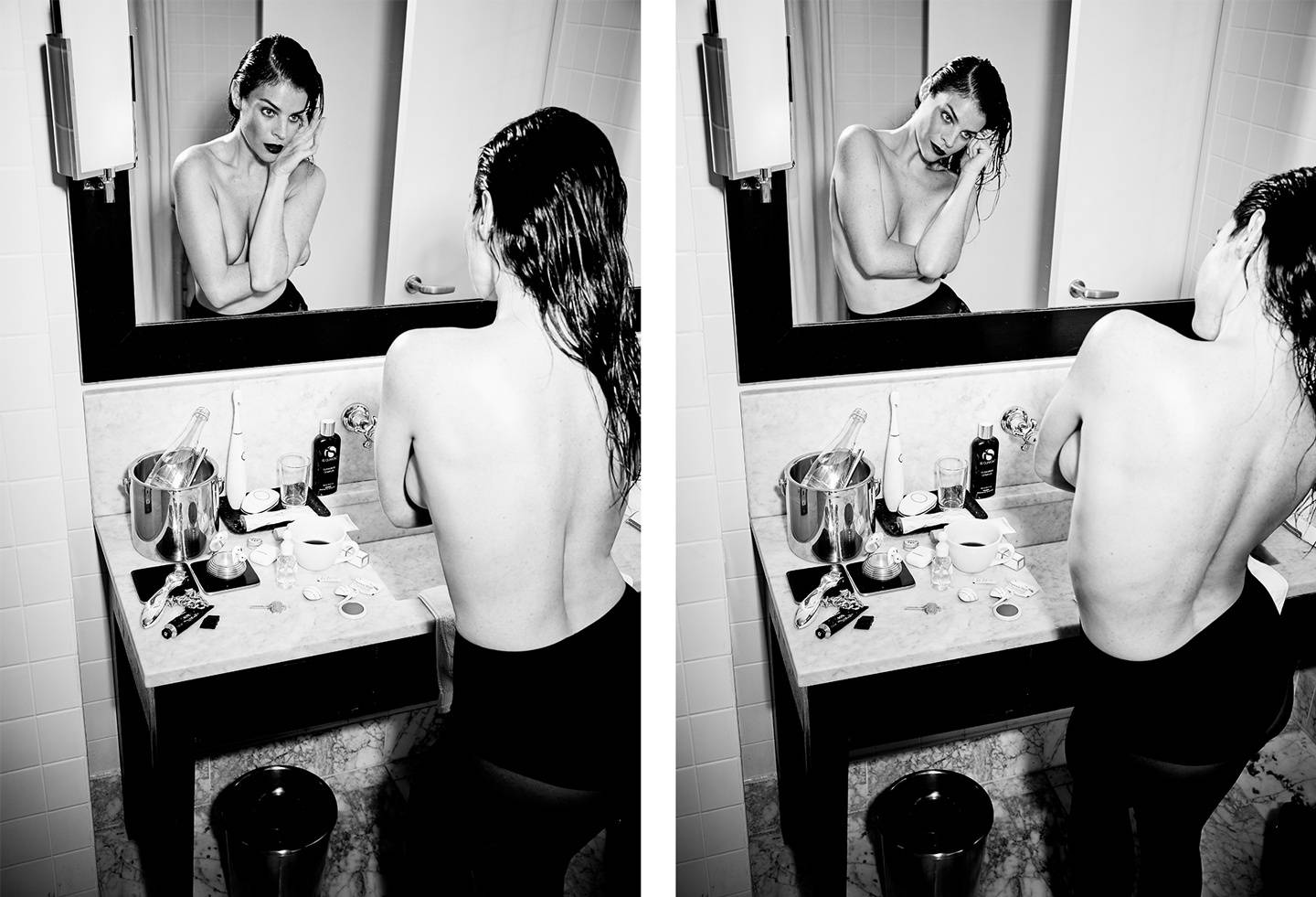 Name: Julia Restoin Roitfeld
Job Description: Art director, model, and founder of Romy & The Bunnies
Instagram: @juliarestoinroitfeld
Julia Restoin Roitfeld and Pamela Love met through a mutual friend during the Blackberry era. It was long before Love launched her eponymous jewelry line and Restoin Roitfeld gave birth to both a baby (Romy Nicole) and a business (Romy & The Bunnies, a lifestyle website created for today's modern mother). "I remember BBMing with you all the time," recalls Love of those early days in 2005. "Oh my god, if I could only find my Blackberry and scroll down to see the conversation—it would probably be hilarious and scary!" adds Restoin Roitfeld.
The friends have since upgraded to iPhones, on which they regularly swap gossip and beauty tips. Restoin Roitfeld's daughter is now nearly seven. Love's jewelry line has long outgrown the Brooklyn apartment in which it started in 2007 and blossomed into a coveted brand worn by A-listers around the world. While a lot has changed—like the fact that neither of them sleep soundly through the night and their beauty routines are centered around erasing "worry" lines—some things remain very much the same. Love still feels "validated" when she finds out she's using the same skincare product as Restoin Roitfeld, both are Pilates devotees purely because they don't have to wash their hair after a workout, and they still share the same facialist.
Here, the two women discuss everything from face bras to breastfeeding. VIOLET GREY listens in.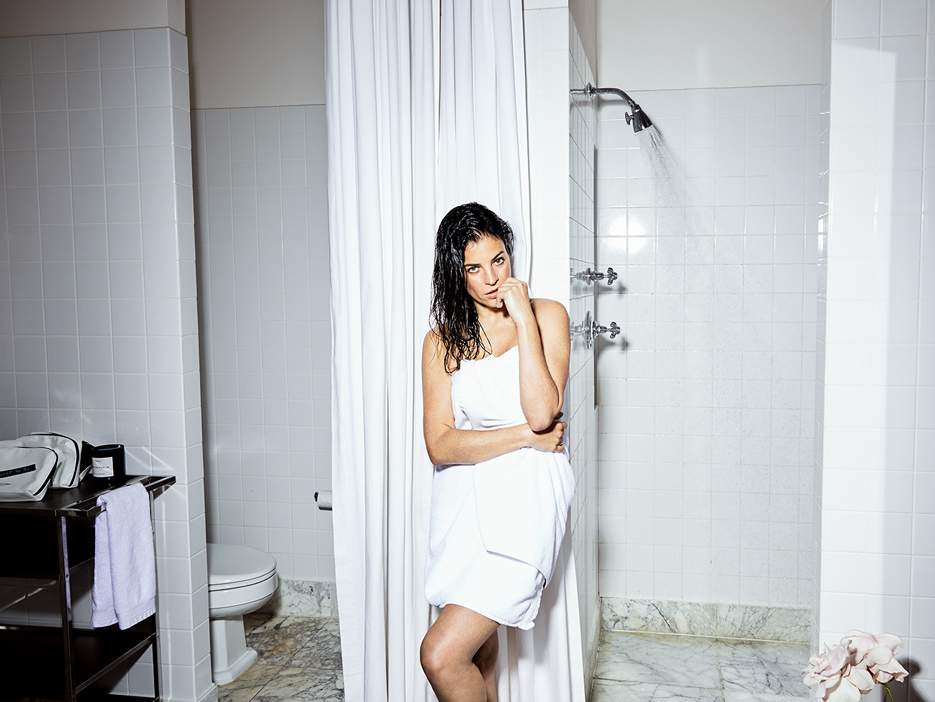 PAMELA LOVE: OBVIOUSLY, I'VE KNOWN YOU FOREVER AND WE TALK ABOUT BEAUTY A LOT. HOW HAS YOUR ROUTINE EVOLVED SINCE HAVING ROMY?
JULIA RESTOIN ROITFELD: Well it's more minimal. I never had a facial until I moved to New York. I remember you introducing me to Nachi [Kanemaru Glick], the owner of Mist Beauty.
P.L.: NO WAY—I STILL SEE HER TOO!
J.R.R.: I used to see her at a spa on Bleecker Street before she officially opened. I had a way more relaxed approach to my beauty routine then and was just discovering everything. It was when I got pregnant that I really got more into beauty and was curious about products. I also think after becoming a mother I started to need more of a beauty routine because that's when I started to see my first lines and wrinkles. And for me, washing my face, putting on cream, and doing a face mask is my me time.
P.L.: I WAS VERY EXCITED TO SEE THAT YOU STILL USE BIOLOGIQUE RECHERCHE LOTION P50.
J.R.R.: Yes, I'm obsessed. I think millions of people are now. If I don't use it for a few days, it burns my skin a little bit.
P.L.: I NEVER GO TWO DAYS WITHOUT USING IT, SO I WOULDN'T KNOW ABOUT THAT.
J.R.R.: I did run out of it for a week and I was too lazy to go buy it. Then, a friend of mine who lives around the corner brought it over to me and now I can live again.
P.L.: I FELT VERY VALIDATED WHEN I FOUND OUT YOU ALSO USE P50. I WAS LIKE, IF JULIA USES THIS, THEN IT MUST BE VERY GOOD. THE BEAUTY INDUSTRY MAKES US REALLY OBSESSED WITH EVERY LITTLE IMPERFECTION, SO I THINK WE'RE MORE FOCUSED ON AGING.
J.R.R.: Definitely. I think we were lucky to be teenagers and young adults when there was no social media. I've only had social media since I was about 32. It makes a big difference because you're more confident in yourself. Imagine having social media when you are 16 years old?
P.L.: I PROBABLY WOULDN'T HAVE SURVIVED THAT. HOW ARE YOU GOING TO MANAGE ROMY'S USE OF SOCIAL MEDIA? WILL YOU HEAVILY CONTROL HER ON INSTAGRAM?
J.R.R.: I don't know, she doesn't have Instagram. At six years old, it's so scary already. Even YouTube starts to really freak me out when she watches it. At the same time, it's true that she's exposed to it growing up in New York surrounded by fashion and beauty, so I try to make it fun for her. On the weekends, we do face masks. She loves those animal print face masks, which have absolutely no effect on her. The biggest luxury is to not leave the house and just be in our pajamas all day. It's so nice not to care what time we're going to eat or what time we're going to take a bath. We just live our lives and watch a movie. Or, suddenly we'll feel like doing a face mask or baking a cake. I only have Romy every other weekend, so when I have her, it's kind of nice to just stay home and be homebodies.
P.L.: IS THERE A BEAUTY LESSON YOU WANT TO PASS ON TO ROMY?
J.R.R.: Not to pluck her eyebrows. She has a unibrow that she hates, but it's so beautiful. She'll be allowed to pluck in the middle at a certain age, but that's it!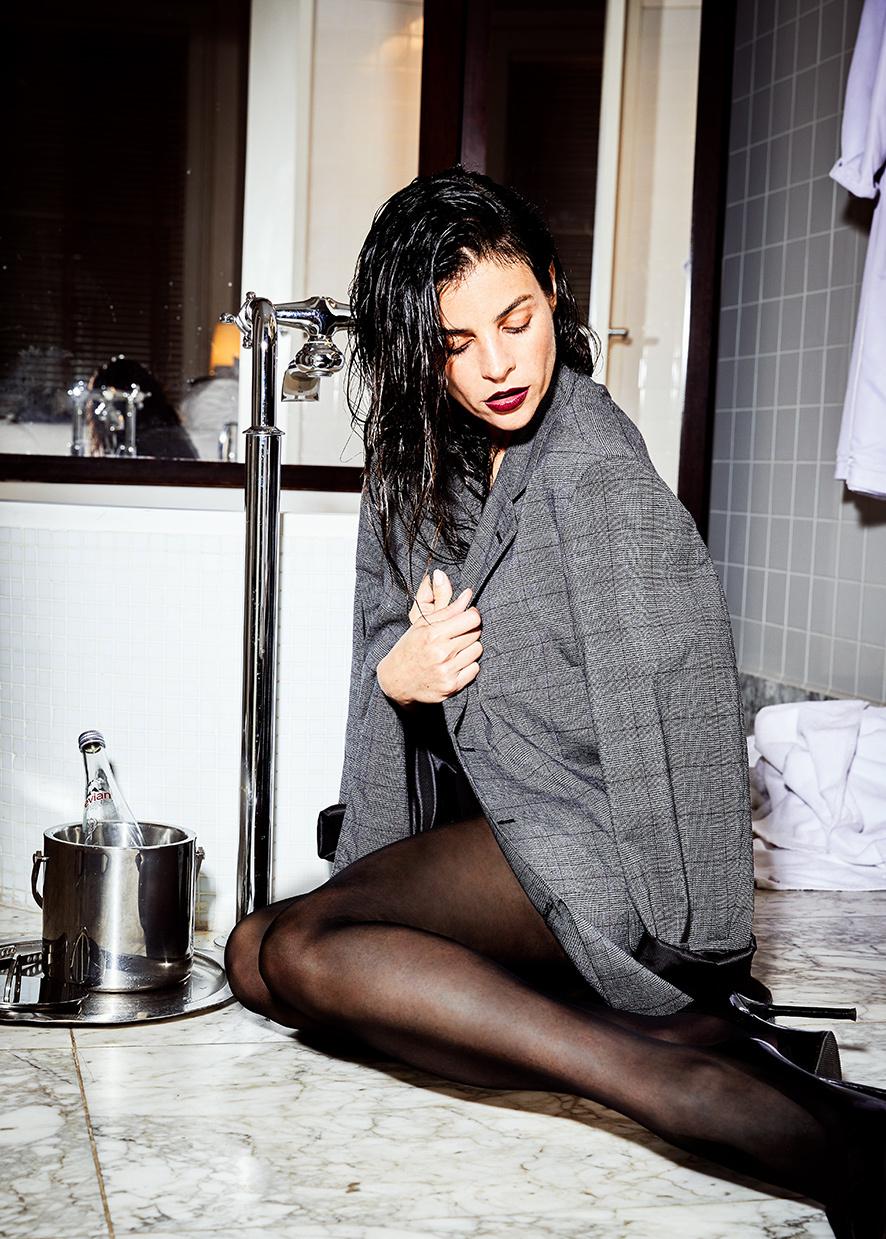 P.L.: IT WAS A TREND IN SOUTH FLORIDA TO HAVE A THIN LINE AS AN EYEBROW, SO I OVER-PLUCKED AND NOW I HAVE TO RUB CASTOR OIL ON MY EYEBROWS EVERY NIGHT SO THAT THEY'LL GROW BACK.
J.R.R.: Does it work?
P.L.: YES, CASTOR OIL WORKS. IT'S REALLY GOOD FOR YOUR EYELASHES TOO, BUT YOU HAVE TO BE CONSISTENT AND APPLY IT EVERY NIGHT. DO YOU THINK YOUR STYLE HAS CHANGED AT ALL SINCE HAVING ROMY?
J.R.R.: Yes, for sure. I was always in dresses and heels. I hated my body in jeans and I hated to wear flats. Since I had Romy, I can't take her to school in a short skirt and high heels. Some moms do it, but I can't. Romy complains about it, but I'm the mom in the morning in sweatpants and sneakers. I can't believe I've become that mom, but it's true! Sometimes I'll make an effort and try to go to the gym after dropping her off, so there's no point in getting dressed. My outfits are more practical. When she was little, I couldn't really go to the park in a short skirt either because I'd be bending over to pick stuff up all the time. That's when I started to learn how to embrace jeans and t-shirts and be less precious.
P.L.: THAT'S TRUE. I REMEMBER ONE OF THE FIRST TIMES I MET YOU TO TAKE ROMY FOR A WALK IN THE STROLLER YOU WERE WEARING JEANS. I REMEMBER THINKING, I'VE NEVER SEEN HER IN JEANS BEFORE.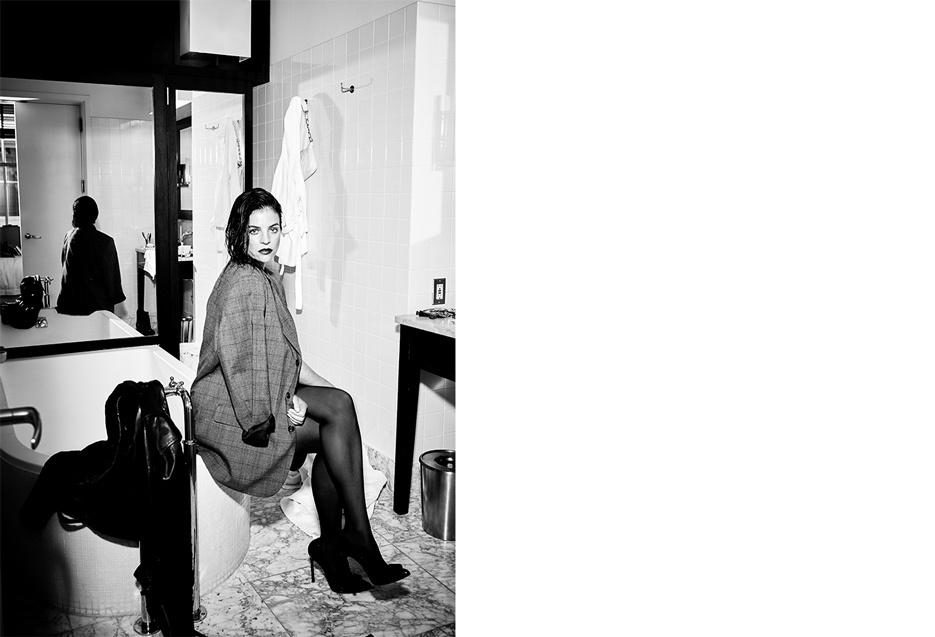 P.L.: WHAT IS THE ONE THING THAT NOBODY TOLD YOU ABOUT MOTHERHOOD THAT YOU WISH YOU HAD KNOWN?
J.R.R.: I think it's different for everybody, but of course it goes without saying that it's a love that you've never experienced before. The one thing no one tells you is that you're going to be worried for the rest of your life, 24/7. I worry that she's happy. I worry that she could be bullied in school. I worry that she could become a bully. I worry about her taking the subway with the nanny or getting in a cab. What if there's an accident? You worry all the time and that's exhausting. It creates a lot of wrinkles for sure. Even last night, I was worried and got her from her bedroom in the middle of the night. You never sleep the same as you did before becoming a mom. I always sleep with one eye open.
P.L.: DO YOU DO ANYTHING TO HELP YOURSELF SLEEP?
J.R.R.: I don't like sleeping pills because I need to be up at 6:30 a.m. to take her to school. Even melatonin makes me grumpy. I have no problem falling asleep—I'll be in bed by 9:30 or 10:00 p.m., but I don't get a deep sleep.
P.L.: I DON'T SLEEP THROUGH THE NIGHT EITHER, SO I DON'T KNOW IF THAT'S JUST A MOM THING. I WAKE UP EVERY NIGHT AT 3:00 A.M. WITHOUT FAIL THINKING ABOUT WORK. IT'S REALLY ANNOYING.
J.R.R.: It's impossible to be carefree after a while.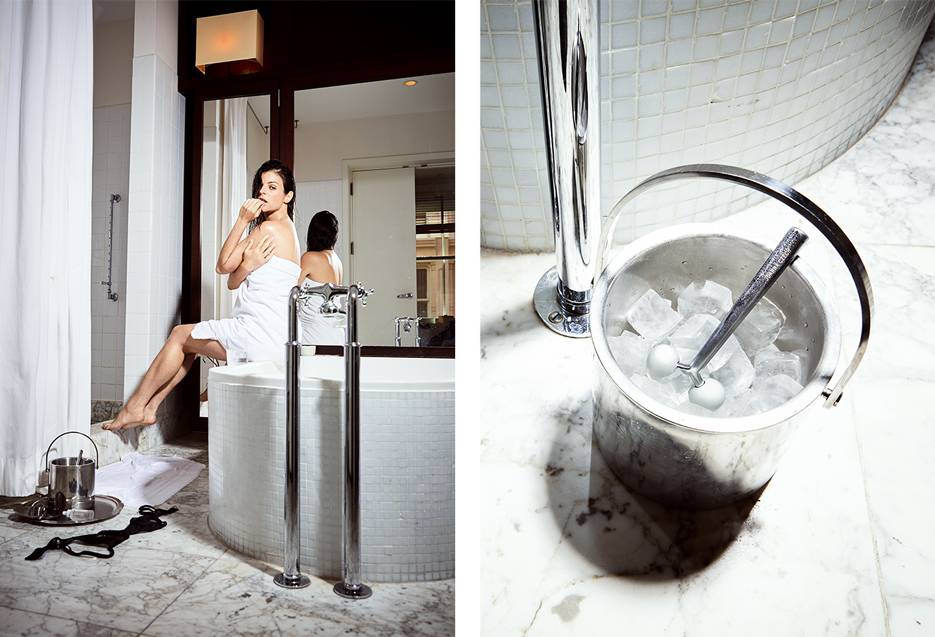 P.L.: AT LEAST WE WERE REALLY CAREFREE WHEN WE WERE YOUNG, SO WE GOT IT IN! SLEEP IS SUCH AN IMPORTANT PART OF BEAUTY, BUT I FEEL LIKE I NEVER GET ENOUGH OF IT.
J.R.R.: I like relaxing teas, like the lavender one from Yogi. I also like verbena tea because of the taste. Sleep is definitely at the top of my list in terms of my beauty routine. There's no miracle cream that can beat 12 hours of sleep.
P.L.: WHAT IS THE BIGGEST MISCONCEPTION YOU HAD ABOUT MOTHERHOOD BEFORE HAVING ROMY?
J.R.R.: I didn't really have any expectations. I always wanted to be a mom. In France, people have their kids a little bit younger. I love to look after someone and I have a lot of love to give. It's amazing to have this unconditional exchange of love. It's also amazing trying to be a role model. One surprising thing, though, is that pregnancy was the most peaceful time in my life. First of all, you're complimented all the time. Everything is about you. If it's your first kid, you don't have to worry about anyone else besides you.
P.L.: YOU'RE A PUBLIC PERSON, SO I THINK A LOT OF PEOPLE ARE LOOKING AT YOUR LIFE THROUGH SOCIAL MEDIA, AND TO A CERTAIN EXTENT, ROMY'S LIFE THROUGH SOCIAL MEDIA. WHAT ARE SOME OF THE THINGS THAT PEOPLE DON'T SEE?
J.R.R.: That's a tough question. It's a fine line. When you're a mom, you're excited. When I first started using social media, I didn't realize how big it was or would become. I had like 200 followers and I would put pictures of Romy [on Instagram] so that my friends could see them. I didn't really overthink it. If I scroll down to my first posts, there's maybe only one of me pregnant and one of Romy six months later. It wasn't really a big deal. Also, her dad and I didn't really want to show her face at first. We were a bit cautious because we didn't really know what social media would become.
P.L.: I THINK THAT MAKES SENSE. IT'S A SCARY THING. [MY HUSBAND] MATT ALWAYS ASKS ME IF I'M GOING TO POST OUR KIDS ON INSTAGRAM WHEN WE HAVE THEM. HE'S VERY ANTI THAT. ARE THERE ELEMENTS OF RAISING HER THAT YOU KEEP OFF SOCIAL MEDIA?
J.R.R.: I got crap for putting a picture of her in a swimsuit. It wasn't even a bikini. It's cute and there's nothing wrong with a photo like that, but I don't think it needs to be public either. People might think I show a lot, but I actually show a lot of the same thing. I don't post much of my personal life either. I like to show my home because I think people are always interested in home design. I like to show outfits because I think that's what people like to see. Sometimes, when I'm on holiday at a beautiful destination with Romy, I like to share that, but I'm getting more and more curated.
P.L.: WHAT ARE SOME OF THE CHALLENGES GROWING ROMY & THE BUNNIES AND RAISING A CHILD AS A SINGLE PARENT?
J.R.R.: To be honest, I feel like there is no perfect solution. I'm still trying to find a balance between not just Romy & the Bunnies and Romy, but a balance between motherhood, work, and giving a second chance to my private life. When I'm at work, I feel guilty about not picking up Romy. And when I pick up Romy, I feel guilty because I'm not working. She's only going to be little for so long and I want to make the most of it while she still wants me to pick her up from school. At the same time, I need to work because I need to pay for that school. Honestly, it's really hard to juggle it all on my own.
P.L.: DO YOU HAVE ANY TOOLS OR OUTLETS THAT HELP YOU DE-STRESS?
J.R.R.: I go running. I started to run two summers ago when my brother and his girlfriend were training for the marathon. Every Sunday, they would train in the morning and I felt like such a slob doing nothing, so I joined in. For me, running was impossible, but I said to myself, Ok, wow I did 15 minutes. The next time I did 30 minutes. Then I got addicted and running became a stress reliever.
P.L.: I WISH I LIKED RUNNING, BUT I HATE IT SO MUCH. I'M ADDICTED TO YOGA.
J.R.R.: Well, running is bad for your face and your boobs. Gravity makes everything fall a little bit. There is a face bra, but I refuse to buy it.
P.L.: THERE'S A FACE BRA?
J.R.R.: I don't own one, but there is a face bra. The only problem is that running is time consuming. I run for an hour and then it takes another hour afterwards to shower and wash my hair, so I do Pilates twice a week as well. It's good because you're so focused on your body and you don't really have to think about the rest.
P.L.: I ALSO DO PILATES TWICE A WEEK. I ACTUALLY JUST CAME FROM THERE AND I REALLY LIKE IT BECAUSE I DON'T HAVE TO WASH MY HAIR RIGHT AFTER. SHIFTING GEARS FOR A SECOND, WHAT DID YOU AND YOUR MOTHER ARGUE ABOUT MOST WHEN YOU WERE GROWING UP?
J.R.R.: We had a tough time when I was a teenager, but like every mother and daughter probably does. It was pretty easy until I was 12. I was basically her Barbie doll and she got to dress me the way she wanted. There's no way Romy would listen to me about clothes. Thank god she has to wear a uniform during the week, but on the weekend, I let her experiment. Otherwise, it would be a constant argument. When I became a teenager, I wanted the same fashion as the kids in school. It was probably the worst fashion, so for my fashion editor mom it was a nightmare. I had braces and I wanted to dye my hair purple. I wanted to wear purple Doc Martens and everything else she probably hated. She would let me, but I could sense the friction. I mean, she was pretty easy. My mom took me to get my belly button and cartilage pierced. She was like, "If you're going to do it, I might as well come to make sure it's a safe place."
P.L.: THAT'S SO NICE OF HER. I HAD TO LIE TO MY MOM.
J.R.R.: I could tell that I wasn't living up to her expectations at that age and it would just create tension. I know it was hard for me, but it was probably hard for my mom too. I still do things with Romy that are opposite from what my mom did with me, like breastfeeding.
P.L.: LET'S TALK ABOUT THAT. YOU BREASTFED ROMY BUT YOUR MOM DIDN'T NECESSARILY APPROVE. WHY WASN'T SHE INTO THAT AND WHY DID YOU STILL DECIDE TO DO IT?
J.R.R.: I don't think breastfeeding was very big in France. My grandmother didn't breastfeed either.
P.L.: I DON'T THINK IT WAS BIG IN GENERAL FOR OUR PARENTS' GENERATION. MY MOM BREASTFED FOR TWO WEEKS AND WAS LIKE, "OK, I'M DONE."
J.R.R.: I think formula was pretty new to my mom's generation and even to my grandma's generation, so maybe they felt liberated from breastfeeding? I think our generation wants to come back to what's natural. For my mom, breastfeeding is so unnatural. She didn't like watching me breastfeed. My boobs are definitely not the same but having my baby against me was the best connection. It's the first bond you have with your child and I liked being codependent on each other like that. I'm sure some formula is really healthy, so I didn't do it for that reason.
P.L.: GOING BACK TO YOUR MOM, WHAT IS THE BEST THING YOU'VE EVER SCORED FROM HER CLOSET?
J.R.R.: When I started to get into fashion in the late '90s I got a lot of cool Helmut Lang, as well as a lot of Gucci from when Tom Ford took over. That's when I started to be aware of brands and I'd score a Prada bag or a Gucci belt [from her closet] when logos were really big. I got a pretty amazing turquoise Chanel bag that's faux crocodile. That was pretty cool.
P.L.: IS THERE ANYTHING IN YOUR CLOSET THAT YOU'RE EXCITED TO PASS DOWN TO ROMY?
J.R.R.: Definitely that Chanel bag! Also, the first Chanel bag that my grandmother bought me when I was 21. It's a classic black one with a gold chain.
P.L.: IS THERE ANYTHING YOU'LL NEVER LET HER BORROW?
J.R.R.: Well, now I'm just thinking, should I really give her that black Chanel bag or keep it? I could really wear it until I die.
P.L.: YOU COULD ALSO GIVE IT TO ME IF YOU WANT.
J.R.R.: You and Romy will have to fight over it! I don't hold onto things. I sell a lot. I give a lot away. I keep key stuff like vintage Helmut Lang and vintage Chanel. Even though they are worth a lot of money, I would never sell them. Romy always says, "Can you keep that for me when I'm grown up?" I tell her that by the time she can wear them she'll want something else. I prefer to keep few quality things, like all the gowns I wore to big events. I had an Alexandre Vauthier dress custom made for the 2017 Harper's Bazaar ICONS ball. It's long, black velvet with a high slit. She'll be able to wear it in ten years. She'll be 17. Wow, that's crazy. I still have your claw bracelets. When she's going through her tough girl phase in high school, she can have all of those early Pamela Love pieces.
P.L.: NICE. WELL, I DON'T WANT THAT BECAUSE I CAN MAKE MY OWN. LET HER HAVE ALL THE JEWELRY! DO YOU THINK ROMY WILL WEAR THE SAME SHOE SIZE? CAN YOU TELL YET?
J.R.R.: She'll have way bigger feet than me. She's tiny, but she has huge feet already. I think she'll be really tall, so hopefully my clothes won't be too small for her.
P.L.: I'LL TAKE THE SHOES AND ANYTHING ELSE THAT DOESN'T FIT ROMY. REMEMBER THAT.
x
Subscribe
Receive all things Romy & The Bunnies direct to your inbox. Don't worry – you information is secret safe with us!