What do you love the most about being pregnant?
Honestly, I haven't enjoyed it at much as I thought I would haha, I mean I should be lucky to not have any complications but I'm really looking forward to not being pregnant. 9 months is a really long time! I do like touching my belly and feeling him move around and kicking and things like that though, all in all its a pretty surreal feeling. Its pretty crazy what your body can do!
What did you find to be the most difficult part?
The first 3 months where I felt constantly nauseous and super tired, totally lost my appetite and could only eat things like mashed potatoes, that was so difficult!!!! I kept wondering why they call it "morning sickness" when I would just be sick pretty much all day through. It was worrying also because I literally couldn't eat anything and I was so scared the baby wouldn't get the nutrition it needs but my doctor assured me that even if I would live on lollipops the baby would be fine.
What have been your key pieces to wear during your term? Did you give into any maternity wear? 
I feel quite lucky to been pregnant most of the time during fall/winter so I've been able to wear all my regular big chunky knits and stuff like that. I did give in a little on the maternity wear, I got the J Brand Mama jeans but thats about it. Celine & Acne Studios has some great boxy knits that can fit a baby bump that i've been wearing a lot too, long sleeve tee's from T By Alexander Wang are always a good idea. Just anything oversize has been my thing throughout.
---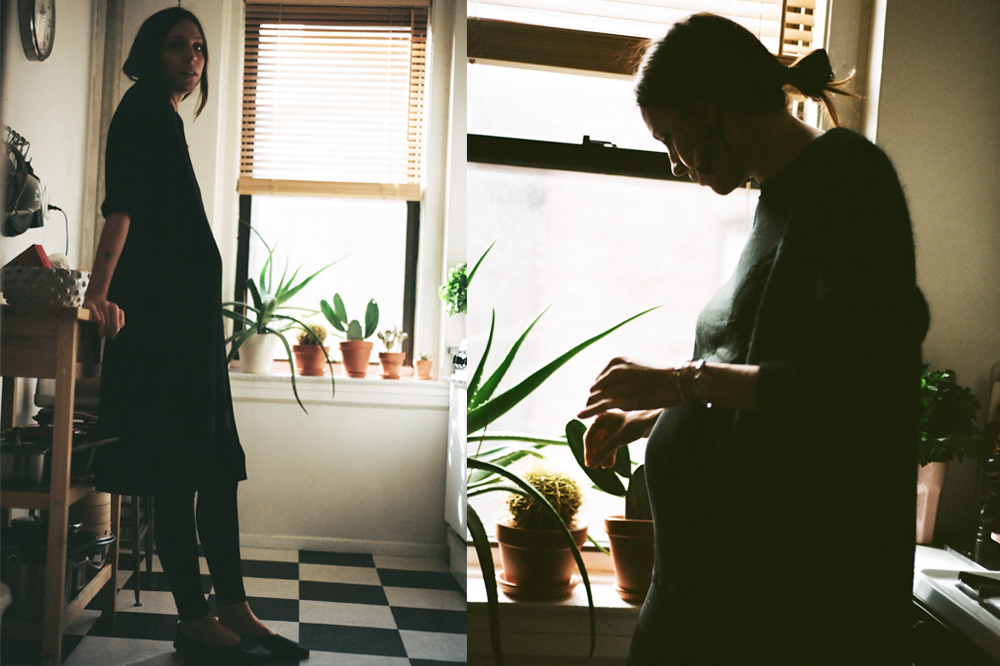 ---
As a stylist what would be your style tips to any expecting moms?
Be as comfortable you can and don't try too hard.
I would say don't buy a bunch of clothes in the beginning cause you have no idea what you are gonna feel comfortable in. For example in the beginning of my pregnancy I got this beautiful skirt from Proenza Schouler that I thought would be like the best thing with a bump but its sooooo uncomfortable and obviously it didn't fit me once the bump came along. Just steal your husbands/boyfriends sweaters and pair it with some jeans, great shoes and a bag, that'll do.
What has been your beauty routine? Any favorite products you would like to recommend?
I really been making an effort to use all organic and non-toxic products for my skin since i've been pregnant.
I got introduced to Brooklyn Herborium by a friend of mine, they have a great skin care line called Between you & The Moon so been using their Nourish & Replenish Oil and the Sense & Sensitivity Mist and its amazing. Its all handmade in Brooklyn and organic.
Been using the pregnancy oil for my belly from Estelle & Thild as well which is really nice. Love the Flash Rinse 1-minute facial from REN whenever your skin feels a little dull…It really brightens you up. Love everything from Tata Harper as well!
---
---
How did you stay in shape? And relaxed? Maybe a favorite spa in NY?
I usually do pilates like 2-3 a week but since I've been pregnant I haven't really been much, in the beginning I was too nauseous to do anything and after my bump popped I just haven't felt like working out. I've mostly been taking long walks and things like that. For relaxing at home i've been taking baths with tons of epsom salt and different oils almost every night.
I love the Shibui Spa at the Greenwich Hotel, they have the best prenatal massage. So been trying to go there once in a awhile but its quite a splurge. Been into foot rubs also at those random places in China Town.
Have you started shopping for the baby? If so, any favorite pieces or destinations?
Yes, been doing tons of shopping. Hard not to when its kind of what I do for a living…
I love Mini Rodini, the kids department at ABC Carpet & Home, Sweet William, Zara, Bonton in Paris & Stella McCartney Kids.
You are swedish living in NY, what tradition do you look forward to the most in sharing with your baby?
Its gonna be great raising a baby here with all the different cultures and people that are living here, its just the best place to be. Never a dull moment! It will for sure be very different to raising a child in Stockholm.
We plan on speaking Swedish/danish with him so he knows his roots and of course we will be traveling a lot back and forth so he gets the best of both worlds.
What are you looking forward to the most in becoming a mother?
Really looking forward to us being 3. It'll be amazing to have this little creature around that is 50% me and 50% my husbands. I think its now that there's not so long left that we are starting to realize we are actually gonna have a baby, its quite everything!!
x
Subscribe
Receive all things Romy & The Bunnies direct to your inbox. Don't worry – you information is secret safe with us!