Georgina Graham, Make Up Artist, Mother of Saoirse & Mia 1 week old, London
Make Up Artist, Saoirse & Mia
London, UK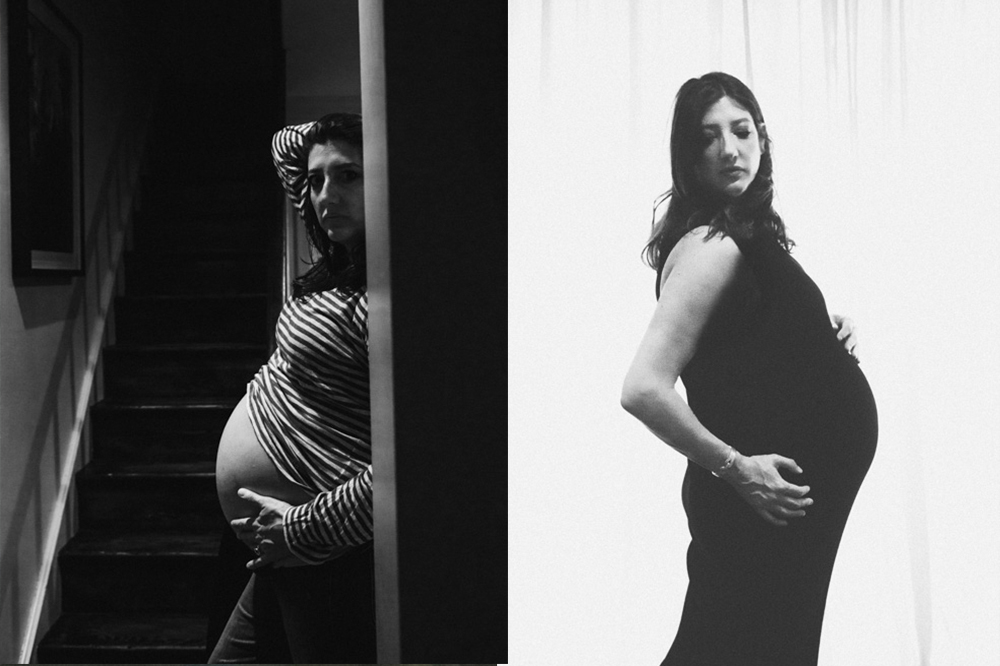 What has been the best part of pregnancy so far?
It took me a long time to get pregnant and I thought we might have to go the IVF route but actually I went for a 3 week vacation with my husband in the Caribbean and relaxed switched off –  drank red stripe beer, ate jerk chicken, and danced to old school reggae or dance hall and when we came back we had conceived naturally. I hear that can happen when mind and body just takes some time out. Anyway guess what? We are having identical twins. So it was such a joy, gift, blessing, and honestly a sense of relief to discover that we could get pregnant. Apart from that, the pregnancy has been relatively difficult with lots of nausea throughout and I was monitored heavily as babies are sharing a placenta which is a little high risk but they also tell me that typically with twin pregnancies it's double the hormones, sickness and so on. I have however loved taking time off and have been incredibly active from going to Paris and NY for work and even up a mountain in South Tyrol for a campaign on the snow at the Zaha Hadid Messner Museum which was breath-taking! I went to Iceland to see the magical nature, to going to music festivals such as Primavera in Barcelona to Port Elliot in Cornwall to see PJ Harvey, Radiohead and other great artists. I have taken full advantage of not working and spending time with dear friends & family and going to galleries and museums and parks and eating delicious food. Did I mention the delicious food? My cravings have been oranges and any citrus fruit, Japanese bubble tea (I love the coconut one with tapioca balls! So gross but so delicious) and Chinese food. YUM!
What has been the easiest?
The easiest has been my wonderful husband who has made me breakfast every day when I am home. I love breakfast in bed. There is something so great about reading the papers and eating without doing anything, I guess that is all about to change shortly probably for about 16 years! Also I found most things pretty easy, the last few weeks have been difficult.
As a renowned make-up artist, which has been your favourite beauty products to use during your term? Were all about natural products or not really? Any must have to give you an instant glow?
So I have been all about natural products during pregnancy and to be honest for myself I was kinda all about that anyway. My term is hippy deluxe which basically is fancy looking or quirky natural products that I source from online or little hippy health stores or really fancy department stores. The brands and products I love are Weleda Skin Food for all over dry skin, Dr Bronner Liquid Hemp Citrus Soap, Suzanne Kaufmann Nutrient Cream, John Masters Organics hair shampoo, conditioner and styling products – they do a salt spray which is like the Bumble & Bumble, but just a natural version.  I have loved the Cow Shed maternity line called Udderly Gorgeous and I have slathered myself twice a day in the stretch mark balm which smells divine. For a really special glow I have been hooked on Tata Harper Rejuvenating serum. It's fantastic and I used it under moisturiser. I also love Odacité which is a French brand that make small batches of cold press serums and I swear by them I particularly like the Acai & Rose Youthful Glow – these were my secret weapon game changer products.  I've worn minimal makeup throughout my pregnancy but I like RMS a lot and used their cover up for any blemishes and their lip/cheek tinted cream and the RMS makeup remover wipes. The only non-natural products have been mascara I used my favourite MAC haute & naughty and my creme de la mer eye cream. YSL touche eclat for under eye circles & a brow product by Eyeko Brow Magic Brow boost which is great for sparse brows. I always has naturally crap brows that need filling in. Sadly no Brooke Shield brows over here! In London I love a natural beauty store called Content and in NY I love Live Live Bee Yummy where I bought Simply Divine Botanicals which have been blessed with Reiki and all ingredients listed contain love and gratitude! That's some serious hippy business right there!
You spend a lot of time standing on shoots, which must be so hard when pregnant! Any favorite things you did to relax after a long shoot day?
Yes I found that a long bath was a good way to relax after work, not too hot and I just getting good rest after work and eating well and being and staying healthy and active as that all helped with my energy. I tended not to use products in the bath just relax in the warm water – think Japanese bath soaking with a good book! Before pregnancy I loved Epsom Magnesium Salts but I'll use them post pregnancy. I was happy to work long hours as long as I got the sleep and rest I needed. My ideal was only working a 3 day week. Luckily I have a job that I love and my last two jobs were so fantastic an Album cover for The Rolling Stones and a bonkers Gucci fashion shoot with Nan Goldin. So I stopped work before my maternity with fantastic icons! Most memorable and something to tell the babies one day!
Any favourite destination to relax in London? A spa? a work out?
I stayed in London all Summer as I couldn't fly as I was getting to heavy and doctors just said better not to do staying here was a first for me! So I really became a true London explorer and adventurer even though I am from here. Some fab things that I did was swim every sunny or hot day in Hampstead Ladies Pond which was fantastic and refreshing & cooling swimming with ducklings outdoors and I felt so buoyant and light. Also that Pond is so serene and full of magical female energy. I worked out gently at Body Works West and I went for very long good paced 4 mile walks in Hyde Park, Kensington Gardens and Regents Park about 3 times a week. As I wasn't going away I stayed a few weekends away at fancy spa hotels they call it a babymoon, that made my husband sick when I said 'let's have a baby moon' actually kinda made me a little sick to say that too, very cheesy! I adore Babington House and had great treatments at Cowshed. Everyone else was at the new trendy Soho Farmhouse so we had Babington to ourselves.
I had pregnancy massage and reflexology throughout the pregnancy and stayed groomed with regular bikini wax and medical pedicures and manicures at Margaret Dabbs who is a great podiatrist.
What has been your pregnant dressing? Any must have? Did you give at all into maternity dressing? 
I refused to wear anything maternity. I found it all too depressing so I mostly bought cheap highstreet in larger sizes for day to day but I did succumb to maternity leggings from Blanqi & maternity underwear which were great as they had bump support so they feel great on my big old twin tummy! I bought things from Monki which is my top tip a stylist told me about for amazing high street. Cos is great because they do that voluminous Scandi things and I wear vans for running around in as they are slip on and easy to put on. I wear lots of Chloé for smart and had chic accessories for them. I went to a fabulous party at Kensington Palace and wore a favourite Ossie Clarke dress that managed to fit being all floaty on the tummy and I went to a birthday at a stately home in the country and wore a vintage YSL dark purple silk crepe regal looking gown from the 80's that came from Found & Vision a cool vintage shop on Goldbourne Road. I found that the most flattering clothes on me for the most part actually were more body conscious tight fitting that showed the bump rather than sack or tents! We just moved house and I supervised the unpacked and saw my pre maternity wardrobe thinking will I ever get back in to any of that? Hopefully!
What about baby shopping, have you started yet? Any favorite spots to shop for kids?
As I was in London all Summer I did the sale thing and bought cute things online mostly from Bonpoint, Olivier cashmere, Mama Owl, Petit Bateau and and then I also looked at John Lewis for plain basics and I saw some cute things on Zara babies! I found it so fun baby shopping but because we don't know if the twins are boys or girls I bought lots gender neutral possibilities in great print and lots of colour and spots and stripes. I went crazy for sheep skin and boiled wool and obscure German labels. That make boiler suits for babies. Can we just discuss for a minute how cute baby shoes are. OMG I lost my shit!
What do you look the most forward to in becoming a mom?
Everything I just can't wait but I am also nervous and happy and scared and thrilled and a little anxious all t the same time. My Husband and I can't wait. We had an artist come to our new house and paint a jungle theme on the nursery wall and guess what I realised it looks exactly like Zamunda from the Eddie Murphy film Coming To America. Pregnancy makes you do weird and wonderful things.
More About Georgina
Georgina Graham is a British make-up artist known for her artistic process and modern approach.  Her work is regularly seen on the beauty and fashion pages of international style titles including Vogue (Paris, China, Japan, Britain, Germany), Dazed, The Gentlewoman, i-D, Purple, Re-Edition, Self Service, Garage, Document Journal, Vanity Fair and Numéro.
https://instagram.com/_georginagraham
x
Subscribe
Receive all things Romy & The Bunnies direct to your inbox. Don't worry – you information is secret safe with us!