How old are Cecilia and Philipp? 
Cecilia is 4 (turning 5 in April) and Philip is 2
What do you enjoy doing with him the most? Do you have any favorite bonding activities? 
The kids' favorite place in the world is our farm in Millbrook.  We go sledding, walking, gardening, bike riding, swimming and to visit the animals and farm equipment.  We have a big open kitchen with french doors so the kids can run in and out of the house to play.  In the city, we take the kids to Sant Ambroeus for sugar croissants.
I remember bumping into when you were about to give birth to Philipp (I had just found out I was pregnant then!) and you looked incredible! How did you stay in good shape? 
During my pregnancies, I really felt like my body wanted to slow down so yoga was perfect for me.  The stretching and breathing really helped me to sleep and feel well until the very end.
Do you have any beauty and skin care tips for moms and women alike?
SLEEP & facials with Tracy Martyn who can literally take years off of your face!  Tracy only uses natural ingredients including organic botanicals and essential oils so this is totally safe to do during pregnancy.  Especially love her lotus sculpt eye pads and the Face & Body Resculpting Cream.  Fekkai glossing cream to tackle dry hair and Chantecaille retinol hand & body cream are also amazing!
How do you balance your time between motherhood and work? 
I work as a consultant so I have the flexibility to work from home and to only take on the projects that I enjoy.  Philip starts pre-school in September so I am trying to spend as much time as possible with him now.  I have a 19 year old stepson so I really know how quickly it all goes and how they want very little to do with us later on! 
You are german, your husband is french, and your kids were born in NY. What language do you speak home?
I speak German to the kids, Frederic speaks French and then school is in English.  Cecilia will start kindergarten at the Lycee Francais in September which is very exciting!
What are your favorite children's wear brands? 
Bonpoint, Crew Cuts, Olive Juice Kids, Elephantito, Marie Chantal
What is your favorite toy store? 
Hase Weiss in Berlin, Nova Natural Toys & Crafts (online) and I LOVE the toy section at BonMarche in Paris
What book do you like to read to them? 
A bit of everything but lately my daughter is loving Children of Noisy Village by Astrid Lindgren.
What are your favorite travel destinations with them? 
We spend summers & Christmas in Aix en Provence which is really low-key and fun.  They love nutella crepes and riding the town carousel.  At Christmastime, the town is magical and we collect traditional nativity figures (santons).
Can you share some tips for when traveling with a child? Does it get easier or more difficult as they get older?
 It definitely gets easier.  The year between 1-2 is the toughest and I used to take my Britax car seat with the Britax stroller which I found to be the easiest way to travel.  The car seat goes into the plane seat and then the stroller (which is more like a trolley) folds flay and fits in the overhead compartment.  That said, there is no optimal way to travel…the most important thing of all is to keep your sense of humor.  
As a mom what do you like to do to de-stress? Do you have any go-to spots, perhaps a spa, in Manhattan? 
Dark chocolate mousse bars from Lindt, Sunday night massages; a shampoo and blow dry at Frederic Fekkai (almost as good as a massage!); a spa day at the Erno Laszlo Institute, crispy sushi at the Mark Hotel, Penne Pomodoro at Sant Ambroeus.
Did you have any favorite beauty products during your pregnancy? 
What has the experience of motherhood been like? What things have they taught you, or perhaps surprised you with? 
Motherhood is the ultimate humbling experience.  Most of us work our whole lives to become good at what we do, only to be suddenly thrown into this new job that we know absolutely nothing about.  I remember shopping for kids clothing while I was pregnant and the sizing was like gibberish to me.  Motherhood is something you cannot explain, you actually have to live it.  It is the most wonderful, empowering and satisfying thing you will ever do but at times it also makes you feel anxious, exhausted and like a complete failure.  My "take-away" is that you have to give yourself a break and to not over-think everything.  
What do you love most about being a mom? 
I love making breakfast for my kids, watching my husband play soccer with Philip, jumping on our bed in the evenings, the games they play in the bath, the silly words they come up with, the sweet smell, the kisses, the giggles and the smiles. Our children remind us what it feels like to be a kid again and that is the most magical thing of all.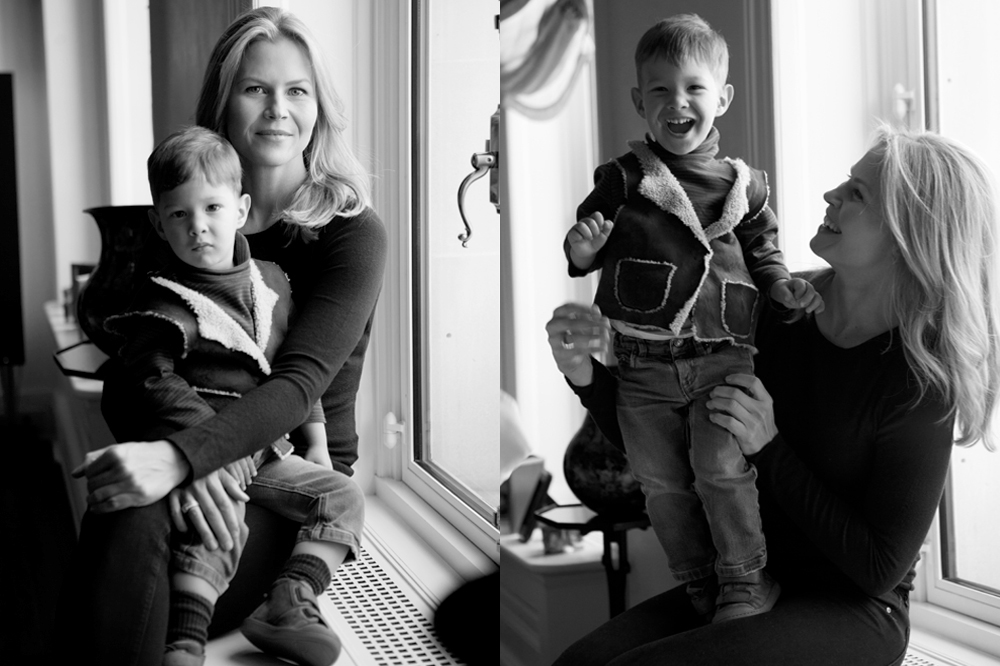 x
Subscribe
Receive all things Romy & The Bunnies direct to your inbox. Don't worry – you information is secret safe with us!