You've only just given birth to your son Albert! Can you share a bit about what the past several months have been like?
To be honest, I've loved taking some time out. Having modeled for 18 years, this is the first time that I've really allowed myself a proper break. I wanted to rest, snooze and watch bad TV… period dramas, since you ask!
What were some of your favorite gifts for Albert? And favorite gifts for you as a new mom?
Albert received some lovely gifts. The girls at Vogue sent him a double denim shirt and jeans combo… He is quite the mini-fashionist! He also received some beautiful clothes from Baby Dior, Caramel Baby & Child, and Wool and the Gang. He's also been spoilt with lots of lovely bespoke pieces.
I have been lucky enough to receive some lovely post-maternity clothes from COS, Whistles, Dior, and Chanel–I now just have to fit into them. I am breastfeeding Albert for as long as possible and he comes first…
I also had the opportunity to be painted by fashion illustrator David Downton whilst heavily pregnant and also by iconic fashion photographer Nick Knight–he shot me literally days before I gave birth! I think it's moments like this that have enabled me to mark my pregnancy in the most celebratory way!
Being British and living in New York, are there any traditions you're looking forward to sharing with Albert? Books? Foods? Holidays?
Well, I do spend a fair amount of time between both London and New York, so one of the things I hope Bertie inherits is his Mother's AND Father's love of travelling. We are both very willing nomads, no matter what the destination. Typical, but I always seem to crave the local food of the alternate country.
Albert has an extensive library already–in part due to the fact that both sides of his family include school teachers who are keen to give him a head start. I have also enjoyed buying him my favourite story books from childhood, including 'Where the Wild Things Are', Dr Seuss, and 'There Was an Old Lady Who Swallowed a Fly'.
Albert has maintained his Irish heritage through both his parents, so he will definitely grow up eating excessive amounts of potatoes! They go with everything!
Who do you turn to for pregnancy and parenting advice?
My grandmother was always telling me off for not having children. She gave me some invaluable advice a couple of years ago which really hit home. She said, 'Erin, yes you've done some lovely glamorous things in your life and you've worked hard for the things that you have, but don't forget about having your own family–this is the most important, meaningful thing you will ever do.' Of course she was right, and in a sense I have always known that, I just needed to be selfish for a while in order to be selfless for when Albert arrived. I only wish she could have met him… she would have gone crazy over his O'Connor hair!
Your red carpet pregnancy style was so incredible! What about everyday looks? Did you have any go-to pieces or silhouettes?
Wow. Thank you… It meant a lot to me to embrace my new shape and show off my swelling belly to maximum effect. Having been historically known for my linear lines, it was genuinely thrilling to see how my body transformed. I felt incredibly empowered by my ultra-feminine silhouette and, in a way, I've never felt so accepting of my body. After all I was growing a human! Gotta love Vivienne Westwood, Jenny Packham and Vuitton for their vision–they were super enthusiastic about dressing me until I pretty much popped!
What were your favorite ways to relax?
I couldn't get enough massages when I was pregnant, though I waited until I was safely past the twelve week period and I always stayed clear of essential oils until the end. I also got way too attached to elasticated waist bands. Not sure I'm ready to say goodbye to them just yet!
Did your beauty routine change much during pregnancy?
Yes, I was very aware of chemicals travelling through my body and I wanted to give Albert the best possible chance. I stuck to Weleda throughout, as their entire product range is free of parabens. Apart from anything else they smell SO good. Their stretch mark cream proved to be remarkably efficient!
You're always in such great shape— did you have any favorite workouts while pregnant?
Thank you! I stuck to my usual three days a week gym training sessions, but lowered the intensity of my workouts dramatically. Having been used to weightlifting 60 kgs, I had to surrender to the adrenaline overload and pace myself with dynamic stretches and steady paced walks.
What's been the biggest surprise of becoming a new mom?
The biggest surprise about becoming a new Mummy is just how privileged I feel to nourish and nurture my son. I mean that in every possible way–feeding, laughing and loving him just feels like an enormous gift. It's so deep it's almost frightening at times. He also has comically long legs like his Mamma… I find the whole DNA transference thing absolutely fascinating.
What do you hope your son learns from you?
To be the ultimate feminist and, of course, to be himself.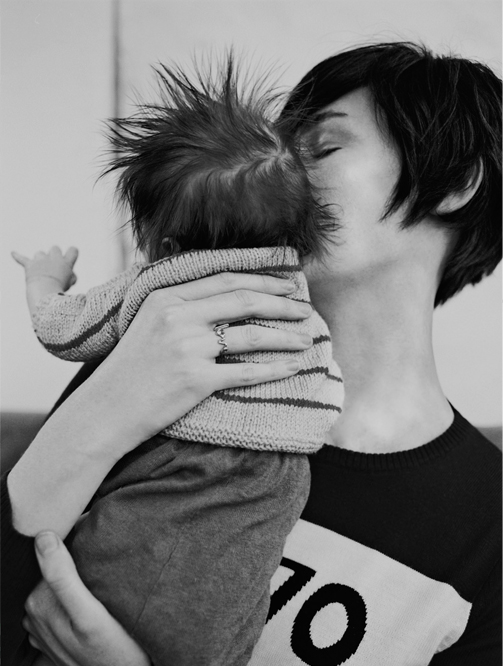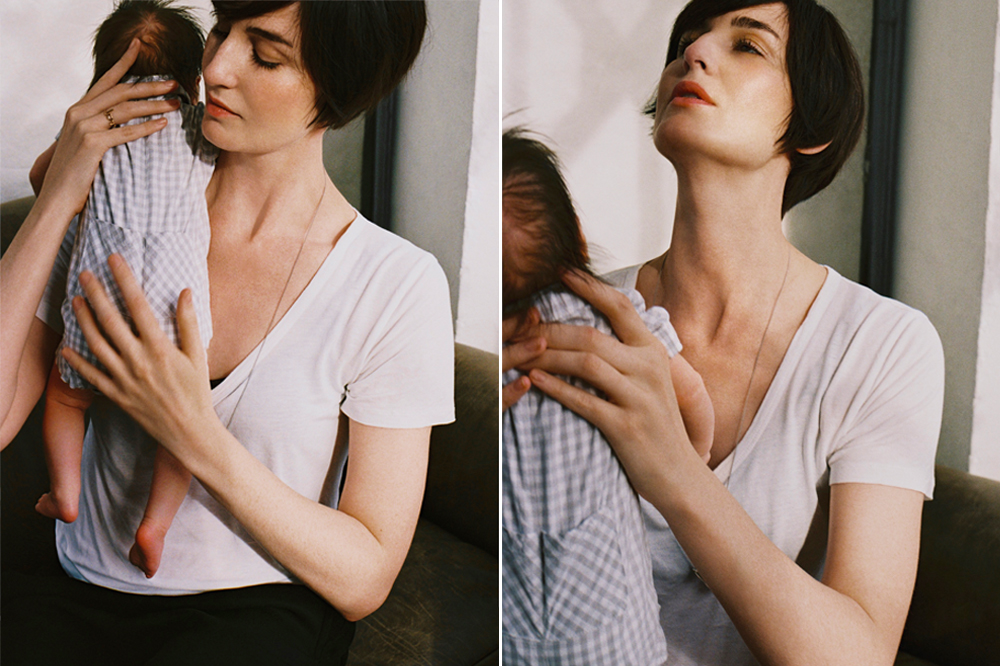 x
Subscribe
Receive all things Romy & The Bunnies direct to your inbox. Don't worry – you information is secret safe with us!