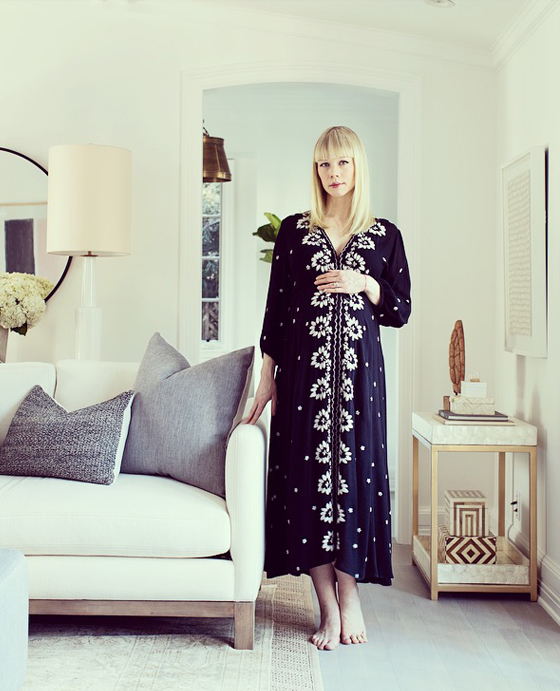 What did you love the most about your pregnancy?
Experiencing myself go through a total transformation, both physically and spiritually.  The process wasn't always easy, but at the end, I could connect to my body in a whole new way and appreciate the gift we have as women to bring forth life.
I also felt pregnancy reminded me of what it's like to be a child. When you're hungry, you must eat right away.  When you're tired, you must take a nap.   Experiencing the intensity and urgency of the body's needs felt like a perfectly designed process to awaken the empathy and sensitivity you need to care for a baby.
What was the most difficult?
I found the first trimester especially hard.   At times I was overwhelmed by my emotions and because I chose to share the news of my pregnancy with very few people, I often felt isolated in that experience.
 
Do you have any beauty tips or favorite products you would like to share?
I must have tested every organic beauty and make-up product on the market. The winners for me were:
Shiva Rose Glow Face Balm
Kjaer Weis foundation and cheek stain
Beauty Counter Lip Gloss and Eye pencil
Yarok Feed Your Hold Hairspray
PURA D'OR Premium Organic Argan Oil Shampoo
Silk18 Natural Conditioner By Maple Holistics
You are a fashion designer, any pregnant dressing tips you would like to share?
I felt very private about my pregnancy, so I dressed to conceal the bump rather than accentuate it.  I dressed in black A-line tunics and dresses and put the styling emphasis above my shoulders with jewelry like brooches and earrings.  I did my hair in milk-maid braids and braid crowns for the first and second trimester which also seemed to effectively draw attention away from my midsection.
What was your pregnant dressing must have? Any other brands than yours?
I found Asos Maternity had some really easy, flattering jersey dresses.  I also found good boxy tunics and A-line pieces from COS.
Have you started baby shopping yet? I know you are quite superstitious just like me! Any favorite baby brands?
I like Aiden and Anais for swaddles and baby clothes.  Makie is a super cute Japanese brand that makes adorable kimono onesies in terry cloth. The Little Unicorn also makes great simple swaddles in solids and stripes.
What do you look the most forward to in becoming a mother?
Feeling my heart open more than I ever knew possible!  And rediscovering the beauty and wonder of the world through the eyes of my child.
x
Subscribe
Receive all things Romy & The Bunnies direct to your inbox. Don't worry – you information is secret safe with us!