You're both running your own businesses, traveling, and are about to become mothers– in fact, Caroline you just gave birth! How have you both balanced everything?
Caroline: For my part, it has been a real adjustment to balance both lives. As you know, we design and build furniture. I normally spend most of my days in our dusty workshop, cutting, painting and sanding wood… Not the best mix to breathe in when you are pregnant! I knew that the day I became pregnant I would have to stop going to the workshop and stay home instead– working on the thousands of things we have to work on for the company and that we keep postponing. Those things are still not totally done, which forces me to accept the fact that I'm not a good secretary ahah! I like to get my hands dirty.
Alix: On my hand, being pregnant and having to run my own business hasn't been difficult. I had a very easy pregnancy, so I didn't feel more tired or lazy than usual, but sometimes it gave me a great excuse to leave work at 2pm and go baby shopping with Caroline!
What's it been like sharing the experience of pregnancy with your twin sister?
Alix: It's funny because at one point we forgot that we were both pregnant– we got used to it (as we also forget that we are twins and look very similar). But people's reactions in the street snap you back. It was too funny to see their reactions — particularly men– like, "Oh my god, look at the two pregnant girls, oh my god! I think they are twins, oh my goooood! They are pregnant together, it's craaazy!" I think the best is to come now– Caro gave birth five weeks ago, I have one more week to go, and I feel the babies are going to be much more that just regular cousins. Caro and I are looking for a new word that could define this particular link.
Caroline: In fact, it's people close to us that made us realize how crazy it was. I mean, we knew it was a magical moment and I was so relieved when Alix got pregnant few weeks after me. I was not by myself anymore and lost all of my first fears of being pregnant as soon as she was too. (Pretty amazing!)
What I mean is, when you are twins you don't think you are twins, nor that you look alike because it's the only thing you have known, being two… It's people's curiosity that make you understand it's not that usual to look alike and be two. Well, it's the same with the pregnancy– for us it was almost normal to be pregnant at the same time, but people were amazed by it. It made me realize that we were living something very unique.
Alix, Heimstone has so many versatile and beautiful designs – everything from dresses to jumpsuits. Do either of you have any favorite pregnancy pieces, or silhouettes that you preferred?
Alix: Thank you! I discovered that Heimstone is a great brand for pregnancy actually! I haven't really changed my way of dressing since being pregnant (except that I had to buy some new pants…), I wore mainly Heimstone. The cuts of most of my designs are kind of boyish– like men's shirts in very light printed silk that gives them a very feminine touch. Some of my dresses are also very large, so they're perfect to fit the belly, are comfortable to wear, and you feel feminine too! I think that being pregnant during spring and summer is a big difference from being pregnant in winter!
And are there any particular children's clothing brands you've started gathering?
Caroline:  I love very basic clothes for kids. I don't like prints (oops sorry Alix, I just love the Heimstone ones, haha) or too many colors. I don't like baby girl clothes for baby girls. But I like fabrics and textures. I like the usual classic Bonpoint of course, I love the brand Pequeno, and I think the French brand Bout'Chou from Monoprix is great. I'm also very in love with the brand Numero 74 and Linge Particulier for all the linen– the colors are beautiful.
Alix: I'm in love with Numero 74 for all the bed linen. They have amazing fabrics and colors– simple but beautiful. Then for clothing I really like Mini Rodini. I'm usually not a fan of prints for babies, but those prints are beautiful.
Caroline, the furniture you make at Three-Seven US is so creative and charming. What inspires your designs?
Caroline: Thanks! Mmmmm, I don't really know… I think everything around me inspires me. I'm very sensitive to colors and textures. I'm also very attracted to everything that makes me think of happiness in one way or another– coziness and softness. I take a mental picture of it and a few weeks later I will wake up with an idea and try to make it come alive by making it or building it. It's how most of our pieces of furniture, plates, etc. are made.
You're both so close, and now your children will be close in age as well. Are there any traditions you shared growing up that you're looking forward to passing down to them?
Alix: Hum, I don't know yet. It's difficult to project yourself when the baby is not here yet, but I think that Caro and I agree on the same values in life, so they will have the same base. But then we also both have great husbands who have their own traditions and values– let's try not to forget them!
What have been some of your favorite ways to treat yourselves during pregnancy?
Alix: Anything that could make me happy, I'll do it! Food-wise, I ate a LOT of fruit– I've been craving it my whole pregnancy. And then any kind of seafood, oysters, and polenta. No idea why, but I spent a few weeks eating polenta at every lunch. I worked out quite a lot until six months/ six and a half months. I also did some stretching and it really helped me to feel good physically and mentally.
Caroline: Oh la la! I had some weird treats. Food-wise, I had cravings for extremely spicy foods that you can't find in France. To get my fix, I had to buy jars of spicy peppers and vinegary pickles. I was craving them early in the morning. I also craved cherry tomatoes–go figure.
I indulge in massages a lot. We have the best Chinese massage place down from our apartment in New York City. I was going there once or twice a week.
Caroline, it was so impressive seeing you riding a bike while pregnant, not to mention walking (biking?) your dog at the same time! How did you both manage to stay in such incredible shape?
Caroline: Thanks! In fact, I had a super easy pregnancy (and Alix as well). It was just seeing my belly growing that reminded me every day that I was pregnant. I didn't feel I couldn't do things– I was running until six and a half months pregnant. We have an 120 pound dog that needs exercise, and I have a bike. We trained him (way before I got pregnant) to follow us in the streets of New York while we ride our bikes– I never thought of changing that when I was pregnant. Of course I was very careful and cautious, but never really thought of the danger and was happy it stayed like that. I think a lot of women change their entire lives when they get pregnant– fearing everything– and I didn't want to be like that.
While pregnant, you've both spent a lot of time in Paris and New York. Are there any cultural differences between the two cities when it comes to pregnancy?
Caroline: Yes, it's night and day and not very surprising when you know both cities. People in New York smile at you when they see you getting in the subway and ten of them will instantly stand up to let you sit with a friendly, "Hey, honey, take my seat, you need it more than me!"
When in France, the same ten people will pretend they haven't seen you getting in and will stare at their shoes the whole ride. They will occasionally try to look at your belly while you are looking somewhere else and if you catch their eyes at that time, they will blush and look back at their shoes.
Alix: Paris will always be Paris and Parisian people don't really care if you're pregnant or not. In New York, it's the opposite: they see you in the street, and you feel they think "she's carrying life" and they'll do everything to help you.
Alix, you've also been spending time in Saint Tropez– do you have any favorite beauty products you've used this summer?
Alix: Yes, I'm finishing my pregnancy in St. Tropez where I'm going to give birth! I know that sun can be a dangerous enemy while pregnant, so I double my efforts to protect my skin. As for sunblock, I use Lancaster SPF50— I love the smell, the texture, it's great. I feel during pregnancy you tan twice as fast. After the shower, for my face I use mainly CAUDALIE' s products: Polyphenol Defense Serum, and Fluide Protecteur Anti-Rides. Before going to bed I use the Polyphenol Serum, Huile Detox, and the creme for mouth and eyes (then I wake up with Pamela Anderson's mouth). For the body, I use a natural almond oil, then Mixa body lotion, and for sure some stretch mark oil or lotion from Clarins.
Caroline, what surprised you most about pregnancy?
Caroline: I was amazed by the changes of the body. I can't even talk about the delivery… I think pregnancy and giving birth have been so banalised. But it's the most insane thing in life and you can't imagine it until you give birth. Your feeling of happiness, joy, etc. is nothing until that day. I think any woman who gives birth should be truly respected.
Alix, what are you most looking forward to about becoming a mom?
Alix: Right now I'm focused on the birth, finally finding out the sex (!), and having a beautiful healthy baby. Then I want to find the right balance in between being a great mom, a great wife for my husband, and great businesswoman!
 Follow Caroline and Alix on Instagram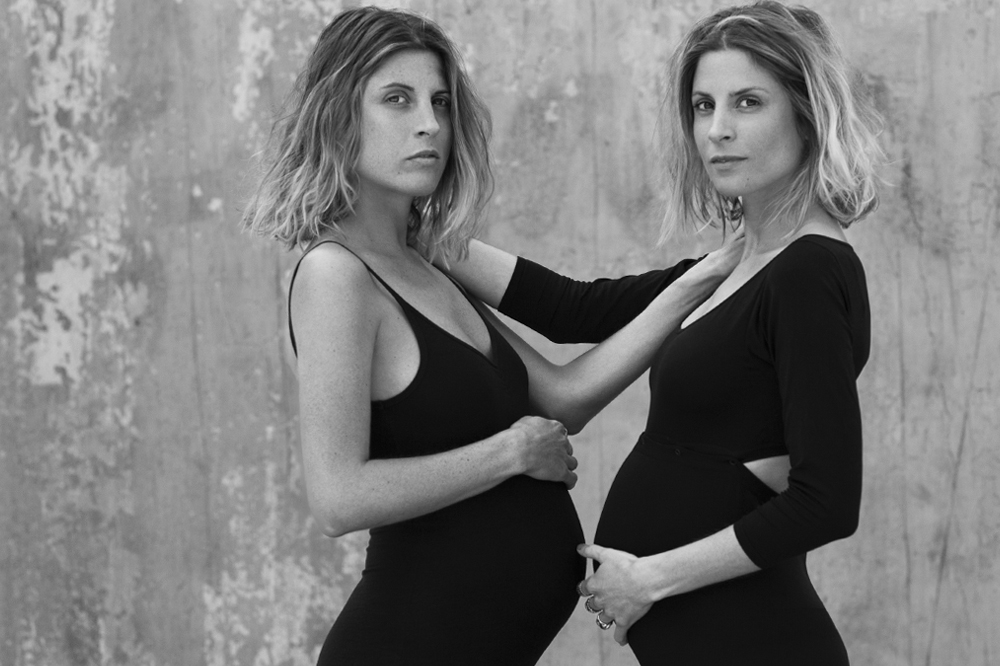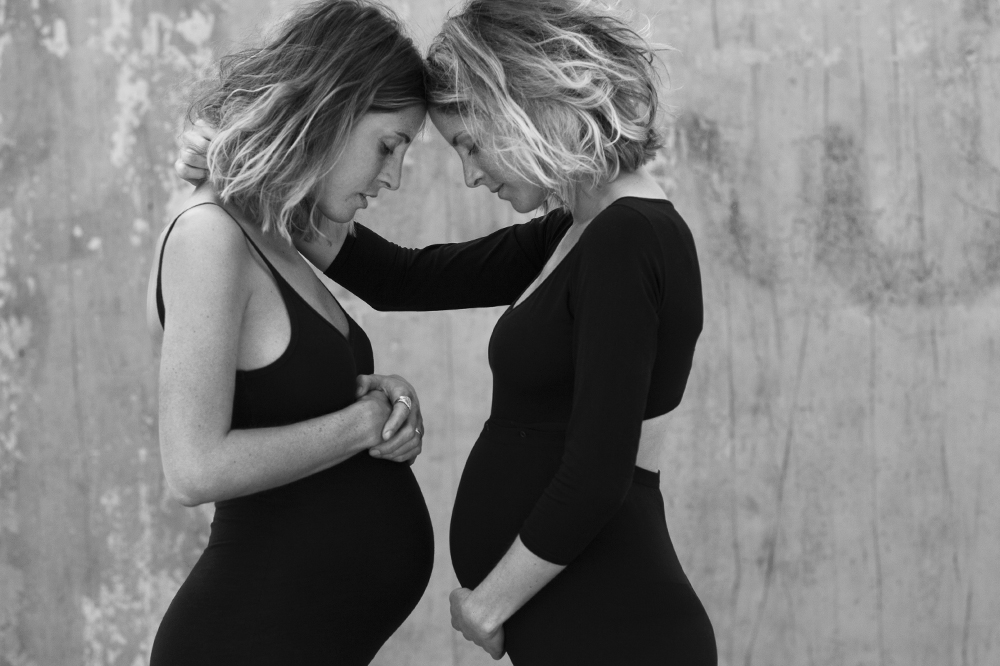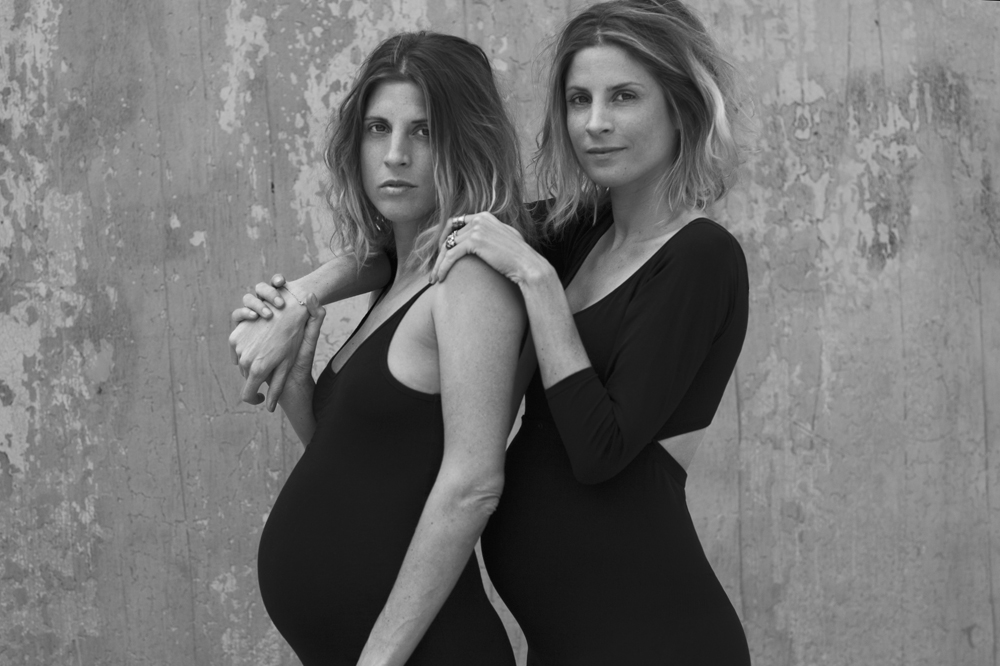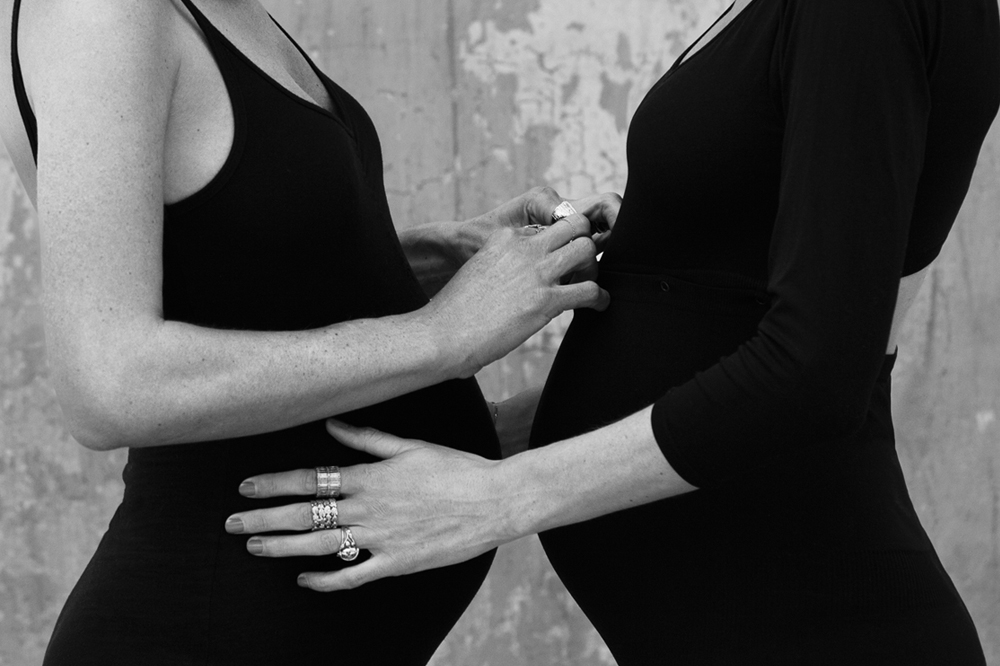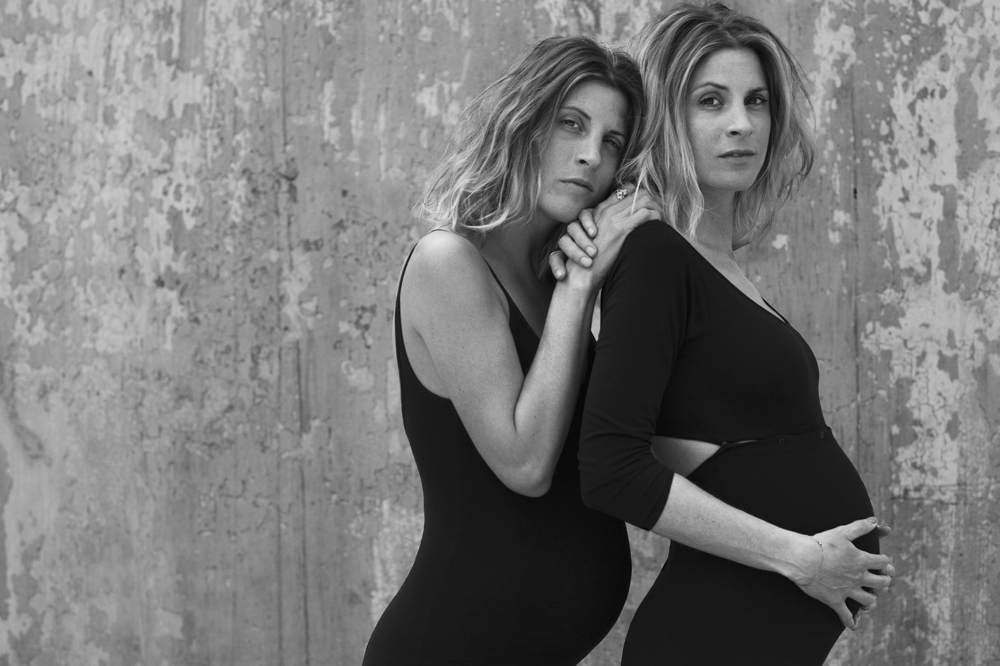 x
Subscribe
Receive all things Romy & The Bunnies direct to your inbox. Don't worry – you information is secret safe with us!