Andrea what is a typical day like for you and Tristan? What do you enjoy doing with him the most?
Our day together officially begins after our nap. I feed him early every morning so we often fall back asleep together for a quick nap after we've played around – it's been our ritual since he was 5 months old and it sets the most incredible tone to my day. Other than that, any day spent helping him discover the world around him and seeing it through his eyes is a perfect day for me. He is learning so fast, and it's incredible to see his joy from the simplest things.

Before your expected delivery, you made sure to have your family – mom, dad, and sister – in town to welcome the newborn baby. What was it like having them around during Tristan's first few weeks?
They were absolutely amazing. Besides the emotional support, they kept the day-to-day things flowing, allowing me to focus on Tristan and myself. I had breakfast in bed every morning for a month, they would take Tristan for walks so that I could have time alone with my partner and they kept an amazing atmosphere in the house when I was too tired to even remember my own name. My sister was with me from the moment I arrived at the hospital until Tristan was one month old, and I cannot imagine ever being able to repay her for all of the support she had given me. Nothing was too big or too small for her to help me with or do for me. We were very lucky.
Have you taken him out on trips? Can you share some travel essentials that you've found make them as smooth as possible?
I took him to London and the Seychelles when he was 4 months old and he was an angel – he ate and slept his way through the trip. We came back from Colombia last week and traveling with a 9 month old was a lot more involved – when he wasn't napping he wanted to crawl and climb on things. Being prepared I think is the most important. I make sure to pack my carry-on luggage with his favorite books, a few toys, his blue elephant that he sleeps with, a favorite blanket and extra clothing. I always pack all of his meals for that entire day plus a few extra snacks. You never know when they will reject something they usually eat or when you will run into delays.  All of Tristan's food is home made, but I found Ella's Kitchen to be a great substitute for fruits and vegetables when traveling. It's organic and absolutely yummy.  I also always travel with a NoseFrida the Snot Sucker nasal aspirator (the best!) and some Eucalyptus oil. I dab it on the front of his pajama top if he gets a bit stuffy. And finally, some advice from a friend – put two bodysuits under his clothes. Flying can make babies 'explosive' if you know what I mean, and the second bodysuits keeps the diaper tight around the body and everything contained!
What was your day-to-day look, and what were your favorite brands to wear while pregnant? Did you give into maternity clothing at all?
My approach to every day fashion is classic and comfortable so while pregnant I stuck to the same uniform. I didn't wear high heels so I was often in sandals or ballet flats. As I was at my heaviest during the summer months, I lived in loose, flowing dresses and skirts from Zara, BCBG, DVF, Isabel Marant, Helmut Lang and Curve NY. Other than two pairs of J Brand maternity jeans, I bought no other maternity wear. Alexander Wang has these amazing jersey tank tops and tank dresses which are so versatile as they never lose their shape and the tanks are long enough so that they 'grow' with you. I also wore a lot of Equipment blouses (and still do) as they are naturally quite loose and allow for expansion, but help you maintain a sophisticated look. J Crew has great cotton t-shirts in a variety of colors that stretched well with my growing figure. Leggings and cotton-stretch mini skirts from H&M with elastic waist bands were also my saviors.
How did you stay in good shape during and post baby? If I remember correctly you were still working out throughout the last few weeks of your pregnancy!

I had 6am workouts with my trainer during my last trimester during which we did a lot of strength and flexibility training as well as stretching, while earlier in my pregnancy I ran a lot. I'm an event planner and I worked up until I was 38 weeks pregnant. That, coupled with the fact that I walked everywhere helped me stay fit throughout my pregnancy. Other than that, I'm generally quite healthy and just added more green juices to my diet for extra energy, but if my body was craving something, I didn't deny it anything. Post baby I took my time and I let my body recover naturally; I breast-fed as well so I shed half of the weight in the first month. The rest was a mix of healthy eating, working out with a trainer and Barry's Bootcamp. My father, a plastic surgeon, suggested I wear post-natal belly bands for 2 months to help my skin shrink back. I highly recommend investing in one; Spanx or Wolford have many great substitutes in different cuts and styles.
What are your favorite children's wear brands?
Petit Bateau for bodysuits, underwear and pajamas. Oscar et Valentin for cashmere pants and sweaters. Les Petits Chapelais, a shop in SoHo for quirky, new designers. Makie is a little treasure trove for monochromatic, simple clothes in modern cuts – think grey baby kimonos! Baby Gap and Ralph Lauren Baby are huge favorites too. Obviously Bonpoint and finally Trico Field, a Japanese brand in SoHo. Their clothes are of the highest quality and I love that it is not a mainstream brand.
What are your recommended must-have pieces for women during pregnancy?

For the day I would say black or navy leggings and skinny jeans paired with loose knits or slouchy t-shirts. I also wore a lot of simple trapeze or column dresses with ballet flats or sandals. I wouldn't recommend anything with tight straps, especially ankle straps, as water retention in the legs can become an issue towards the end. I found I wore solid colors mostly, especially black, perhaps because I felt they dressed up my figure better. In the evening I wore tight, long skirts paired with tank tops or stretch cotton mini skirts with button ups or flowing tops.  I have a few pleated long skirts from Rag & Bone that I would hike up and wear belted as dresses as well. During the summer evenings, Helmut Lang blazers or thin leather jackets from Iro were my favorites.
Aside from clothes, can you recommend any particular must-haves for the baby?
The NoseFrida nasal aspirator is the best – the bulbs found in pharmacies don't work. Weleda skin products, especially diaper cream. The line has won so many awards and I can vouch for how gentle their products are; Tristan has never even had diaper rash. Klorane Bébé' is a French line that has really great products – I use their 'water' to mist Tristan's curly hair after his morning bath. It's addictive! My friends ask me all the time what his smell is from. Aden and Anais swaddles – they are big, organic cotton and allow the skin to breathe and I've used them for everything – for swaddling, as burp cloths, to cover him in the summers, as a mosquito net, as towels…you name it I've done it.  As Tristan is being raised in a trilingual environment, I am always on the lookout for books in one of the three languages we are teaching him, and I found these great board books in a French bookshop in London by Mitsuko & Kimiko – they each have one topic, for example the sun or the ladybug – and have parts that turn, pop out, move etc. Half of ours are ripped out, I keep having to tape them in, but Tristan is obsessed with them!
What was your beauty routine during your pregnancy? Did you have any favorite products or creams to use for the body?
I made sure to use only organic products as I wasn't sure how the chemicals in the creams would affect the baby once they were absorbed through his skin. I also used a lot of oils such as Olio Lusso and Bio Oil on everything, from my body to my hair, and Darphin's Jasmine Oil mixed in with my Caudalié moisturizer morning and evening. I didn't get any stretch marks which I was really happy about.  I was lucky enough to have clear skin during pregnancy so I just used Cetaphil facial cleanser as I do now. I wasn't sure how the UV dryer used for gel manicures would impact my body so I stuck to regular manicures instead. I also took notice of what I was wearing on my face and neck (perfume) when Tristan was very young. I was nervous about how it would affect him if it rubbed of onto his skin or if it got into his mouth somehow.
How do you balance your time between work life and your baby?
I am extremely protective of my time and I only do what I love. I don't try to "have it all" – instead I invest my time in what really matters to me, now and in the long run. I try my best to organize what I have to do around Tristan's schedule and I make sure to get a couple of good hours of quality time each day. My body has become accustomed to getting by on six hours of sleep (a huge feat for me!) because I would rather spend time with my boyfriend in the evening than go to bed early.  I'm very lucky to have someone that is such a hands-on father who that supports and helps me the way that he does. And if things ever get stressful, a bit of humor always gets us through it all.
You have always had a knack for design and architecture. What was the process like preparing Tristan's nursery? Do you have any favorite pieces of furniture in his room?
I've always dabbled in interior design so I really took my time preparing his nursery and it has now become one of my favorite rooms in the house. I knew from the start that I wanted the room to have a modern look with furniture that he could 'grow into', but that was still suitable for a child. His crib is from Restoration Hardware – they have some really beautiful pieces that aren't your typical, primary-colored kids furniture. The changing table is a Kelly Wearstler-inspired piece that I designed and had custom made. I wanted Tristan to be comfortable in there as most of the apartment floors are natural stone or wood, so a silk rug covers the majority of the room. Because the room was done in neutral tones, I had 2 ultra-suede sea foam-colored arm chairs and foot rests by Vladimir Kagan put in to add pops of color as well as some custom ultra-suede pillows in bright blue with orange trim.
Last but not least, what do you love most about being a mom?
I love seeing his delight at the world around him. He is such a happy child, the absolute light of my life.
Photography by Paul Maffi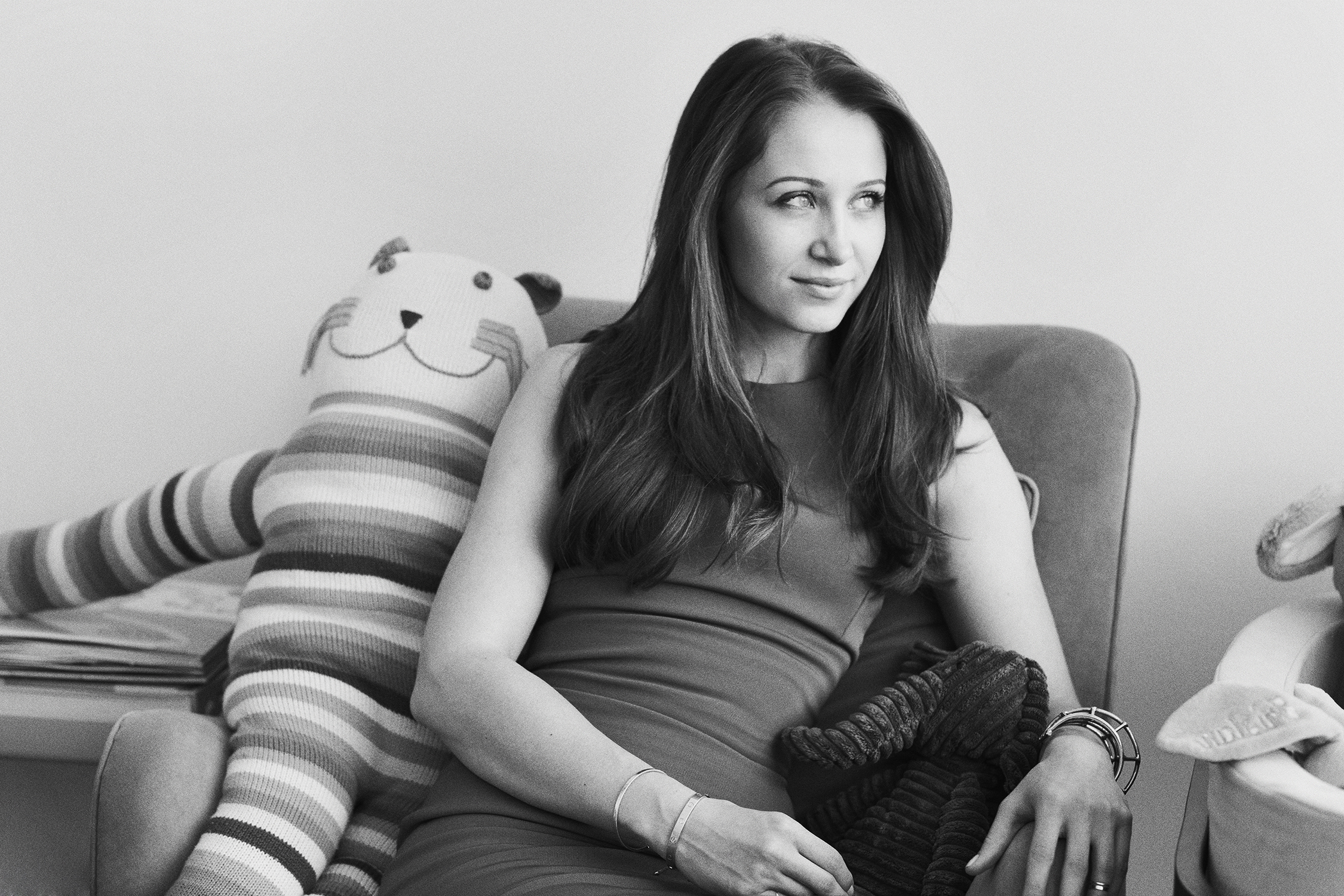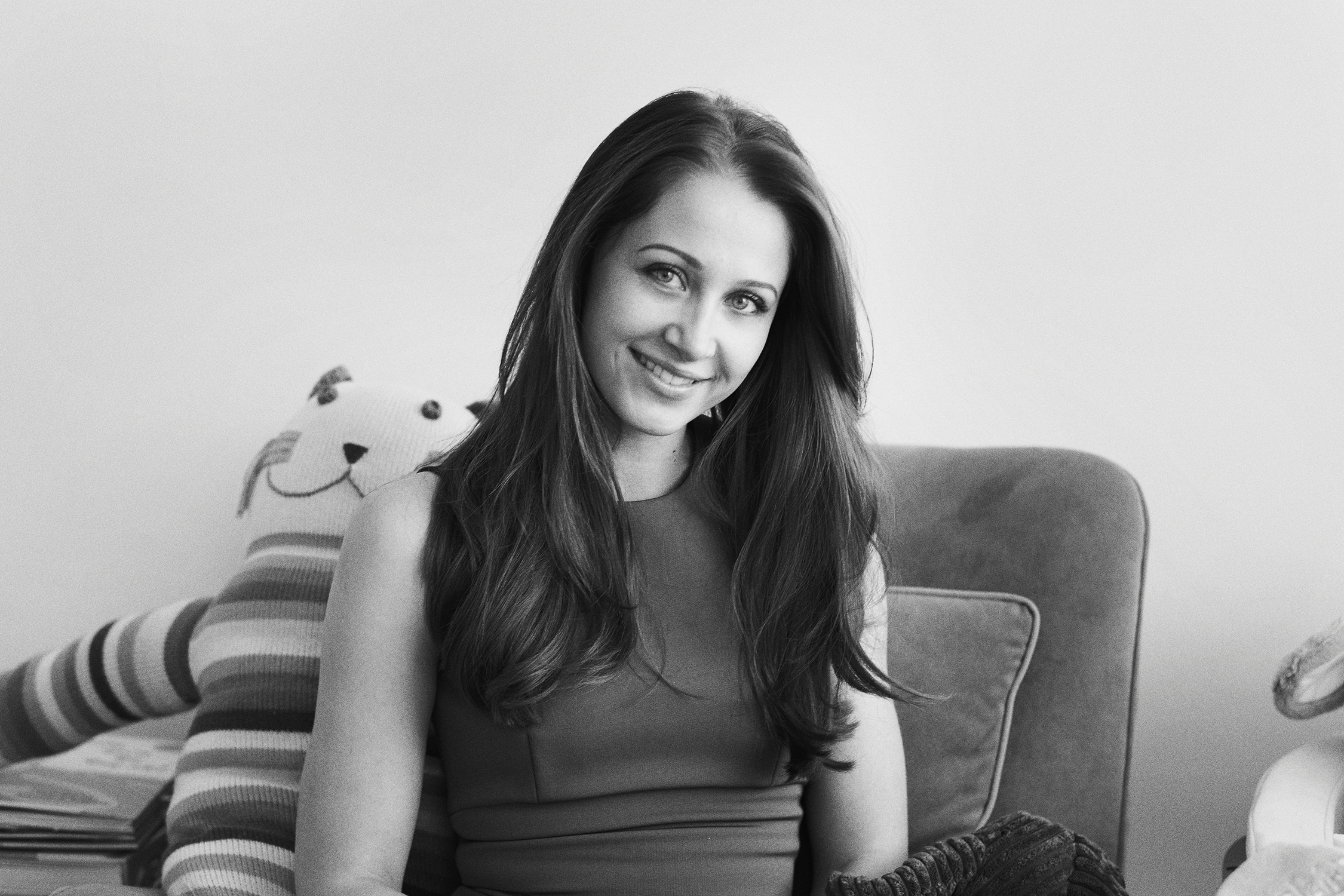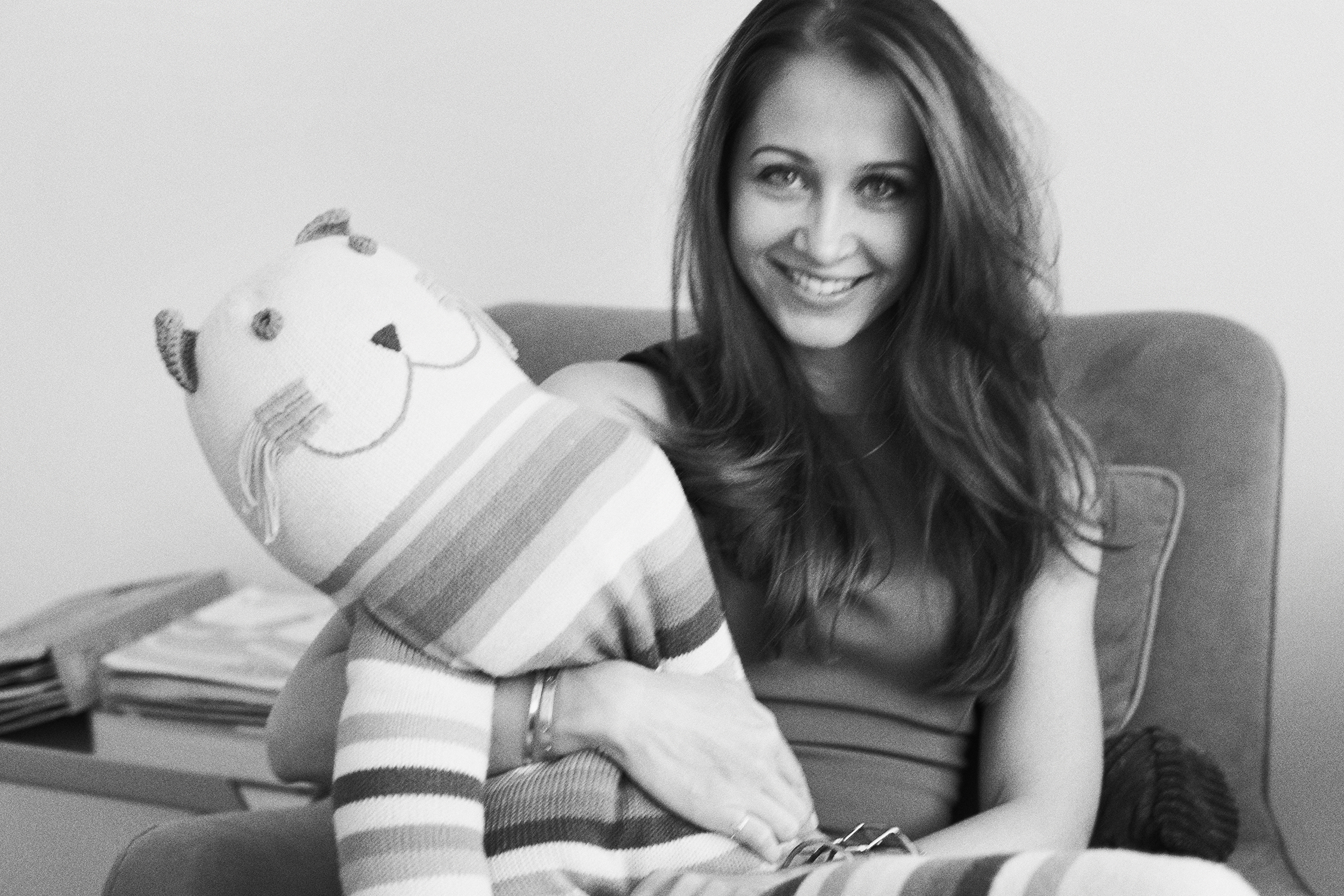 x
Subscribe
Receive all things Romy & The Bunnies direct to your inbox. Don't worry – you information is secret safe with us!