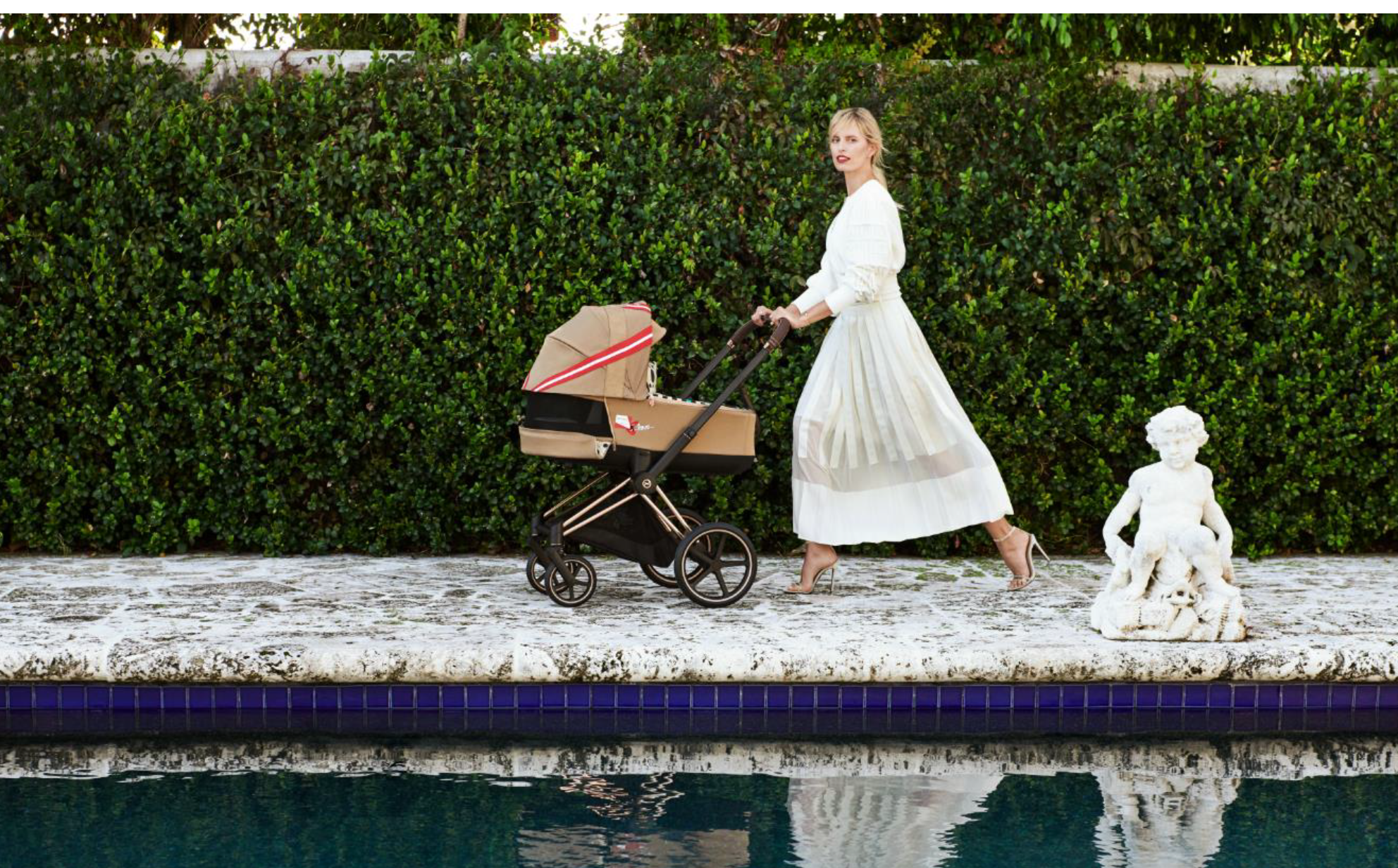 OE OF OUR FAVORITE MOMMY AND ONE OF OUR FAVORITE BRANDS JUST COLLABORATE.
LEARN MORE ABOUT THE EXCLUSIVE CYBEX STROLLER COLLECTION DESIGNED IN COLLABORATION WIT KAROLINA KURKOVA, MOTHER, SUPERMODEL AND FOUNDER OF A NEW CHILDREN SKINCARE BRAND.
Always a favorite at Romy and the Bunnies, Karolina Kurkova was one of the first mother ever featured on the site(read our article from 2013). Karolina is now much more than a model and a mother, but she is also an entrepreneur in the children industry, with her brand Gryph and Ivy Rose. So when we heard about her new collection with CYBEX, we couldn't wait to hear more!
Karolina's collaboration with German brand CYBEX came about as a result of their aligned parenting philosophy. Just like Karolina, CYBEX focuses on finding the perfect symbiosis of safety, functionality and design when it develops its products. Modern parents can not only rely on the functionality of CYBEX's products, but can also relate to their fashion-forward designs and style. Kurkova worked closely with the CYBEX team on the collection. Thus, Karolina is not just the "face" of the collection: she is a true partner, contributor of ideas and a collaborator. As a working mom and fashion expert, Karolina has taken on the role of collaborator with CYBEX seriously, as one who understands what women today both need and want. Karolina is also a champion of products that are sustainable. As a result, the collection is made with REPREVE® certified recycled fibers. The yarn in each product utilizes up to 31 recycled plastic PET bottles creating an eco-conscious offering.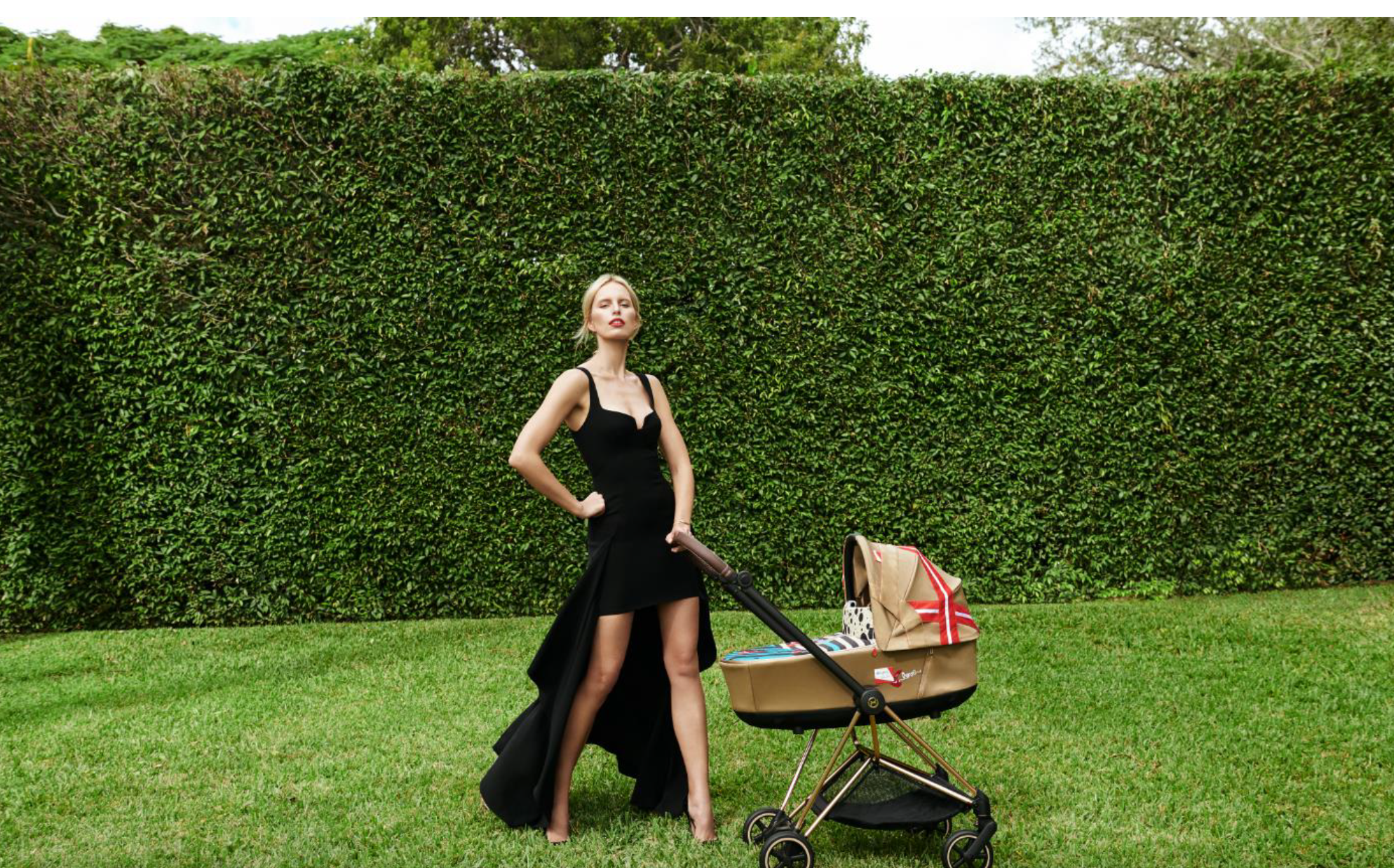 We chatted with Karolina to hear more about the collaboration:
Hi! How did the collaboration idea between you and Cybex came up?
When it comes to kids' products, safety, functionality, and design have always been extremely important to me. I loved that Cybex shared this same philosophy and was excited to collaborate with the founder, Martin Pos, who is also Czech! We realized there was a gap in the market when it came to sustainability, and so we set out to design eco-friendly yet fashion-forward products.
What was the most important thing for you to achieve?
While safety is obviously our number one priority, I also wanted these products to be made with love. We included the red lips because it's a signature look of mine, but also because it symbolizes the love I have for my children. These products carry our most precious gifts and I wanted that to be represented in the design.
What's one of the most practical aspect a stroller MUST have?
Strollers get dirty – specifically where the child sits! While these products are chic because of the neutral exterior, we made sure the inside had fun, bold designs to mask some of the potential situations that can occur.
I love the fact that the stroller is made of recycled Fiber. I think we all have a responsibility at being more eco conscious in a realistic way. What are 3 easy things you would recommend to another mom trying to be a bit more eco friendly?
Number one would be to educate your children – explain why it's important that we take care of our environment. I also like to get in the habit of recycling, picking up litter, etc. so they catch onto these habits. They observe and repeat everything we do, so it's important to set a good example. Lastly, look into the products you're using and where they come from, and see if there are more sustainable options on the market.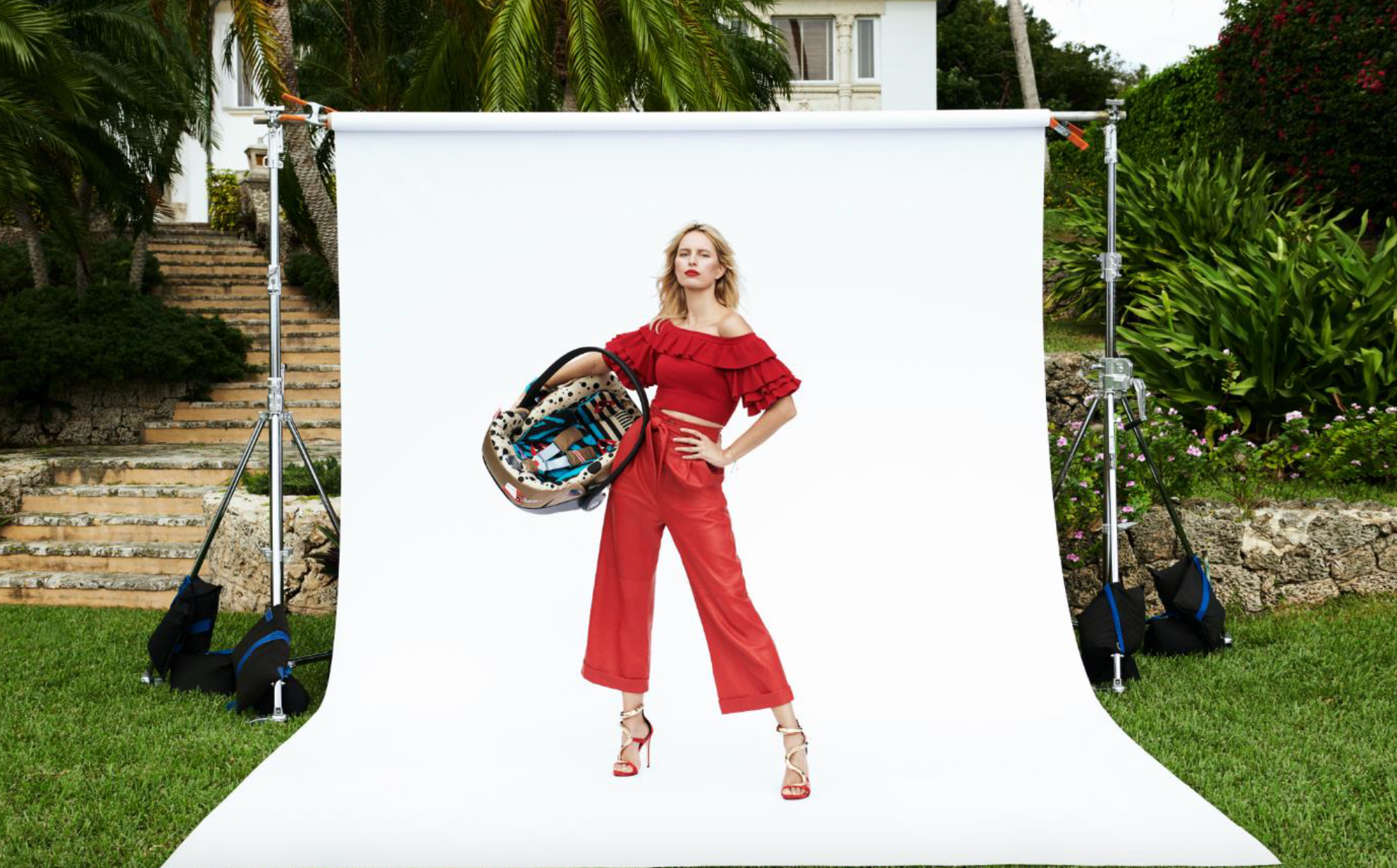 Twitter @karolinakurkova
Instagram @karolinakurkova
x
Subscribe
Receive all things Romy & The Bunnies direct to your inbox. Don't worry – you information is secret safe with us!