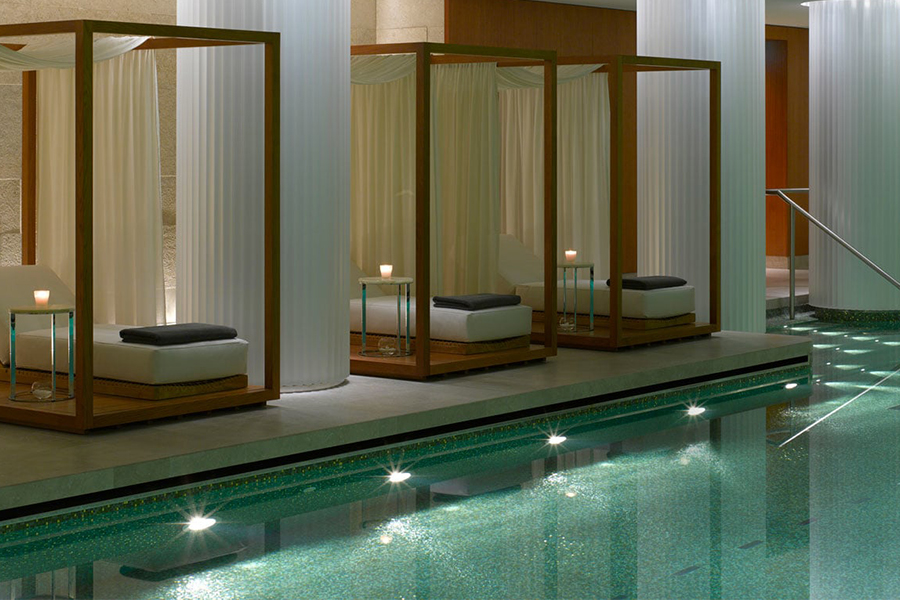 DAY ONE
I finally just arrived in London and got off the plane after missing my flight in NY. I never ever missed a flight so that was quite a stressful first!
I am here to cover the London Shows on behalf of CR Fashion book and have to attend my first show, Molly Goddard, in just a few hours…straight off the red eye. No need to say that the fact that my room  (a studio suite) is ready right away despite being early morning  is priceless. Trust me, nothing beats a warm shower and quick coffee in bed before hitting the the hecticness of Fashion Week.
Well nothing besides maybe a facial, a swim and a steam! I made the most of my two spare hours to discover and enjoy their  award-winning 2000m² Bulgari Spa (this is probably the only spare time I will have to enjoy it…). I started with the amazing 111SKIN Dramatic Healing Facial, followed by a swim in their 25 meter long pool a bit of steam. I should have probably do it the other way around but the jet lag didn't make me think straight! Anyway, after indulging myself for a bit i finally feel as new and ready to hit the streets of London.
Its 7pm, I am finally back at the hotel after the last show of the day, and definitely ready for a drink, and catch up with a friend who just moved to London. Wine and girl catch up at the Bulgari Private suite bar was the perfect way to unwind and end the day!
DAY TWO
Its Sunday, its bright sunny and 18 degrees C outside. It feels a lot like summer and makes waking up for the first show all much easier! My favorite moment at a hotel is breakfast in bed! I never really have time when in NY to indulge into a nice breakfast, with the chaos of early school drop off and getting my 6 year old ready! Breakfast for me comes last! So whenever I am traveling alone I always wake up earlier than needed just so I can enjoy a nice long relaxed breakfast in bed, and usually order EVERYTHING! Also because the schedule is so tight that I am never sure when I will be able to eat next.I love their mediterranean options! I love to mix! Latte, Celery Juice, Vienoiserie and "Sashkuka" (my new brunch obsession) should keep me satisfied for the rest of the day!
Off I start the day with Victoria Beckham. I don't have that many shows today which is great. So After the first show I finally have time to visit a friends new born baby followed by coffee at a sunny in Westbourne Grove.
Next one is Burberry, and you can't be late! Thankfully, the location of the Bulgari Hotel is as central as could be and everything is at most 20 minutes away, which makes dealing with running from a Fashion Show to another back to back (and eventually changing in between much easier!)
I end the day with one last show, a cocktail event, on my way back to the hotel, a bit tired to be honest, I get a message from friends to join them for dinner… I  guess the bubble bath I was looking forward to will have to wait another day!
DAY 3
Monday. The busiest day of the stay. 6 shows back to back every hours followed by the famous "FundFair" charity Ball hosted by Natalia Vodianova. Ive been going to her event a few times over the years, but it is the first time I am actually hosting one of their fun fair booth.
I am a little tired today and regret going to bed later than planned last night. I snooze over and over until I only have 30 minute to get ready and have breakfast! What I love about my room, is that unlike most hotels, its just one big space (Instead of that Bedroom + separate living room combo!). It makes my running around  from one area to the other trying to gather my things and get ready much easier!
Off I go! Erdem, Chalayan, JW Anderson, Pringle, Christopher Kane.
Its 5 pm, I am finally back at the hotel and have a couple hours to eat, and get ready for the the Fund Fair. Nap or Bath? I opt to finally try that giant bath tub and relax with one of the 111Skin face mask the Spa gifted me. I really need it!!!
7pm, off I go! I ate dinner while getting my hair and make up done as I had to rush out. I am hosting the Booth for a lingerie brand, and actually dressed in Silk Pyjamas, to my biggest satisfaction!
Its finally time to go home, and slipping into that amazing bed  never felt better! Black out curtains down, no alarm, and "Do Not Disturb" sign on the door. I Dont have anything in the next morning !
DAY 4
Last day of LFW. I only have one show to attend in the afternoon. Richard Quinn, which I am very much looking forward to.
I woke up early despite not having the alarm on. I have two options, work out at the hotel's gym. Or go for a run in Hyde park, which is my favorite run always. Its beautiful out and the park is only a step away from the hotel, which I love! Off I go for my run, but after running around the entire park, I still have some spare time for pool time at the Spa. Its Tuesday morning and I have the pool and steam to myself. I am glad I got a bit of spare time because there is nothing more frustrating than to stay at amazing hotels and not having the time to make the most of the amenities!
2pm off I go to the last show, and I cannot wait to be done as right after Ill be picking up Romy! We are going skiing the next day, but first picking her up and having dinner with our london Family in Notting Hill.
We finally get back to the hotel. We have to get up early and I have to pack! The second she walks in she goes "Mama! Its so nice in here, I love it!" I tell her there is a pool but unfortunately we dont have time this time around so we will have to come back! We get in the room and she jumps on the bed! "So Cosy" she says! She also checks the bathroom and loves it too! We travel a lot together and she's used to come with me on business trips. I put her in bed so I can finish packing, and put her a movie from the children's film menu. Before going to sleep I ask her what she wants for breakfast the next day! She hesitates between the chocolate crepe and French Toast. French toast it will be!
Thank you again so much Bulgari Hotel London for such an amazing stay. You made the hecticness of the LFW schedule way smoother!
Shop some of my Travel Beauty, Bvlgari and Bulgaria Spa Must Have
x
Subscribe
Receive all things Romy & The Bunnies direct to your inbox. Don't worry – you information is secret safe with us!