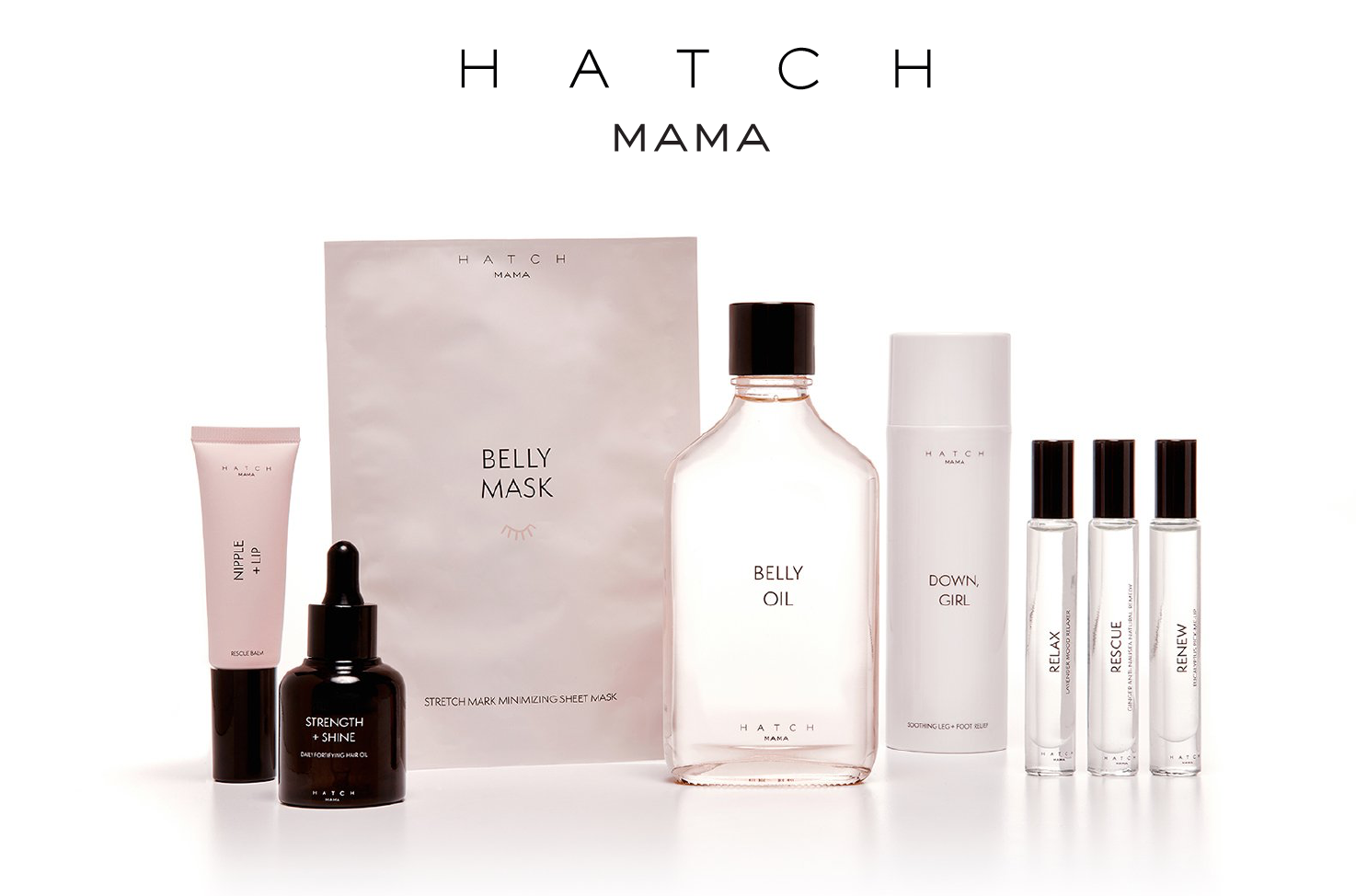 HATCH Mama was developed by women who have been through it: The good, the bad and the ugly of pregnancy (nausea, crazy itchy skin, stretch marks).
There's a toll that it takes on our bodies—growing-ababa!— not to mention on our minds. Rather than scour the internet or wait for friends to share "secret beauty weapons," there's one conversation now—one trusted source so you don't have to do all the heavy lifting yourself. Natural, nontoxic ingredients mean you can use it all without worrying. It's safe. It's effective. Oh, and it looks really good on a bathroom vanity.
We've got your back (and the rest of your body, too).
The range consists of 5 products
BELLY OIL Stretch Mark Reduction Therapy $58

This fast absorbing dry oil elixir is rooted in a powerful blend of nutrient rich botanical oils (sweet almond and argan oil, to name a few) that support skin as it expands. Calendula flower and rosehip oil help calm inflammation, relieve itching, and reduce the appearance of stretch marks.

NIPPLE + LIP Rescue Balm $28

This naturally nourishing formula is loaded with nonirritating tropical butters to reduce irritation and help protect from chapping and chafing. Super fruit acas and pomegranate moisturize and marshmallow root helps to heal. Perfect for lips and other bits! No nasty ingredients here.

BELLY MASK Stretch Mark Minimizing Sheet Mask Single, $12 4 Pack, $42

This all-natural hydrating sheet mask with aloe vera, propolis, and hydrolyzed marine collagen was made for pregnant bellies to help minimize stretch marks and help soften and soothe inflamed scar tissue post pregnancy. Free of colorants and fragrance; it was developed for use during all stages of pregnancy and postpartum.

DOWN, GIRL Soothing Leg & Foot Relief $42

A cooling, anti-inflammatory gelbased cream with aloe, chamomile, and ginger that helps reduce swelling and invigorate tired feet and legs.

STRENGTH + SHINE Daily Fortifying Hair Oil $38

A luxurious blend of avocado and jojoba oils that hydrate hormonal strands to keep them healthy and strong as well as botanical extracts to help encourage natural hair growth. Grapefruit and lemon peel oils help clarify the scalp, naturally eliminating cellular build up.

POCKET SPA OILS Rescue, Relax, Renew $26 Pocket Spa Trio, $68

Portable pampering: These essential oil based rollerballs will revive you throughout your day, relieve nausea, and calm those nerves. Developed at 1% essential oil concentration, these are safe for pregnancy and baby- and good for sensitive noses
x
Subscribe
Receive all things Romy & The Bunnies direct to your inbox. Don't worry – you information is secret safe with us!