What do you like the most about becoming a mom?
I was not a born-to-be-a-mom sort of woman, I was happy to remain a girl as long as I could: working hard, traveling the world, and trying to feed an insatiable curiosity for things.
Up until I gave birth, I was wondering if kids were not "overrated." I thought moms were speaking all the same awesome cliches, to the point that I was wondering if there was a written handbook to go along with the newborn "how to speak about being a parent in public" that you had to read, acknowledge and commit to by international law. Then Milo "happened."
And here I am. Being a mom is a higher calling in life–it gives perspective, re-organizes priorities, opens your heart, gives you a whole new set of responsibilities, while, at the same time, it makes you connect more with your inner child and opens your eyes again on everything. I know… sold to the core of the cliche–embracing it, signing at the bottom of the contract. I've enrolled, and turned into an activist. For a second, it humbled me, as I was no exception to the cliches. The next second, my pride was back and I had become a "proud mom."
What has surprised you the most?
To discover this overwhelming amount of love I had somewhere inside of me, that came gushing out the moment I gave birth. I also discovered, against all odds, that I could actually be very patient.
How has it changed your life?
It has been a transformative journey that comes with its identity crisis of course. Major love stories often come with a loss of self. This one is  M-A-J-OR. Suddenly, this very sharp definition of yourself, the marble square of yourself: resilient and unalterable, becomes a Barbapapa that is clumsy, colorful, and loose. (If you are not familiar with Barbapapa, it is an awesome French-American weird species out of children's books created in the 70's. Barbapapas, in their native form, are blob-shaped, with a distinct head and arms, but no legs, they are notable for their ability to shapeshift).
I guess in adult words, it is about learning to manage with an antagonist self: the mother and the girl.
What do you find the hardest?
For some reason, Barbapapas are not great decision makers. It is now difficult to make (life choices), whereas it was never an issue before.
What do you like to do the most with Milo?
– Morning cuddles
– Go on a trip. I like the idea that we discover together what is in front of us.
– Watering plants (he loves it, go figure)
 
You guys have a busy schedule and lots of travel. Do you have any advice for new moms traveling with a small baby? Any destinations to suggest?
Milo started traveling when he was three weeks old. He is now fifteen months and has a good collection of stamps in his passport. I breast fed for seven months, which was very practical, especially on planes. Take organic bug spray and sunscreen, some basic medication, and a net. Avoid extreme cold and extreme heat. I found any destination with an ocean and/or a pool very enjoyable, especially if there is the prospect for surfing (here we go, the selfish inner girl speaks out).
I would recommend places where nature is abundant and offers a variety of bright colors: Hawaii, Brazil, Costa Rica, Nicaragua, Belize…
Milo was born and raised in NYC for his first year, and you then decided to spend more time in Paris. Having a young child, how would you compare the two cities? What are the pros and cons, and which one do you find the easiest?
Paris is definitely easier and very kid friendly. The parks are gorgeous and the playgrounds are numerous. The school system is also much easier–very affordable and of good quality. There is a strong art culture, which is important to me in the education I want to give Milo, and most museums have great kids section/workshops. But the city is less international and vibrant than New York. There is no other city like New York. New York is a unicorn. This one exquisite creature, composed of a wide variety of cells, carrying your dreams. It has extra power and screams at you "yes, you can."
When I arrived in New York, I read Here is New York by E.B White, which is still such an accurate description of the city. One line says: "The island of Manhattan is without any doubt the greatest human concentrate on earth, the poem whose magic is comprehensible to millions of permanent residents but whose full meaning will always remain elusive." And if New York has this reputation to be tough, it is also the place where I witness the biggest solidarity amongst people. Solidarity is delivered primarily by its people, not by political principles.
New York is multifarious, Paris is multigenerational. Having been raised by a wonderful great grand-mother who had a big influence on me, I missed the elders… gracefully moving their fragile silhouettes and carrying incredible stories. In New York, the median age is 34, which gives an incredible advantage to the city in terms of dynamism and growth, as it also keeps the dangerous myth of eternal youth very alive.
I adore both cities for almost opposite reasons, I am very lucky I can experience both.
You are a mom but also a career woman–how do you manage it all? Between work, motherhood, and having a bit of time for yourself…
As many other professional moms, I try… to the best of my abilities. During the day, I run a digital agency called DAN Paris, and I love it. Compartmentalizing is probably the key. I have a very good system in place, so when I am working, I don't have to worry about my son. I know he is in good hands, which allows me to focus on my job.
I am very rigorous about spending one hour in the morning and one hour at night with him, without a phone. It may not seem like much but that's the a reality of working moms and dads, and we should try not to feel too guilty about it. The weekends are Milo time–we do everything together, which does not prevent me in any way from seeing friends. We all meet up, adults and kids, and go on adventures.
In the end, I have very little time for myself, and the time I spend with Milo is my new "me time". If I really need a break, I am lucky to have my parents who are amazing grandparents. When Milo's dad is here, I take my Barbapapa self to a yoga class or a movie.
You don't live with Milo's dad, how do you manage? 
Milo's dad is very present in his life, and sees him on a very regular basis. Plus they speak almost daily thanks to Skype, so Milo is clear about his dad's presence and love, which is the most important to me.
The moment you have a child with someone, you become family forever, and we feel like family–quite a modern one.
What advice would you give to any single mom with a young baby?
I try to stop myself from giving [bad] advice…
I would tend to say a child is happy when the parents are loving and happy and he/she does not face rejection from a third party.
So for moms and dads, I would just say try to minimize the guilt, and do not compromise with your kid: the person who will enter your life will have to embrace that a huge part of you is to be a mother/father, and if he/she doesn't, then you've made a wrong choice.
If you are clear about it, it takes the potential problem away.
What are you best memories about pregnancy?
Wow! Pregnancy was very easy for me, aside for the sickness at the beginning. I was busy with work and buying a place, so I wasn't super conscious of my growing belly. I was running as usual. The first time I felt him move was surreal and also the moment it became more real. Towards the end he was having hiccups, which was cute.
What was your pregnancy style? Any favorite brands? Clothes? Lingerie?
I wore my normal clothes until the fifth month and refused to buy pregnancy clothes–which are usually hideous– so I bought larger sizes and kinder shapes.
The T By Alexander Wang line was a great go-to. One weekend, I splurged at The Webster in Miami and bought t-shirts, a Lanvin dress, a Proenza Schouler sweater dress, Nina Ricci shirts, and a Stella McCartney mini-dress. This is the fancy part, but my wardrobe mixes high and low, so Zara, Gap, and H&M were also part of it. I pulled my hair back with few of my favorite Eddera hairband that I matched with bracelets and rings.
In terms of lingerie, I would just say don't let yourself down.
How did you pamper yourself and look after yourself? Any favorite Spa? Products? Cravings? Did you work out at all?
I applied Clarins Tonic Oil religiously, and followed the same regimen I always did. I ordered online at Doobop: Georgia Luxury Skin Wash with Geranium and Rose, Verso Superfacial Serum, and Caudalie Beauty Elixir, Nuxe Reve de Miel Lip Balm, and L'Occitane Almond Shower Oil, which keeps your skin soft. As for haircare, Leonor Greyl is the best. I also indulge in delicious candles from Le Labo which is also where my Jasmin fragrance comes from.
In terms of workout, I went to the gym three times a week, up until I was seven months. Since then, I have not exercised, but I do miss it. It is on my list of resolutions.
Could you describe your beauty routine? 
I moisturize morning and night, and I remove any makeup carefully before I go to sleep. I use very little makeup, but when I feel tired, I pull my bright red lipstick out to divert the attention.
What about now? How do you manage to relax and to look as glamorous as you are!
Wow, thank you. I would love to relax a little more, but it's not really part of my personality. If I feel I am on edge, I take a break and go either to the Russian Baths in the East Village, or to Aire in Tribeca, which is fancier. If I can, I take off and leave the city, ideally to a surf destination. That puts me back in a good mood (even though I am a permanent beginner, no talent whatsoever).
Where are your favorite places to go with Milo in New York ?
I love the Brooklyn Botanic Garden, the Museum of Natural History, Prospect Park, and Governors Island. As for clothes, I am a huge fan of Smallable, Makié, Oeuf, and Sweet William. I also love the Gap Kids line, especially the organic one, and the best pajamas are at Marks&Spencer.
What about in Paris?
Paris gardens are divine: Le Jardin D'Acclimatation, Le Jardin des Plantes, Square du Palais Galliera (where I live), Le Jardin du Luxembourg, Le Jardin des Tuileries, Parc des Buttes Chaumont. They are all unique and worth the trip. If I had to choose one, it would probably be Le Jardin des Plantes.
For shopping, I love Monoprix, especially the Heimstone capsule, Petit Bateau, Noro, Ketika, and Imps & Elfs. Paris offers a wide variety of good and affordable baby clothes. Bonpoint remains the best. Milo has a bigger wardrobe than mine, I especially envy his amazing collection of colored socks.
What can we find in your mommy bag?
A mess.
What do you like to cook the most for Milo?
I am a terrible cook, but he is kind enough to like everything–including the food I prepare… I usually buy delicious organic food at the market that I then proceed to ruin by overcooking. You don't want my cooking advice, believe me.
Photographed by Alexandra Utzmann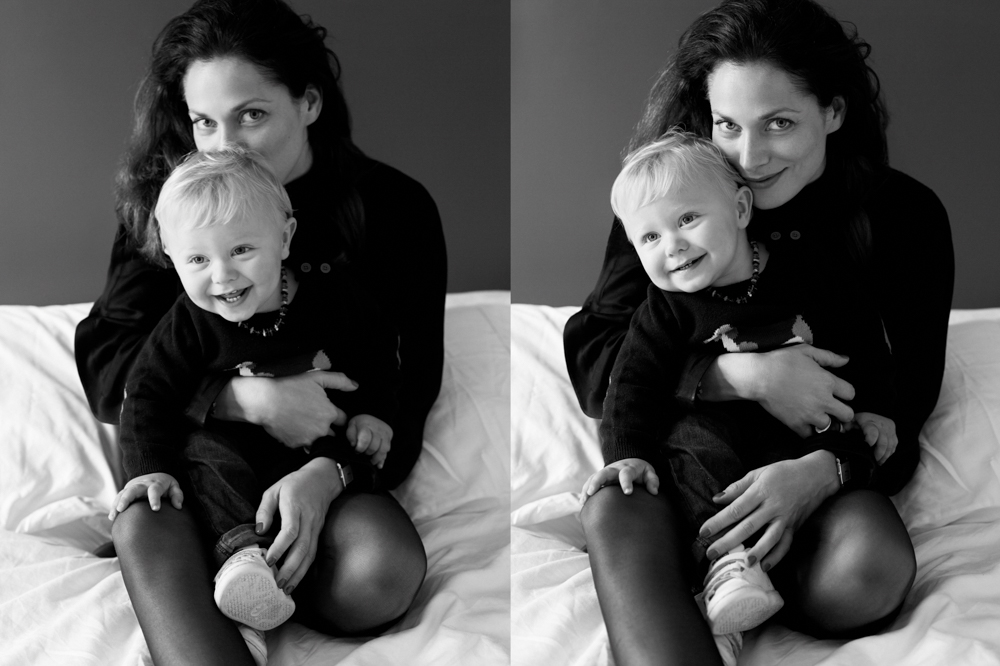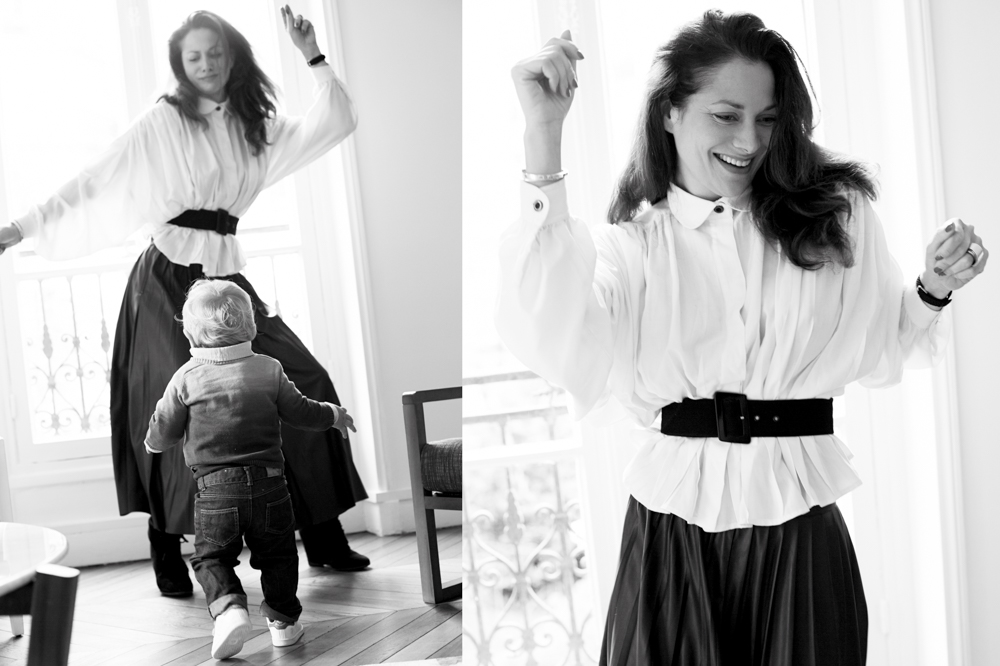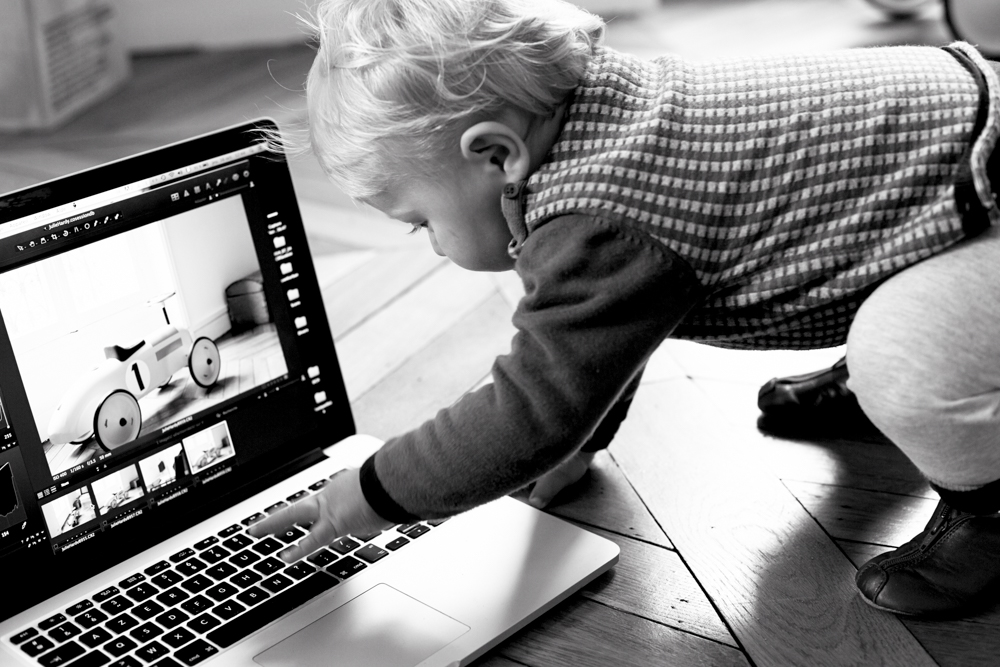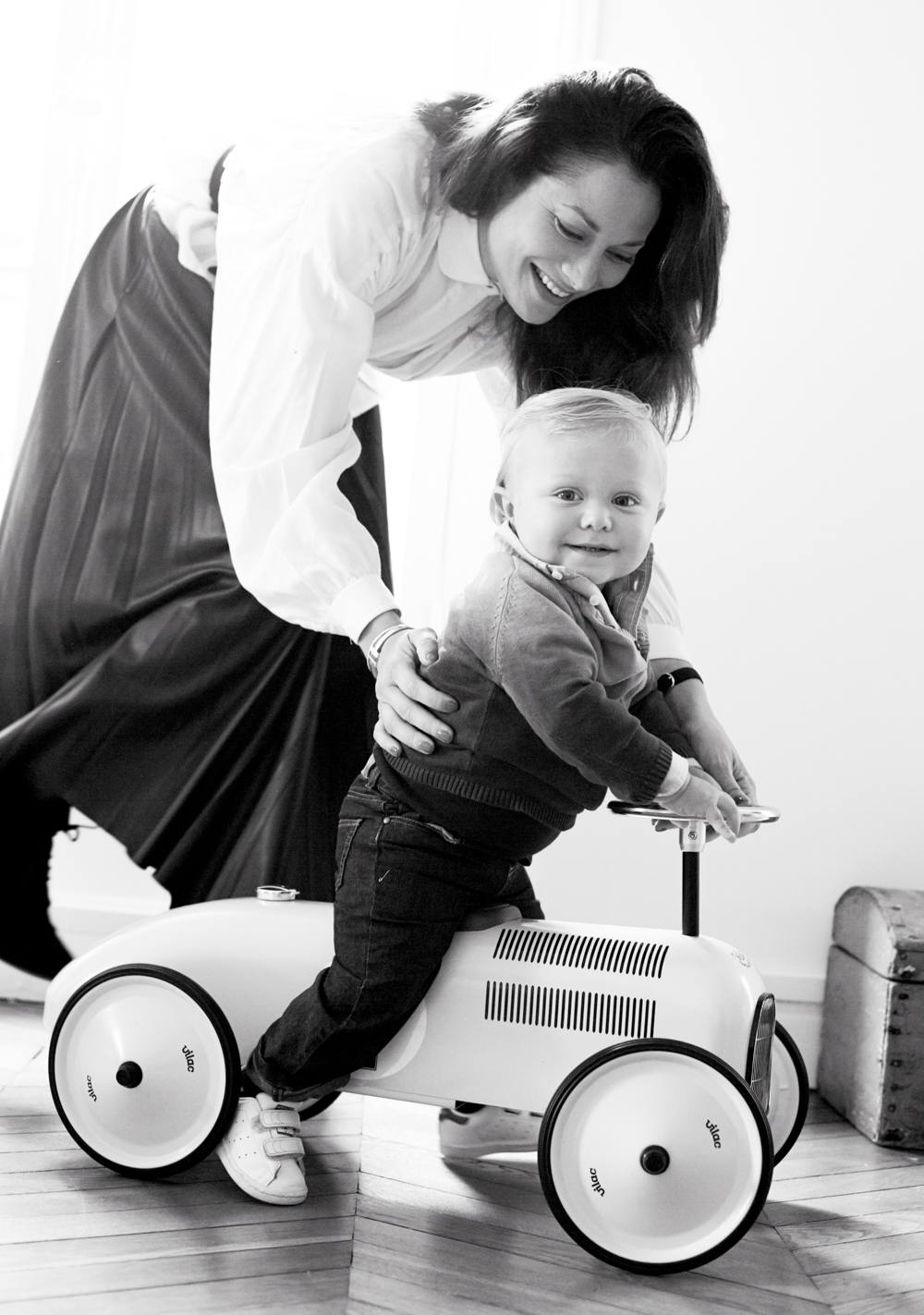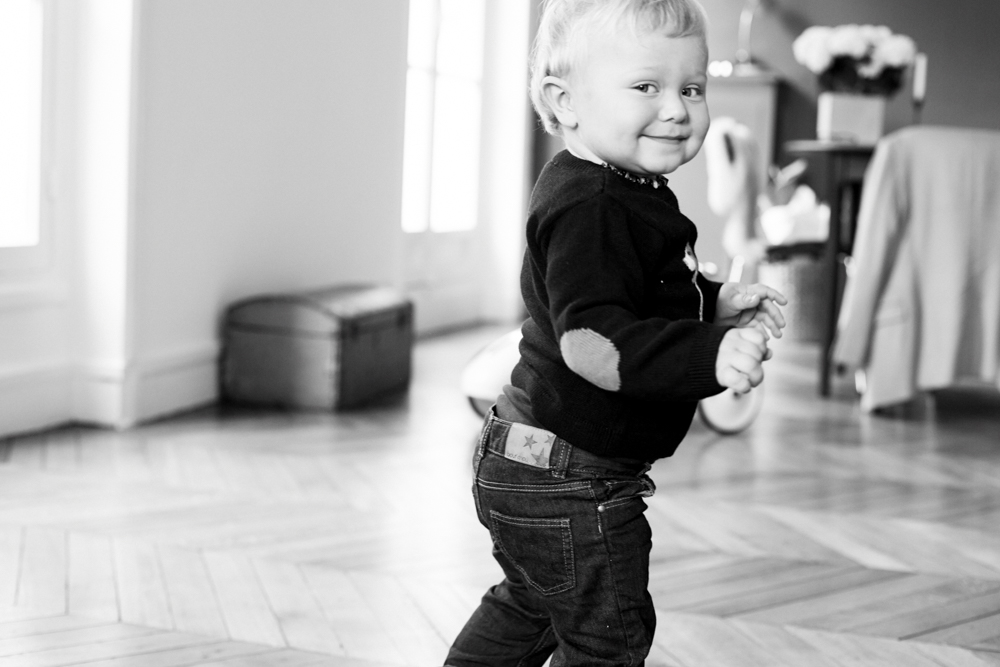 x
Subscribe
Receive all things Romy & The Bunnies direct to your inbox. Don't worry – you information is secret safe with us!