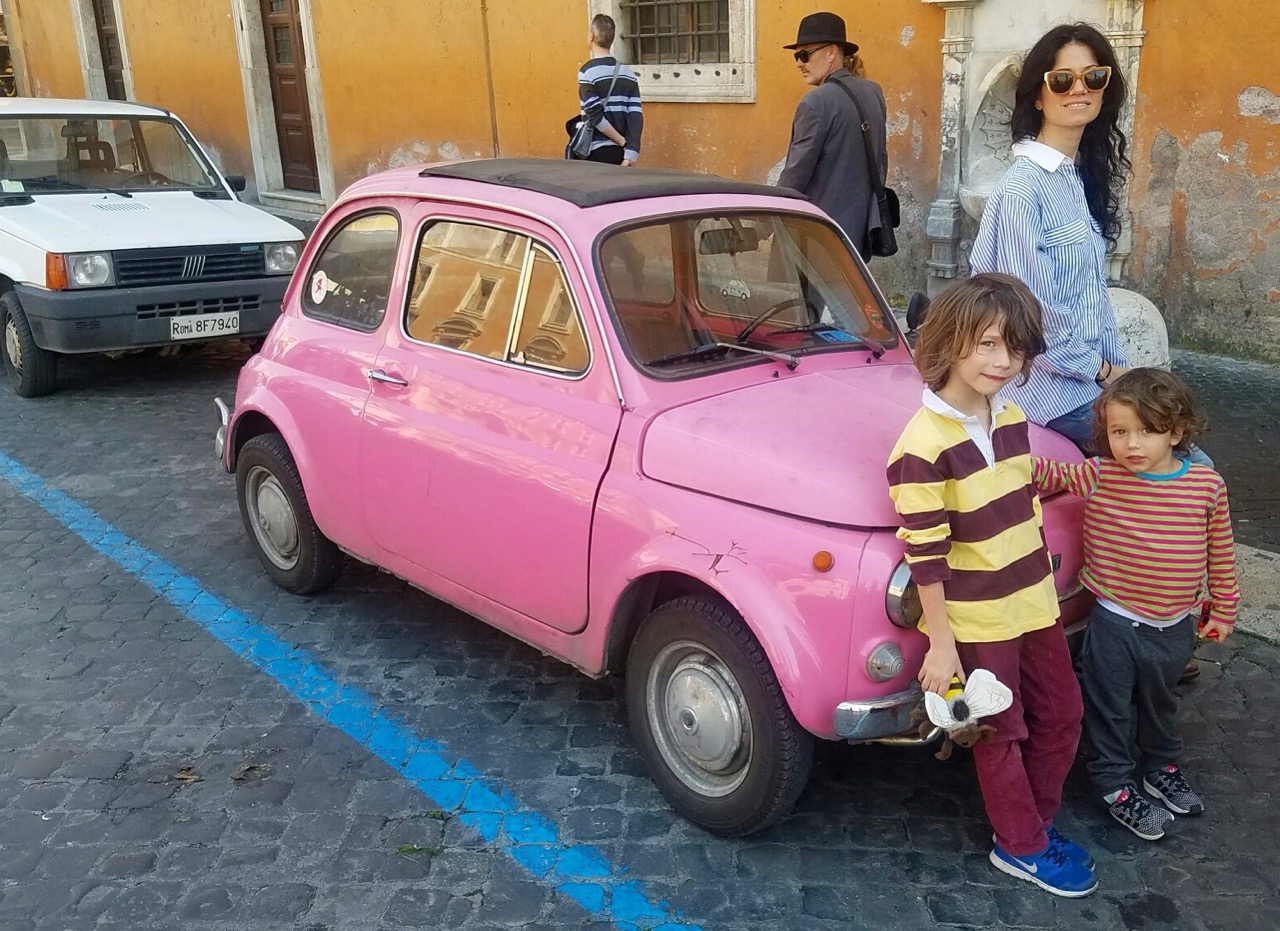 Giada Lubromirski spent the early parts of her career as a stylist and gallery director. However, after having children, Giada realized she wanted to have a hand in helping make the world a better place. Now as a mother of 2, Giada is working as an activist and is on the board of several sustainability programs, and is working on making the fashion landscape greener.
I am aiming to live a more conscious lifestyle, which is not always easy with the expectations of the fashion world, but even harder as a mother. You are a mother of two. How do you share your passion with your sons? Are your sons aware of today's issues?
Our sons are 9 & 6 years old and are now very aware of the environment. They know what "waste" means. We started to teach them about "waste" early on. It's an easy word and it's an easy concept to understand. They are totally aware of how their actions affect mother earth. It's a beautiful thing I am proud of as a mother. At times, they are more aware than us, and as their parents, it brings such serenity knowing they are aware of these important issues that will shape everyone's future, especially theirs.
With that in mind, we have fun with it. We believe style and trends shouldn't be a compromise to mother earth and so we like to show how we can live our daily lives, content, knowing we haven't purchased anything new to fill "satisfied or enriched". We have challenged ourselves to feel that buying something used is still buying something new for yourself. Does that make sense? ha! They know there's way too much on this planet already because we show them and educate them. When we go places they identify waste on their own and ask questions. Never ending questions hahahahaha!
We invite our kids to be part of our daily activities whenever possible. Focused on environment, in the past, they've experienced many climate marches, community beach clean ups and initiatives. This has allowed for them to use their creativity to spread their messages on how to "take care" of mama earth. Even things as simple as taking care of the street you live on with your neighbors, can teach a child a lot. Wether it's cleaning up the street, weeding or planting new flowers in our community garden, they are part of everything, wether it is watching or doing.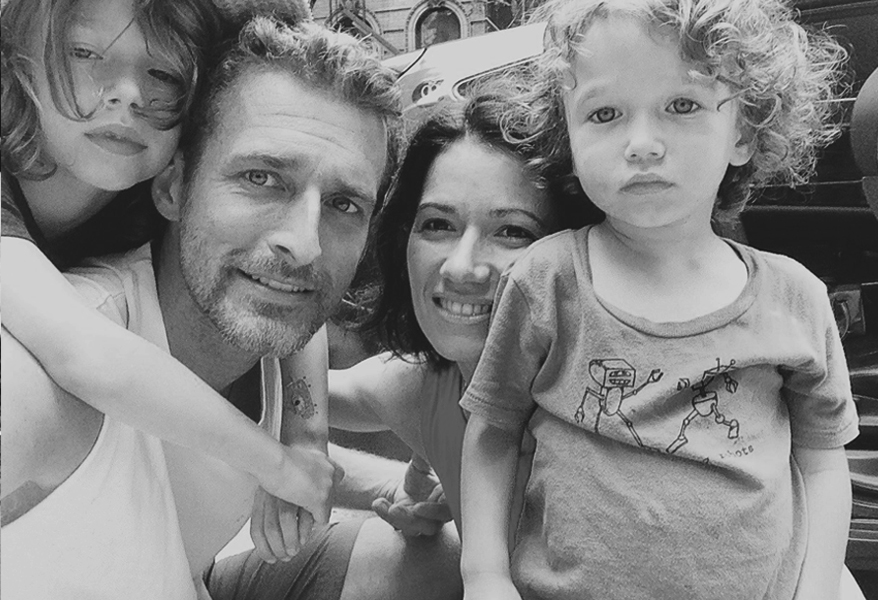 How do you recommend informing our kids about the environment, global warming etc. to make them aware but not scare them? Are there any books or programs you enjoy with your kids on these issues?
Inform your kids through your daily actions. They absorb everything and what they observe, they will live by as they grow into their own individuals. It will be etched in their soul.
They are curious and will ask deep questions. Answer them truthfully, don't sugar coat everything. They deserve our honesty more than ever at this time. We also talk a lot about "feelings of fear" when finding out the truth and how it is okay to feel fear, but then it is important to turn that feeling around with positive actions.
It's as simple as that.
To be completely frank, whilst I am doing research and watching documentaries or footage organizations send me, sometimes the kids stumble upon things that may not be completely appropriate for their age, but allows us to open wide truthful dialogue about the circumstances the environment and the animal world is facing at this time.
We believe some of these experiences are shaping their curiosity to the natural world. They are eager to know because they are connected more than adults.
They are constantly trying to think of ideas to help make things better. This curiosity and eagerness for solutions then crosses over to their school work and projects. We see this a lot.
They don't really watch much TV, but we do allow them to watch a movie or nature shows and series during the weekend. They love David Attenberg and all the BBC specials he's done, such as Blue Planet, The Planet Earth series etc… Our kids love anything National Geographics related. They also love the cartoon the Wildcratts (I love it too ha!).
We also like to look up eco science projects on youtube. We like to challenge ourselves with our creativity by using things we find around the house or in the backyard. We create colorful "jarnados" (tornadoes we make with reusable jars, baking soda, colors and wake ingredients from our cupboards).
Any books about nature, the environment, the ocean, deep sea creatures, are all subjects they love to dive into.
We have a huge list of favorite books (See attached photo and pdf list for a few suggestions).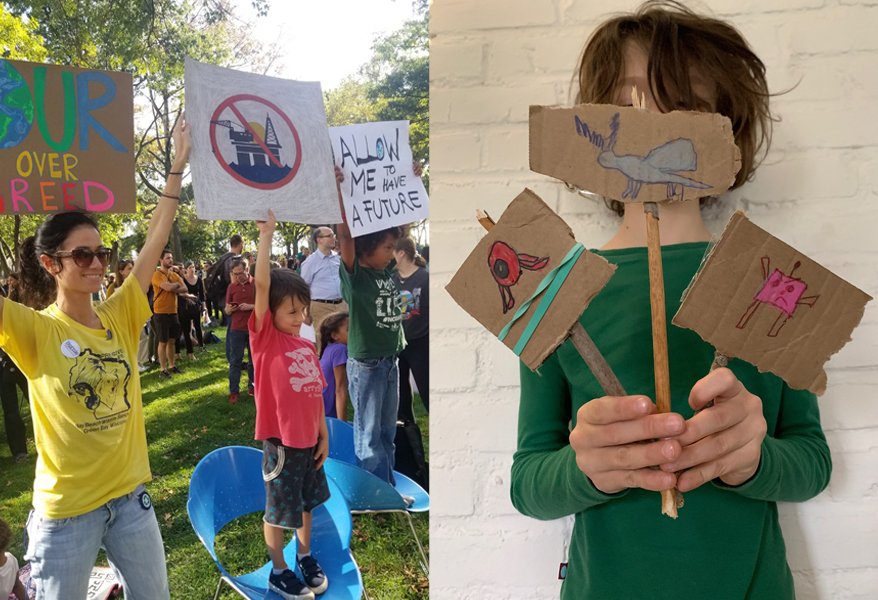 What are your top 3 tips for teaching kids about how to be sustainable? How/Do you see your kids taking sustainable measures on their own?
1. Teach by "doing" —Meaning teach them by showing them how you take care of the planet at home, at work and during your daily lives.
2. Clean a beach with your kids—This simple family activity is a great one for any age. It's fun, it can become a "game" of who can find more items, and it is truly educational. I have watched so many kids' reactions during beach clean ups and they are stunned because most had never noticed how much garbage humans leave behind. They can also connect the dots and see "what we buy" can directly affect a bird, a marine animal and be toxic to the living organism on the beach.
3. Involve them in your daily activities whenever possible. For me personally, the weekends are my days to dedicate to them and involve them in what I want to do or create. I try to think of ideas prior to the weekend, but we often "make up" projects.
Many times they join me at prapping my vegetable & herb gardens, dehydrating apples to make apple chips, saving orchids, making bird houses, making paper airplanes and having contests, picking up litter in the near by forest. Taking nature walks is a big one and they love to play "poo sticks"(as winnie the poo) at the nearby creek. Playing games outside (we love frisbee and soccer) is also a daily activity they love.
Most of the time, our kids use their own imagination and look for natural or found objects outside or inside the home. My 9 year old made an entire puppet show out of card board pieces he found in our recycling from some packaging. When he showed me this, I got so inspired and said "let's all make a character!" We have many moments like these.
We are blessed to have a private backyard, which allows them to experience nature, outdoor adventures, animals and can play outside.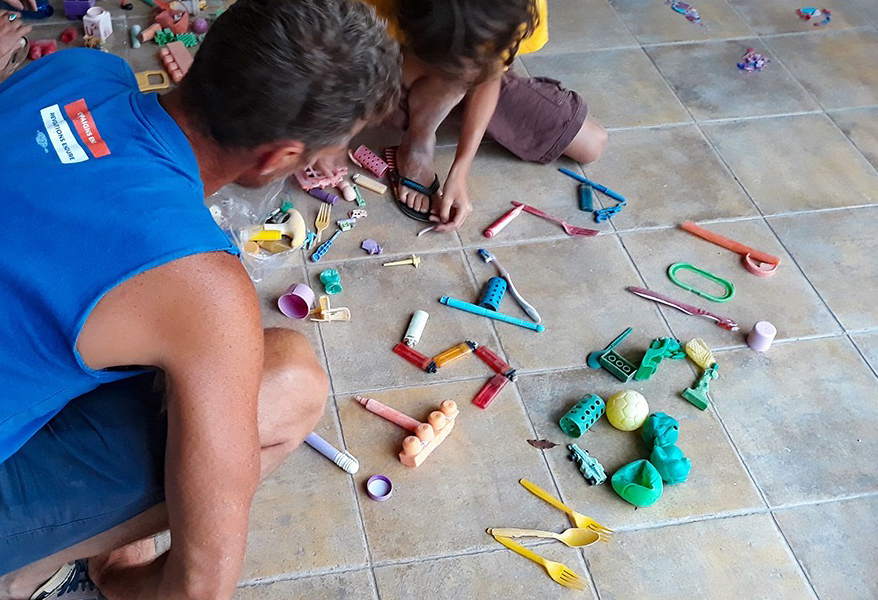 What are the biggest challenges you face being a mom trying to maintain a sustainable household? Food waste for picky eaters? Growing out of clothing too quick? etc.
The biggest challenge for me personally as a mom, is to decrease the plastic that still comes into our household. Now with the Coronavirus, it will be way more challenging. No matter how hard we try, we still haven't reached a zero waste lifestyle with the entire family. It's very hard.
From the kids bringing in useless plastic waste from their schools and birthdays, receiving unexpected packaging inside boxes, gifts, the few plastic items we still have to buy due to emergencies or necessities, to Alexi traveling and bringing in "travel waste", has definitely proven to be my biggest challenge as far as keeping a sustainable household.
For non recyclable plastics, we have joined Terracycle's various programs. For those who do not know what Terracycle is please check them out!
I highly recommend joining one of their free programs or if you can, purchase their all in one box.
They recycle non recyclable items such as film plastics, tooth brushes, toothpaste tubes, dirty diapers and all things that are non recyclable (ex: potato chip bags, bubble wrap, plastic wrap, beauty products, plastic tubes and pumps etc…). They have free programs and they also sell boxes online which allow you to recycle everything. We like to support them so we always get the "all in one" box.
In our home, food waste that happens due to picky eaters = composting at home or parents eating left overs ha!
As for clothing, we haven't purchased anything new due to two reasons:
1. I have various hand-me-down circles with friends and school parent friends
2. I shop at used whenever I need to.
My go to places are: Once upon a child (all over USA), Clementines (nyc), Jane's Exchange (nyc) Ebay (online), Etsy (online), thrift stores, and flea markets etc..
They grow out of everything so fast, so when you go to these places the clothes are like new! I am also obsessively building on their vintage tshirt collection because that is a personal obsession of mine haha!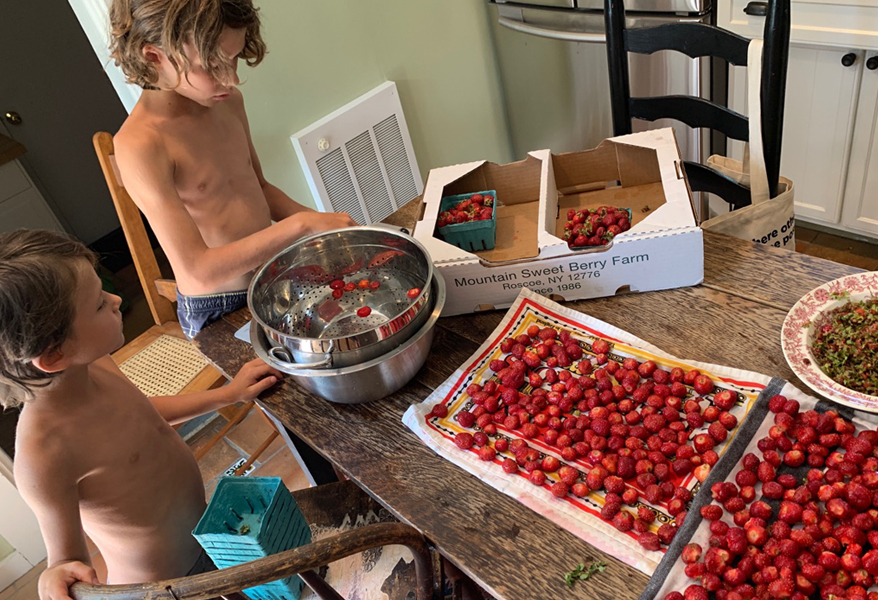 What are the top three things you think kids can do on a small scale to aid environmental change?
1. They can help you do "projects" at home or outside. This can involve going to the farmers market, meeting the farmers that grow your food and then cooking at home for the family.
2. Get them involved in community projects. This can be anything from a beach clean up or street clean up with their friends or classmates.
3. Become an " Earth champion" in class or at school. My 9 year old son Sole Luka inspired his class by starting a Terracycle box inside the classroom (for non recyclable school items and snack packaging). My youngest son Leone (6 yrs) started a marker and crayon recycling box, which he then sends through the Colorcyle program led by Crayola, because markers and crayons are non recyclable items. The great part about this program is that they will recycle any marker and crayon brands.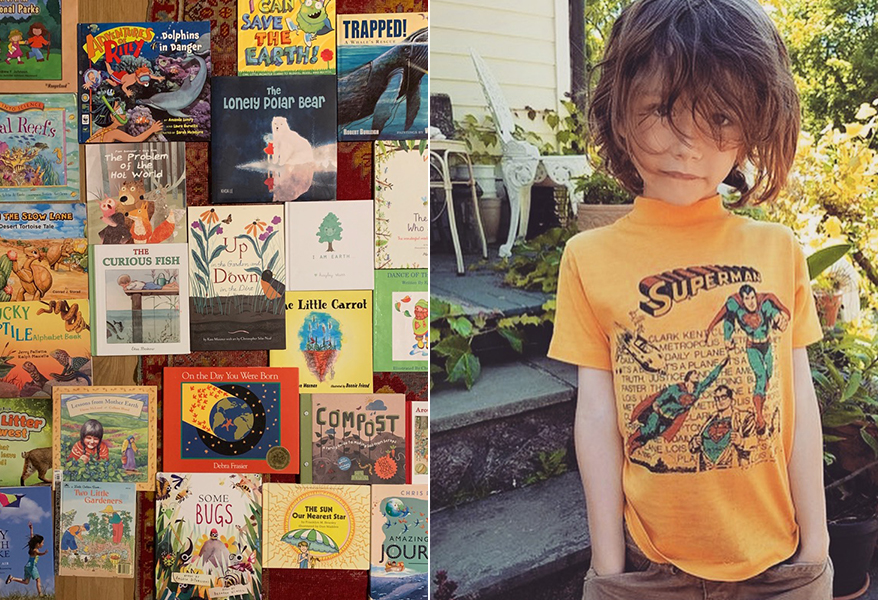 What tips would you have for mothers to stay as sustainable as possible? I know you dress your sons in vintage and second hands, but how do you do with toys etc?
It's the same with toys too. Everything we buy for them are used toys and books from Once Upon a Child, Ebay, Etsy, flea markets, thrift stores and through hand-me-downs circles. Everyone should know about Once upon a child, it's honestly the best place for used everything for kids.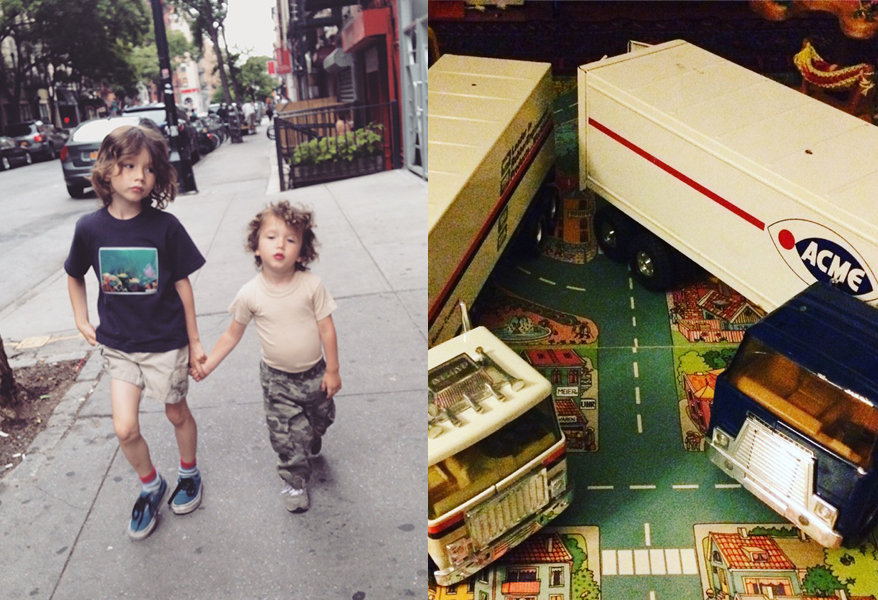 Talking about second hand and vintage, what are your favorite shopping destinations for kids?
I am a little nutty in the sense that I love to look for the "finds". Boys fashion is hard, so I thrive in trying to find them cool vintage sweaters and then get the "necessities" at the used and consignment store : Once upon a child, which is a U.S franchise which has used toys, clothes, books, puzzles, halloween costumes, sports gear, baby & child furniture and lots more!
I mix it up between hand-me-downs, once upon a child, flea markets, thrift stores and online vintage shopping. It's also because I have fun and it's my passion that I like to try different things, there are so many possibilities and options out there for us not to buy new, it's easy now. It used to feel hard but now it feels super easy.
During Covid, I will have to buy my oldest son more Ebay and Etsy used clothing, but that's ok. I always message the seller to avoid plastic packaging and tape if possible. Sometimes they listen and sometimes they don't, so if we get non recyclable packaging we Terracycle.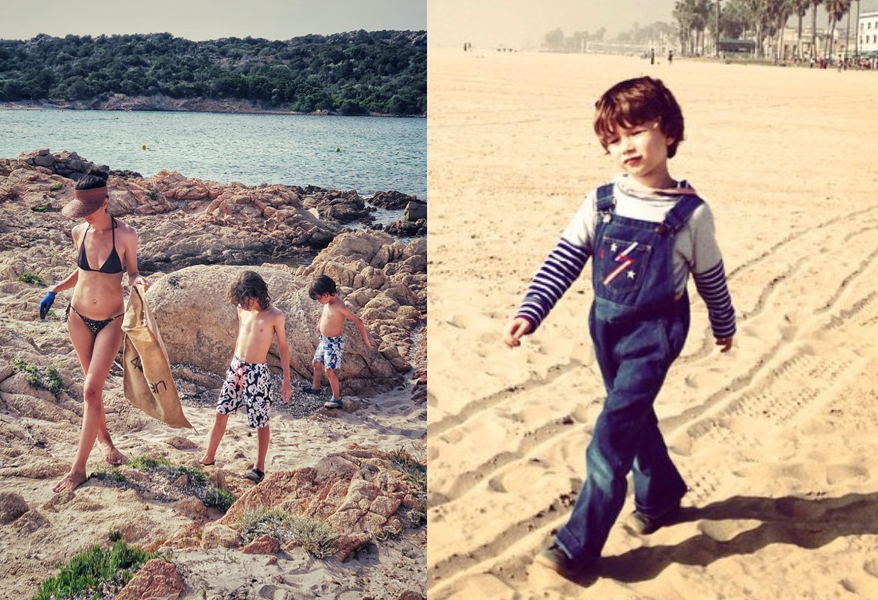 x
Subscribe
Receive all things Romy & The Bunnies direct to your inbox. Don't worry – you information is secret safe with us!