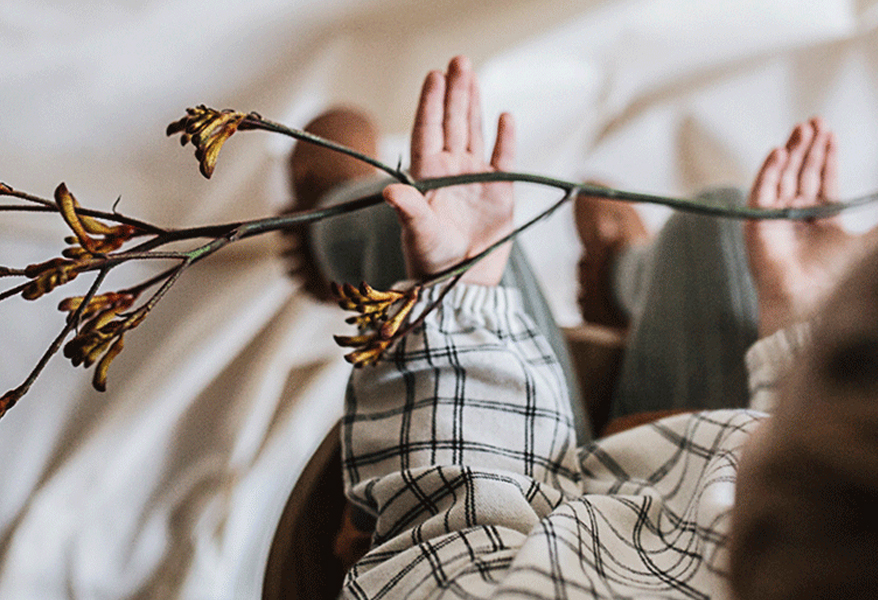 A couple weeks ago, I launched Romy and The Bunnies big sister Blog, Less is More by Julia Restoin Roitfeld.
With Less is More, I am hoping to encourage a more essential lifestyle, while educating myself on how to be sustainable, conscious, and minimal yet still enjoying life's pleasures.Nowadays, especially in the Fashion Industry, we have a responsibility to be conscious of how and what we choose to consume.
This is why I want to follow into Less Is More's footstep with Romy and the Bunnies as its never early to learn how to make the right choice and be sustainable.However, it shouldn't be about sacrifice but about choosing better. Therefore, let's start with our selection of favorite pieces to stay cosy this Fall, while respecting the environment with these eco conscious brands.
MONKIND
Monkind is a Berlin-based sustainable fashion brand for children. The brand was founded by Valeria, a graduate of Berlin Fashion School, who became passionate about making organic childrenswear after the birth of her daughter. Now a family operation – Valeria runs the business with her husband Stewart – Monkind opened its first Berlin store in 2014 and has continued to go from strength to strength. They've made a name for themselves in Germany and abroad with their timeless, 'green', minimalist-inspired kids' clothes. Sustainability being key, all Monkind collections are ethically and sustainably made in Portugal from GOTS-certified organic materials. Understated, elegant and environmentally-engaged, Monkind is just our kindof brand!
FUB
Fub, originally a brand for children, now creates women's clothes as well. Straight out of Denmark, Fub is the hygge brand par excellence. You won't resist the softness of their materials and their stylish but simple cuts. Fub cares about little ones' health and about the environment, that's why all clothes are made from organic fabrics created without the use of pesticides. The brand's chic, minimalist basics bear all the characteristics of Scandinavian style and are perfect for a relaxed, elegant wardrobe.
STUDIO BOHEME
Created by Kim Le Thé, Studio Bohème is a beautiful brand that offers timeless garments for babies up to 36 months. Kim got the idea of creating a line consisting of very practical and durable garments when she got her first daughter and found it hard to find elegant and unique bodies for her little one. Studio Bohème offers a large variety of products made in Portugal with soft and eco-friendly materials certified OKEO-TEX standard 100. Discover the latest collection from brand Studio Bohème online.
VEJA
Veja is the radically transparent French sneaker brand known for its environmentally-friendly production methods. Founded in 2004 by Sébastien Kopp and Ghislain Morillion, the brand privileges ecological materials, think: organic cotton, vegetable-tanned leather and natural rubber, all fair-trade. All Veja trainers, including their shoes for kids and women, are made in Brazil with respect for the environment. Veja has pioneered a new approach to production in the fashion industry, championing ecological and fair-trade practices, creating solidarity from the producer to the consumer. Sticking to classic styles, inspired by 1970s Brazilian designs, Veja trainers are as popular among the fashion set as they are with kids. Good to the planet and easy to wear with any outfit, join the green revolution with a pair of Veja trainers!Find out more
LIEWOOD
Danish brand Liewood offers a comprehensive collection of baby care products, accessories for kids and decorative objects for modern families. Created in 2015 by Anne Marie Lie Nielsen, after 15 years working in the fashion industry, the Copenhagen-based brand advocates the slow life and endeavours to make products that will last for generations. Deeply rooted in the Nordic design tradition, Liewood designs embrace pure shapes, delicate prints and muted colours. Environmentally-conscious and ethically-minded, the brand uses GOTS-certified, organic textiles and its products are respectfully manufactured. From organic bed linen and blankets to delightful bamboo tableware, Liewood has found the perfect balance between aesthetic and function, presenting everyday essentials for a new generation of families.
CAM CAM
Born from a love for babies and children, and the belief that they deserve the very best, architects Sara Giese Camre and Robert Warren Paulsen created the baby care and lifestyle brand Cam Cam in 2012. The Danish brand's design focus is on sustainability; meaning sustainable, organic production, as well as creating products that will stand the test of time and be loved for generations to come. From nursery and children's room décor to soft toys, bedding and useful accessories, such as changing mats and baby bags, Cam Cam products are not only made responsibly from high-quality GOTS organic cotton, but charming and timeless with their soft colour palettes and soothing patterns. Good to the planet and great for creating a cosy family environment, when it comes to Danish design for babies, it doesn't get much better than Cam Cam.
PETIT NORD
More than a fashion brand, Petit Nord flaunts a timeless collection of children's shoes and slippers, which are not just lovely and comfy, but sustainable and ethically-made. We fell hard for the brand's beautifully-crafted shoes in sumptuous, high quality leathers and designs that are classic and wearable. But it is the philosophy behind Petit Nord that really inspires us. Taking cues from its Scandinavian heritage, Petit Nord privileges the beauty of minimalism and prioritizes respectful, environmentally-friendly practices. Each season, the brand works to implement ecological practices into its production: from assuring its shoes are chrome-free or made from recycled or vegetable-tanned, biodegradable leather to researching how best to reduce its environmental footprint, Petit North strives to make the planet a cleaner and safer place to live. If that was not enough, Petit North donates 10% of its profits towards fertility treatments to assist couples with difficulty conceiving. All this to say, Petit North has truly got heart and soles covered.
x
Subscribe
Receive all things Romy & The Bunnies direct to your inbox. Don't worry – you information is secret safe with us!