Louise Roe is a TV host, author, and fashion journalist, with a lifestyle blog called Front Roe. She moved to the US from London a decade ago, and currently resides in Los Angeles with her husband and one year old daughter, Honor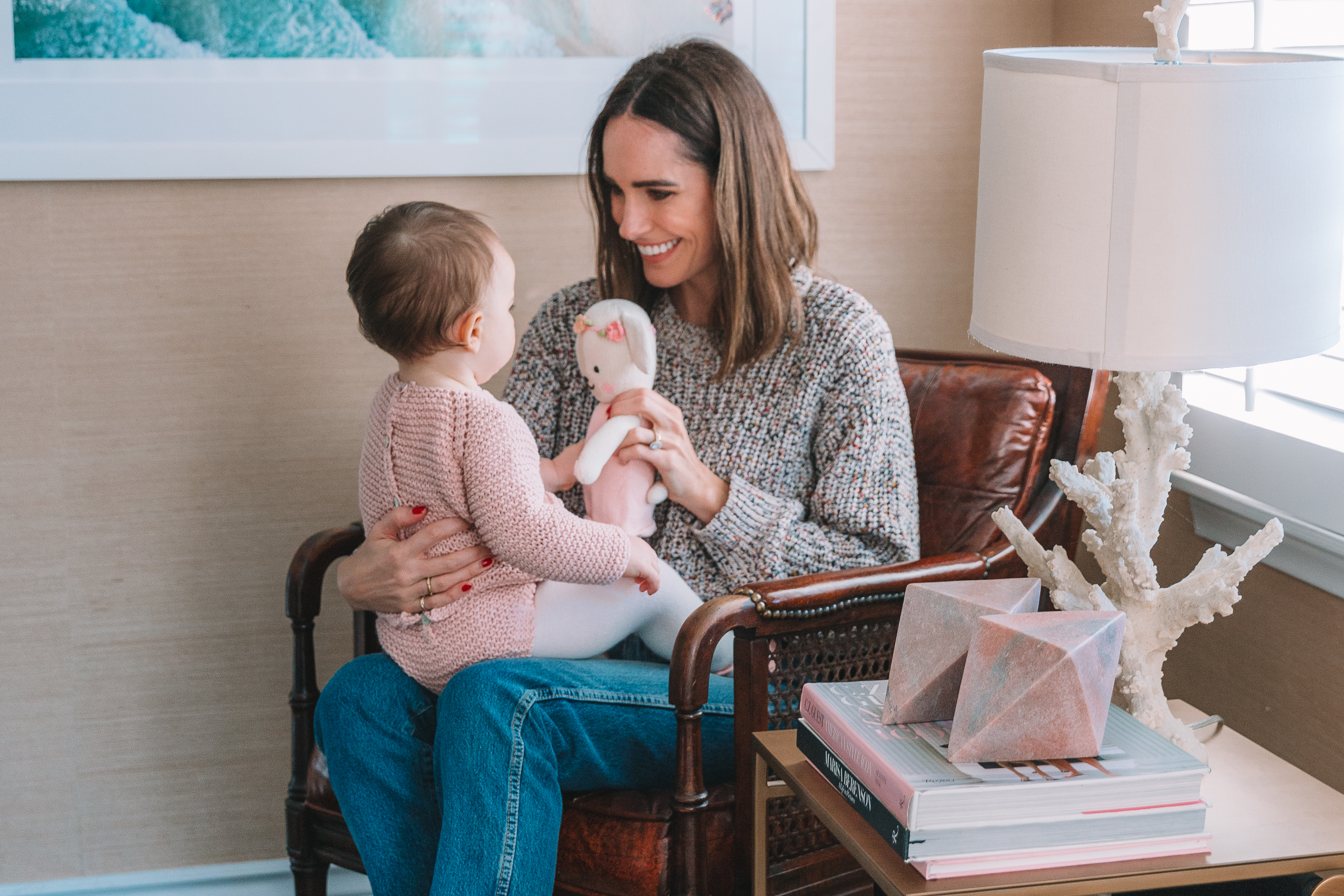 Julia Restoin Roitfeld: What have been the most rewarding moments of motherhood so far?
Louise Roe: There have been lots! Most recently, making it to Honor's first birthday; being able to breastfeed at the start–for some reason I had a fear I wouldn't be able to; seeing her first smile, her first attempt to crawl, her curiosity about every little thing and most of all, the fact she has a huge sense of humor! I love laughing with her every day.
JRR: What have you found to be challenges since becoming a mother that you didn't initially expect?
LR: Living in LA, neither of us have family here. And from both an emotional and practical perspective, that would have been a huge help. Lack of sleep of course, but we expected that! And for me, the frequency of breastfeeding was intense. But worth it.
JRR: How do you balance a busy work schedule and a baby?
LR: It helped when I realized balance is fleeting. It's not particularly attainable, like some beacon of light at the end of a tunnel – instead, we take it day by day and forget about the bad ones, and have a laugh when the alternative is to cry! There is such a culture with my generation to 'have it all', which is a privilege but also a pressure. Doing your best (rather than somebody else's version of 'best', letting go of the quest for perfection, and always having a bottle of wine in the fridge really helps.
JRR: What are your top travel hacks when flying with a baby?
LR: We flew to London when Honor was 6 months old, and I learned so much I actually made a video about it, with all the specific products and tips that really made a difference to the flight and her jetlag.
JRR: If you could tell your pregnant self one thing, what would it be?
LR: The nausea is worth it a thousand times over! I had morning sickness for the third trimester, as well as my first, so my memories of pregnancy are mixed.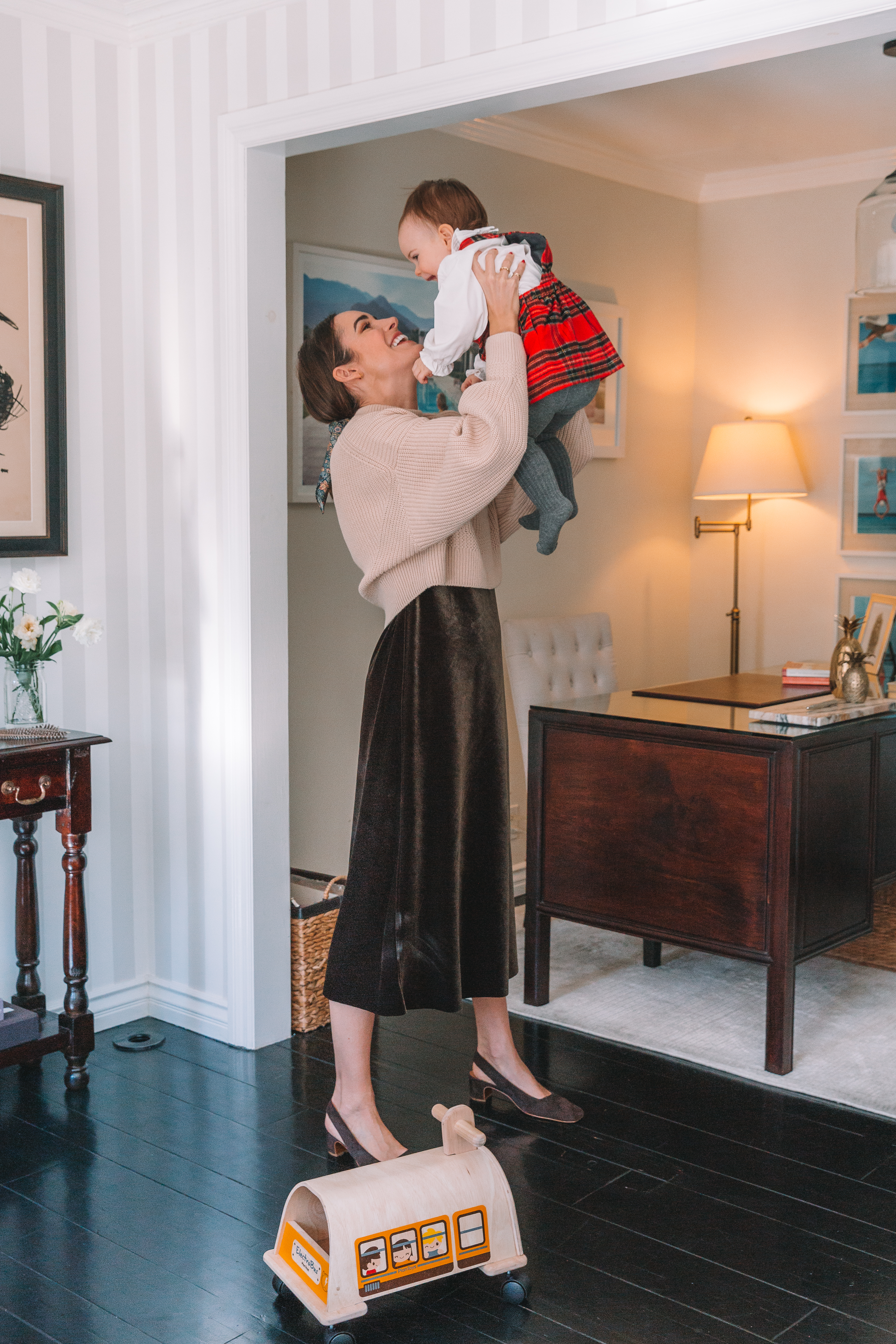 JRR: After you had a baby, how did you adapt to post-pregnancy dressing?
LR: I was already wearing a lot of jeans, tees, blazers and slides, so to be honest, it didn't really change all that much. I did learn the hard way to put my cashmere away though, when Honor was really young and still spitting up a lot!
JRR: What are your three top brands for baby clothes shopping?
LR: Amaia, Rosie and Lula, Trotters, and Rachel Riley.
JRR: If you could keep 3 precious items for Honor for when she grows up, what would they be?
LR: Other than photos of course, her first pair of shoes, her first hair brush, and a leather-bound copy of Peter Rabbit, with her initials on it, that we gave Honor for her first birthday, from Gigi New York.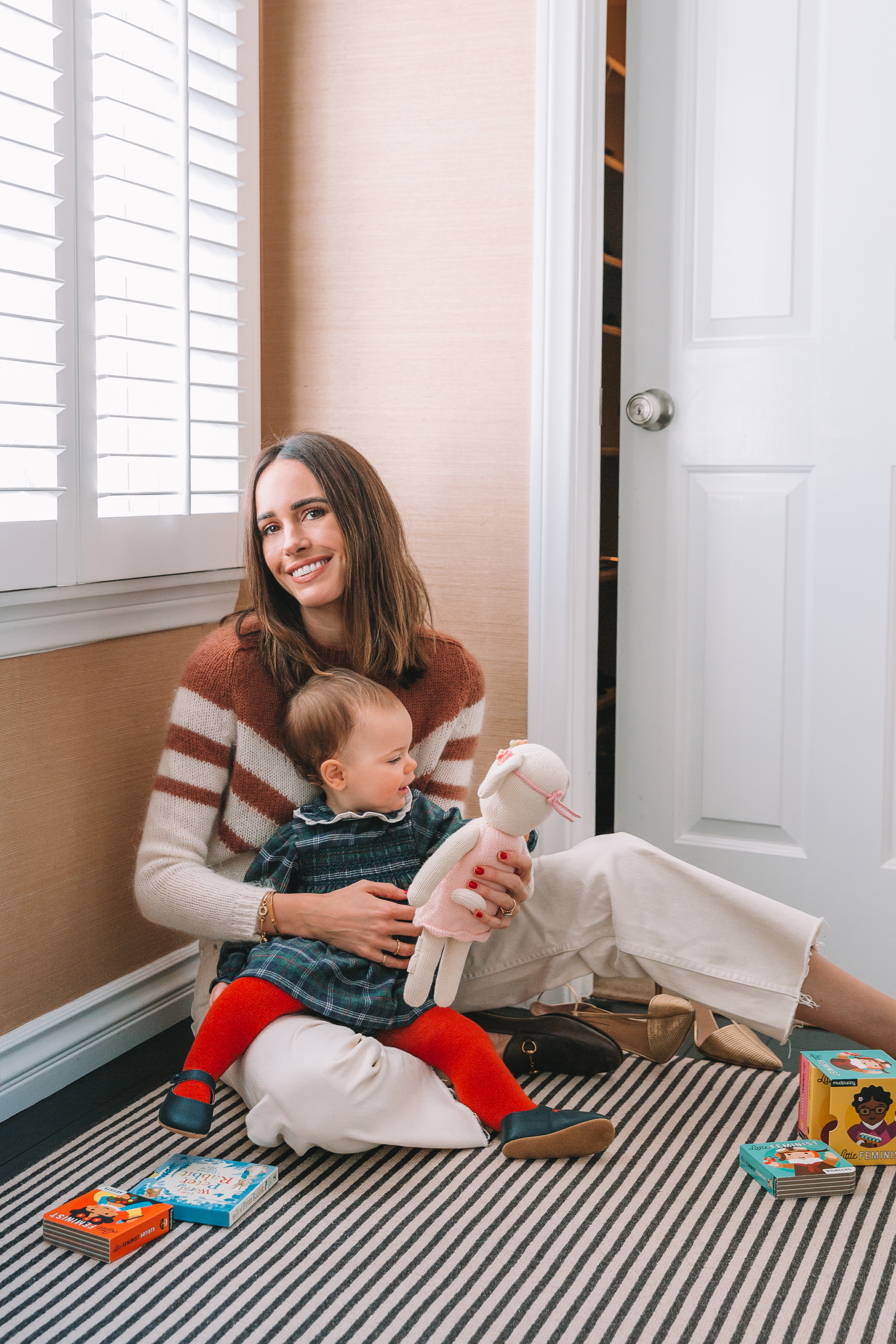 JRR: As someone who works a lot on-screen as a television presenter, how did you prepare physically and mentally to build your confidence and get back on-screen after giving birth?
LR: I was definitely nervous to get back up and out there. I was hosting the Oscars red carpet just six weeks after giving birth, and it was a big challenge mentally and physically to find a dress I felt comfortable in, to pump during makeup and then again halfway through work, to wear pads over my boobs, to wonder if my foggy brain would remember all the research. All these unglamorous things I'd never have even considered before getting pregnant. But it was actually an incredible, poignant experience. I've never felt this warm, implicit support from all the women and mothers around me, who just got it. From the lovely girls at Monique L'Huillier who fitted my dress, to my friend and producer at NBC who also has a baby, to the actresses themselves at the show, it was a totally new, and unifying, feeling. I felt very empowered by the end!
JRR: What is your daily beauty routine?
LR: I use Eve Lom cleanser once a day in the shower, followed by Angela Caglia serum, Olay eye cream, Kosas tinted face oil (which is a game changer for dewy skin), Clé de peau concealer, Estee Lauder mascara (it's the best) and Bobbi Brown lipstick, who makes the greatest nude I've found and I buy them in bulk!
JRR: Your top three skin products?
LR: All the above, plus Skin Ceuticals serum and Clarins night cream.
JRR: Any stand-out baby products?
I have been through so many because Honor has extremely sensitive skin and suffers from eczema. I love Honest diapers (in England I use a great eco-friendly brand called Naty) and Honest hand sanitizer spray, Simply Coconuts biodegradable wipes, Kokoso coconut oil, Mustela eczema face cream, A-Derma bubble bath.
JRR: Are you a believer in supplements?
When I was researching my book, Front Roe, I read that sometimes only 10% of them get absorbed, and it's truly just better to go to straight to the food source. But having said that, I still take some and believe they help! I take B12 drops under the tongue for my immune system and  if I've been traveling, the I take omegas in an oil capsule and a probiotic.
JRR: How do you create time for yourself, and what do you do to relax when you have some free moments?
LR: I actually use a highlighter in my planner to score out a day or afternoon. Otherwise it never happens. Whether it's an hour or two at a gallery, (I actually did last week at the Getty Museum, and it truly made me feel refreshed and inspired again), or I'll book a massage, or have a cocktail with a girlfriend.
JRR: Any advice on self-care for first time moms?
LR: Remember how much you deserve a moment to yourself! When Honor was born, my parents stayed for a few weeks and my mum would make me take a hot bubble bath, or go for a walk with Mackenzie at sunset, that kind of thing. I would always resist but then once you do it, you realize you needed it more than you thought.
JRR: And finally, as a Brit living in L.A, what do you miss most about the U.K?
LR: Mainly the sense of humor. Brits have a quick, self-deprecating banter. Also, the pubs, my old mates and family, and occasionally I miss the rain…as crazy as that sounds.
x
Subscribe
Receive all things Romy & The Bunnies direct to your inbox. Don't worry – you information is secret safe with us!