What's a typical day like for you as a mom and designer?
Well, EVERY day is so different, as every new mom and new business owner knows! This morning I took my son to Thompson Street Playground, then we shared our favourite organic berry smoothie at Salud. After our recharge, we had story time at the Scholastic bookstore on Mercer Street, where we met our nanny, and I headed over to the Lele Sadoughi headquarters across the street around 11am. It's been a busy day: I keep trying to set aside time to design my next line, but today we had strategy meetings for collaborations and marketing campaigns. We also received some new jewels that I had designed a while back, so I did a bit of merchandising for my resort line. But as my baby boy, my new belly, and my young company grows, every day is less and less typical!
Travelling seems to be a big source of inspiration for you. Do you have any tips for travelling with little ones?
Yes, absolutely. We just returned from a week in Miami and Bal Harbour. My son Asher is only 15 months old, so walking is new for him, and he needs to be strolled about. I just invested in a Quest, the great umbrella stroller by Maclaren, to take with me on our travels. When travelling with a child, convenience is key. We wanted a beach, so I looked for a place that had everything — ocean, pool, and restaurants — all in close proximity to our room, so it was easy for me to dash upstairs for milk or put the little one down for a nap. Books and familiar toys are also crucial!
What do you love most about being a mom?
This child is truly the best thing I have ever created. Every day, my little boy learns something new… I just love watching his excited face light up when he discovers a new food, person, or place we visit.
How did you get back in shape after having your son?
Honestly, I was so busy with the start of my jewelry business that I was constantly on the go. I gave birth to Asher just two days after a very important FW13 store appointment (at the time I was handling sales entirely on my own). Just when I was starting to feel back to normal, we found out we were expecting our daughter, who is due in August. After this summer, I plan to start back up with cycling and pilates – I love SoulCycle in NoHo and Physique 57 in SoHo for pre/post natal workouts. I'm definitely looking forward to get back into shape after having two babies within a year and a half of each other.
You have such an effortlessly chic sense of style. What are some of your go-to pieces for pregnancy style? Have they changed since your first pregnancy?
I looked into many maternity stores, but really didn't fall in love with anything. I searched high and low for the perfect crisp, white cotton blouse and finally found one by TKTK Brand on my travels to Paris. I feel like a nice button-down, knit pencil skirt, and loads of bright jewelry are my go-to style essentials. Zara has great options that work for a growing belly.
And what about baby clothing brands? Do you have any favorites?
For the playground, H&M has great bright-colored chinos and cardigans. For nicer events, I prefer to pick from my SoHo neighbourhood: I love Les Petites Chapelais on Sullivan Street for beautiful French clothes and Trico Field for amazing Japanese denim and the coolest downtown looks.
What are some of your favorite ways to relax? Spas? Date nights?
These days, being in my third trimester, a nap is a luxury. Things feel so busy at the office, but when I finally have time to remove myself from the everyday, I love to look at Pinterest, 1stdibs, and Ebay for new jewelry inspiration.
Has your beauty routine changed at all since having your son?
I used to wear heels all the time, but now I look for kitten heels and sandals to get me through the day. At night, I take out my high heels. Also, my handbags have increased in size to accommodate Asher's things, so I carrying a big Celine Trapeze bag everywhere.
Do you have any favorite traditions with your son? Or places you like spending time together?
He loves the water, so this summer we'll be spending a lot of time at our pool in Southampton. We just finished some swimming lessons and we loved every minute of our time together splashing around!
What are you most looking forward to with the new baby's arrival?
I am so excited to have someone that might take over my jewelry business in the future! I think my son would like to have a sister, and I can't wait to see our two children together discovering their sibling relationship. I'm still in awe and appreciating how everything small in life can grow so quickly!
Shop the Lele Sadoughi collection, and find Lele on Instagram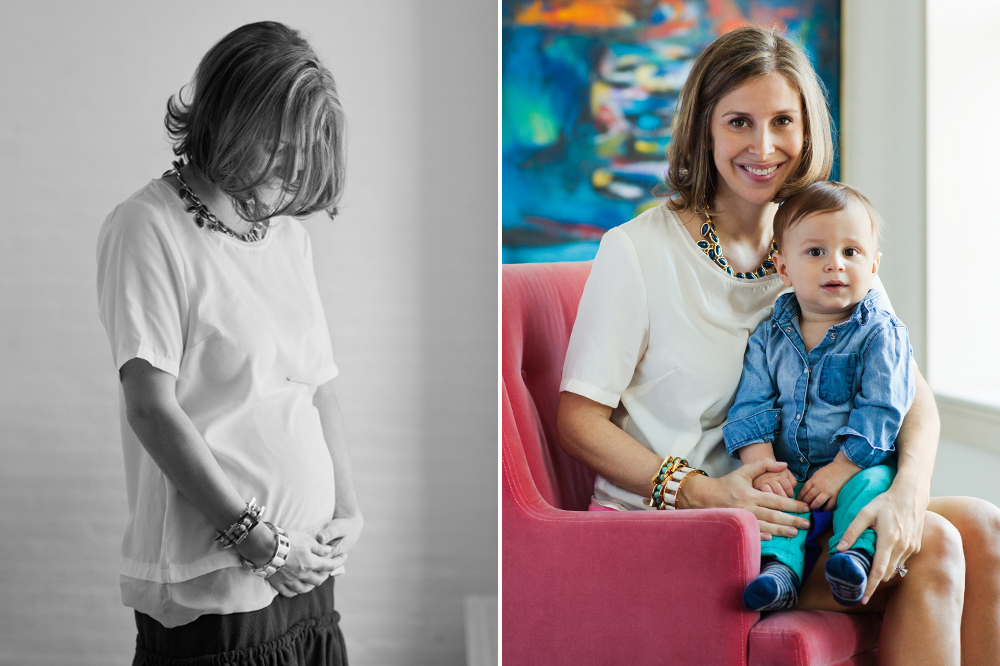 x
Subscribe
Receive all things Romy & The Bunnies direct to your inbox. Don't worry – you information is secret safe with us!