During pregnancy, my hair was thicker and fuller than ever. Unfortunately, I hear it doesn't last… I asked Dr Timm Golueke, a dermatologist based in Munich and a friend of mine, who developed his own line of hair loss products, for some solutions.
Post-partum hair loss is very common, I would say around 80% of all pregnant woman suffer from this. To have the proper diagnosis, it is very important to check other reasons for hair loss– like low iron or thyroid problems– with a blood check. If everything is normal, the diagnosis is clear: post-partum hair loss.
The best and most proven therapy is typically the use of minoxidil containing solutions. They have to be used twice daily on the scalp– the best thing is to apply the solution with a dropper directly on the scalp. We developed a special hair growth solution containing minoxidil, östradiol (hormones), and caffeine. Those active ingredients boost circulation of the scalp, and strengthen the roots of the hair, ensuring a long-term reduction of hair loss.
You can also use special supplements developed to strengthen the hair roots– containing ingredients like biotin, antioxidants, gelatin, taurine and amino acids. I recommend using those supplements for at least 3 months.
If those two therapy options are not enough, you can also do mesotherapy of the scalp with biotin, dexpanthenol, and vitamins. This custom made treatment solution is applied with a special injection tool, in many little injection points directly in the scalp. We recommend 6 sessions once a week.
Hair solution is 65 Euros per bottle (and lasts about a month), and the hair growth supplement is 259 Euros for a 3 month package, available on www.drgolueke.de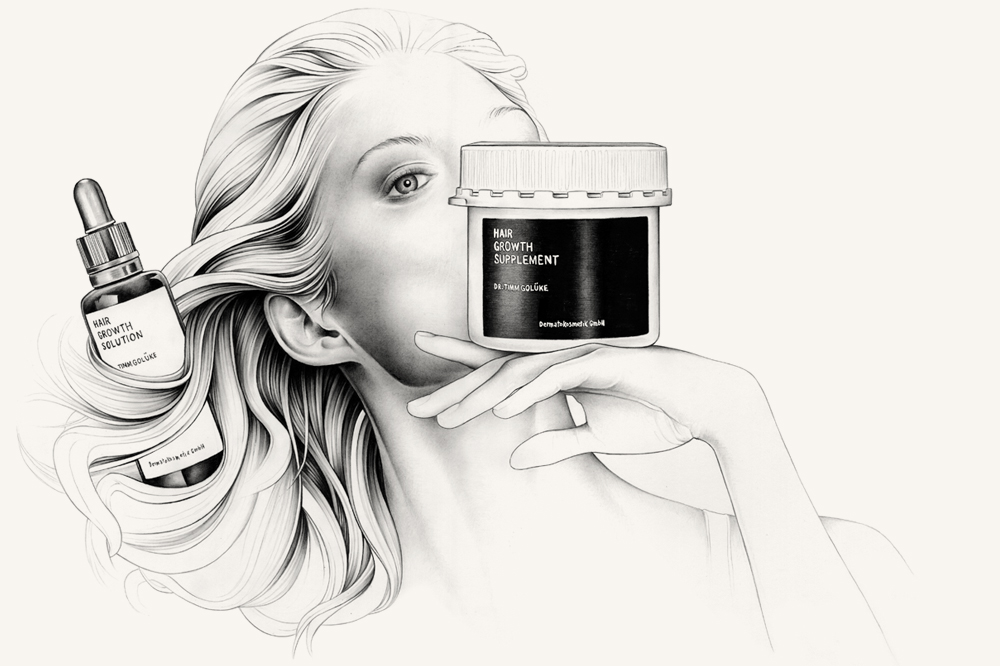 x
Subscribe
Receive all things Romy & The Bunnies direct to your inbox. Don't worry – you information is secret safe with us!