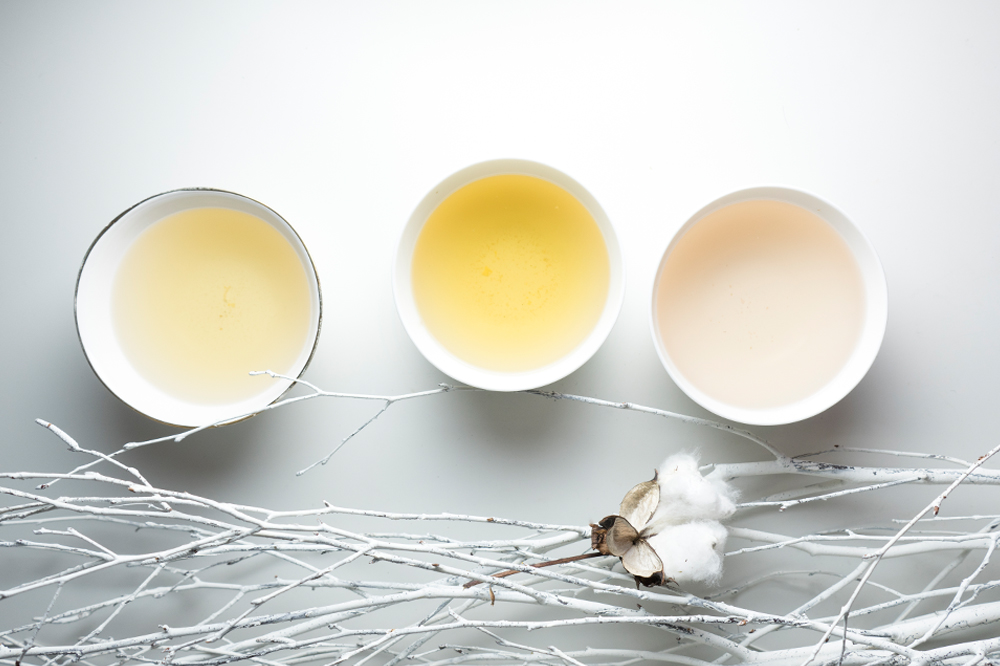 When we take a look at the most potent properties in our favorite nontoxic beauty products, ingredients such as white willow bark, evening primrose, carrot seed oil, and barbary fig/prickly pear seed oil (to name a few) are usually at the top of the list. These ingredients are all-natural superstars, but you probably don't have them lying around in your cupboard or easy access to them in their purest form. What you do have access to, however, are a number of highly effective, gentle herbs and plants that will become staples for your DIY clean beauty regimen. This guide will educate you on exactly what these natural gems are, and help you choose the ones that are best for your skin type and needs. Consider this the foundation for your at-home clean skincare routine.
CHAMOMILE
If you're a tea connoisseur, you probably have a constant supply of loose chamomile buds in your cupboard. Commonly use to help tone the liver, kidneys and digestive track, chamomile works hard for your body when ingested to process and eliminate waste, which is good for your skin and your system as a whole. It has remarkable antioxidant, healing, moisturizing and restorative properties and can protect skin from free radical damage.
For sensitive skin
Apply cool chamomile tea as a toner to the skin with an all-natural cotton ball/pad.
 For combination skin
Blend a ¾ cup of cool chamomile tea with a ½ cup of ground oatmeal and one tablespoon of raw honey. Apply to your skin, and gently massage into your skin for gentle exfoliation. Rinse with warm water, pat dry and moisturize.
For irritated skin
To soothe and relieve damaged or irritated skin, grind the flowers with a mortar & pestle or clean coffee grinder.  Add a small amount of water and ground oats to form a paste.  Apply to clean, damp skin and cover with a warm damp wash cloth to keep the mixture from drying and let sit for 15 minutes.  Gently rinse with warm water and pat dry.
2. ROSE PETALS
The distinct aromatic bouquet of rose is probably one of the most ubiquitous scents in skincare products. While they're commonly used as a fragrance, rose petals have amazing anti-inflammatory and hydrating properties making them an essential skin ally. Due to its vitamin C content, rose is also suited for skin in need of a soothing, restorative treatment. You can create some of the best at-home treatments using dried rose petal tea, so stock up.
For irritated or acne prone skin
Mix equal parts rose infusion (cooled rose tea) and aloe juice and cleanse your skin in the morning and evening with the mixture
After cleaning spritz a rose water toner over skin
For mature skin
Add a few drops of rose essential oil to your current moisturizer to amplify your anti-aging treatment
Blend 8 drops of rose essential oil with one ounce of jojoba oil and apply to your skin at night or any time your skin is in need of super hydration
 For dry skin
Brew rose petal tea and let it cool down. Combine 3 tablespoons of the tea with 3 tablespoons of honey and a half-cup of your favorite face oil (almond, avocado, argan, etc.). Apply the mixture to your skin as a cleanser, rinse, pat dry and moisturize as needed.
3. CALENDULA
Commonly referred to as pot-marigold, this herbal plant's healing properties are prolific. The flower with the golden petals has antibacterial and anti-inflammatory properties that promote fast healing and skin regeneration. Calendula's restorative properties can deeply hydrate skin and heal damaged skin. That's why so many green beauty anti-aging products contain this potent ingredient.
 For mature skin
Apply calendula essential oil to skin after cleansing.
Soak one part dried calendula blossoms to two parts almond oil and store in a dark place for about two weeks. Strain the blossoms out of the mixture and add one teaspoon of vitamin E as a preservative.  Apply the mixture to the face and around the eyes to reduce puffiness.
For acne-prone skin
Calendula helps clear bacteria in skin pores, which could lead to a breakout.
Combine ¾ cup calendula tea, 1 teaspoon lemon juice, 1 tablespoon manuka honey and 1 tablespoon aloe vera gel.  Blend the ingredients together and use as a gentle face cleanser.
Apply a calendula hydrosol to your skin to control sebum production and help keep pores clear.
With these three herbal ingredients, you can start building your own safe, gentle and effective at-home facial treatments.
Photos and Text by Gina Kamburowski of GoodLivingIsGlam.com
x
Subscribe
Receive all things Romy & The Bunnies direct to your inbox. Don't worry – you information is secret safe with us!