Hi Andrew!                                                                                                                                       
So we met on a job a few years ago, and I remember that all you would talk about was daughter, which I found was so refreshing in our Industry! 
You travel non-stop around the world for work, yet you seem to be extremely hands down with your two kids, Taylor 5 and Jackson 2 and a half.  You also own together with your wife a Pet Shop and Spa in Notting Hill, The Mutz Nutz, and together just launched a 100% natural shampoo line for Pets. How do you guys manage it all? 
That's sweet thanks. Sometimes it seems crazy but it is only possible with teamwork. In both the work aspect and being parents we both seem to play to our strengths and manage to get everything done. I'd say if anything suffers it's our time together, but we manage to set aside time for nights away and simple things like going to the movies! WildWash is our new natural pet cosmetics line, which we only launched a month ago so life's quite hectic at the moment!
I am also juggling breaking into Acting with the modeling and a few new ventures. The kids do make you take time out though which is a good thing. I think having my kids was such an eye opener on my perspective of work and life and they are so inspiring. I feel so blessed to be able to travel and then come home to a beautiful family even if being away from them for long trips is hard.
How do you help your wife with the kids when you are not traveling?
I think one of the great things with my job has been the fact that ever since my kids were born I could be 100% for them when I wasn't working. Jane and I really believed in spending as much time with them in the early years as it goes so fast. When I am home we do everything together, I'm quite active so I'll take them out to the park on their bikes and scooters and climbing trees, although they are more likely to get a few grazes when they are out with me!
Do you have any tips you would like to share with fathers on how to be more hands on and helpful to their wife despite being extremely busy with work and traveling a lot?
I do try to give my wife some downtime to get her sanity back or get on with some work so I'll take the kids out for the day and that always seems to be a winner! I am also the Head chef in the house so when I'm home I will do as much of the cooking as possible. When you have kids the one thing that can get you down is lack of sleep so I try to give Jane a nice lie in with breakfast in bed when I get home.
What is a typical day at home with the kids?
We usually get up and walk the dogs on the fields first followed by breakfast (daddy's pancakes and smoothies). If I am honest their social schedule is pretty packed and they do so many classes from football, gymnastics, ballet, tap, musical theatre, swimming that Sunday is the only free day! So if we stay at home we will play out in the garden or if its rainy day, cuddle up on the sofa with lots of blankets and watch a film.
What do you guys like to do the most when together?
I think a Sunday is when you manage to fulfill a great family day so we will start by all going to Thai Boxing and as I have been doing it so long, the kids run around and treat it like soft play. Then we will go for brunch, followed by taking the dogs for a walk and the kids love to ride/scooter along with us. I really love the way that children can make any situation an adventure. They have also just started enjoying the cinema and going to the theatre. They loved Lion King.
Any favorite places to go to when in London with the kids?
They are totally obsessed with 'The Electric Diner' on Portobello Road for breakfast…..waffles with a green smoothie of course! Then we will go and have a kick about in Hyde Park with friends or Jane will book a show. Funnily enough they always love going into our pet shop when in London on Westbourne Park Road and jump on all the beds and generally treat it like a toy store. Taylor enjoys some retail therapy for her Kitten Simba.
You travel a lot alone for work, but do you travel a lot with the kids too? If so, what are your favorite holiday destinations? Any traveling tips for traveling with kids?
We try and holiday as much as possible so Taylor has a good stamp collection in her passport. I think that only now is flying starting to be enjoyable as my son Jackson can now focus on something without wanting to run about every five seconds. I have though always been someone to get on with it and view it as a small amount of time to get a great holiday so we have never been scared to travel long haul. My wife Jane seems to be great at packing the right foods/snacks and activities to keep them happy.  I am also a big fan of the iPad but in moderation and with the right apps. Taylor is obsessed with all the Disney princess stuff and they both love this great app called 'Bugs and Buttons'. We went to New York for four days for my agents wedding when Taylor was two and Jackson was four months… It was exhausting but we had a great time. Our last holiday was to St Lucia in February and stayed at the 'Sugar Beach', which was amazing, and the kids loved it. Otherwise we tend to hire a villa in Menorca most summers for a few weeks with friends. It's so nice for the kids to just be outdoors and swim and play on the beach in the sun. Next year the skiing starts and I can't wait!
Having two kids, you have been around the pregnant "demands" and "cravings" of your wife twice. Do you have any tips for dads and future dads on how to "pamper" the mommy/future mommy? Especially the second pregnancy when there is already a little one to look after!
To be fair Jane worked pretty hard through both her pregnancies but it's important to take time out and rest when you can. She didn't have any of the strange cravings thank god. I'm a bit of a chef in the kitchen so I'll always make sure she eats well and during the second pregnancy helped with Taylor as much as I could. I got in her good books with some nice gifts from Bodega Vendetta as a pushing present.
Lastly, the inevitable question, as one of the most popular male models, do you have any quick work out tips, and grooming tips to give other busy dads to keep in shape with limited time?
My best advice is to just do something every other day whether its running, climbing etc.…. I am so used to working out in hotels and on the go so I always have a bag of kit. The thing I can't live without is a TRX, which you can hook up to a doorframe, tree etc. so it's great when you're on the go. I am also starting to get into the whole Crossfit thing so if you're up for some serious training find a gym that does Crossfit. I am really lucky that when we moved to the country I built a gym so that my wife and I could train or do yoga when the kids were sleeping. Sometimes they will join us and I have them jumping on me as extra weight or Taylor will sit there telling me how to do everything and that I should be faster….! As for grooming tips I am big fan of the whole Aesop range especially the Parsley seed products.
Follow Andrew Cooper: Twitter @andrewcooper_   Instagram @OFFICIALANDREWCOOPER
Photos by Simon Harris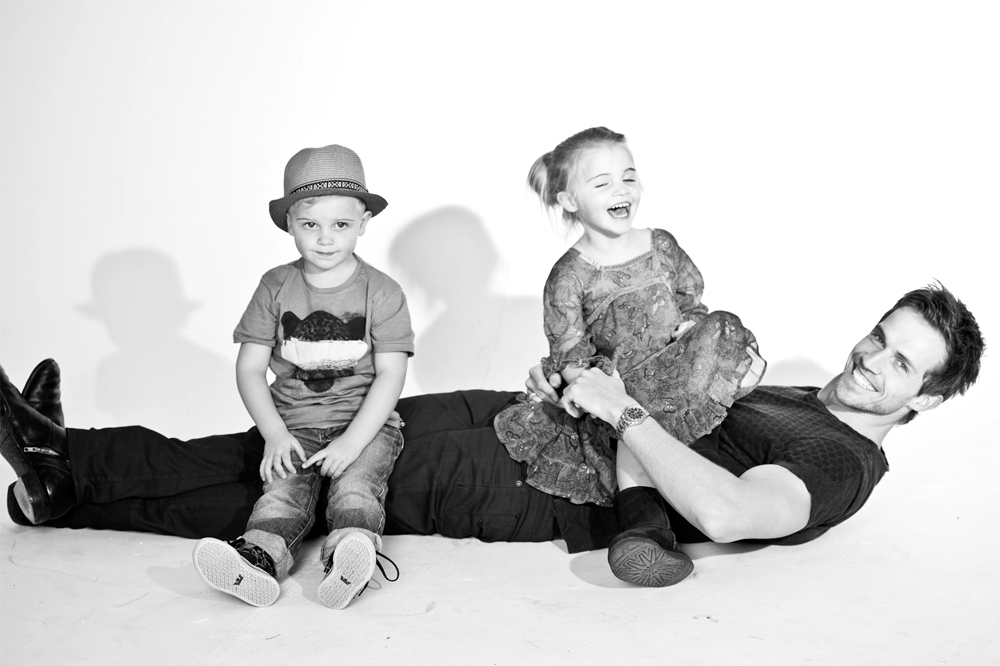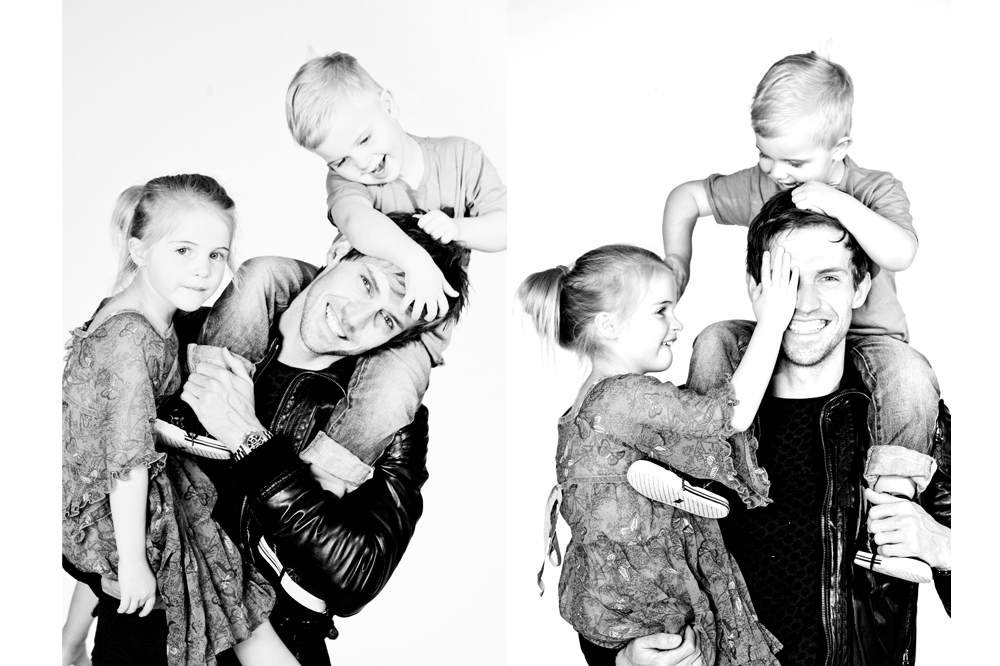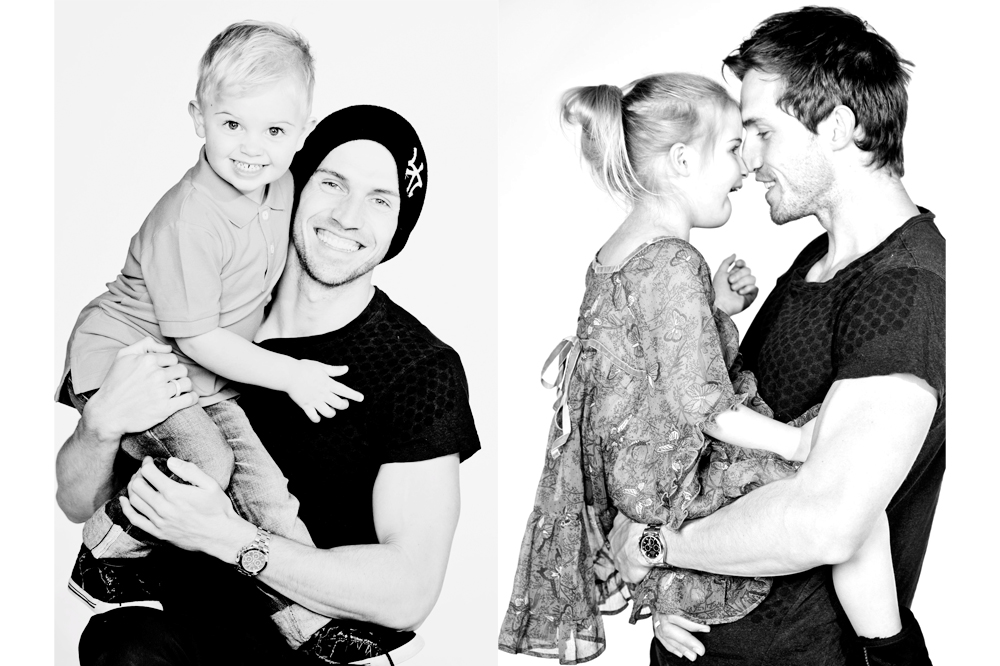 x
Subscribe
Receive all things Romy & The Bunnies direct to your inbox. Don't worry – you information is secret safe with us!