As fans of all natural make up, we are in love with Jess Hart's new cosmetic line,
LUMA
.
However we asked the founder herself to tell us more about her new brand and her favorite products!
R&TB: We're huge fans of LUMA's natural and nourishing products–could you share a bit about the philosophy behind the line?
Jess Hart:
I love makeup and the things you can do with it, I think a little bit can go a long way. I wanted to create a line of products that are easy to use and enhance your natural features, I don't believe in hiding behind a mask of makeup. I've found that knowing whether you have yellow undertones or pink undertones in your skin helps you choose what colours are right for you. So for example, if you have yellow undertones in your skin, the
Soft Peach Blush
is going to look more natural and if you have pink undertones, the
Dusty Rose Blush
will look more natural. If you have blue eyes, brown and taupe tones will bring the blue out, so you could try our
Ebony Brown Mascara
and
Ebony Brown Eye Define
r. If you have brown eyes, purple tones will bring them out, so you could try the
Wisteria Eyeshadow
with
Jet Black Mascara
. Knowing these little things make for an easy and natural looking makeup routine, while also being as healthy as possible–which is what I wanted to create.
R&TB:Celebrating a healthy and natural approach to beauty is so refreshing and modern–what kind of woman did you have in mind when designing LUMA?
Jess Hart:This kit is for the women on the go: it's easy, efficient, and is good for your skin. Essentially, I designed it for me–I wanted to use tinted moisturiser (which is also SPF 15), brown mascara, bronzer, and a little tinted lip balm and have it be enough to make me feel good when I walk out the door. Makeup has to be quick and effective or I won't use it–I like the idea of people thinking you look great but not quite knowing if you have makeup on or not 😉
R&TB: Do you have one or two products you'd recommend for busy moms? We especially love the Powder Blush and Illuminating Highlighter!
Jess Hart:
Yes! The
Liquid Foundation
is great. It's just enough coverage to give you an even skin tone, it's 99% natural, SPF 15, and comes in five shades so you can really find the right shade for you. The
Flawless Concealer
is also great–it's very moisturising, so it reflects light and you always look bright-eyed (the reflecting light bounces out the bags I like to say–great for tired mums). The concealer is also great for blemishes and zits as it has a natural antibacterial agent in it so it's actually healing while concealing!
R&TB:When do you feel most beautiful?
Jess Hart:Ha. That's a hard one. When I'm well slept and being healthy–so not that often!
Which is another reason it was so important to me to make sure LUMA was natural. Our lifestyles make it so hard to make the right choices all the time, so at least I know I'm doing something good for my skin when wearing LUMA. It took me nearly four years to find a way to make natural makeup actually work but it was definitely worth the effort!
Illustration by
Regina Yazdi
exclusively for Romy and the Bunnies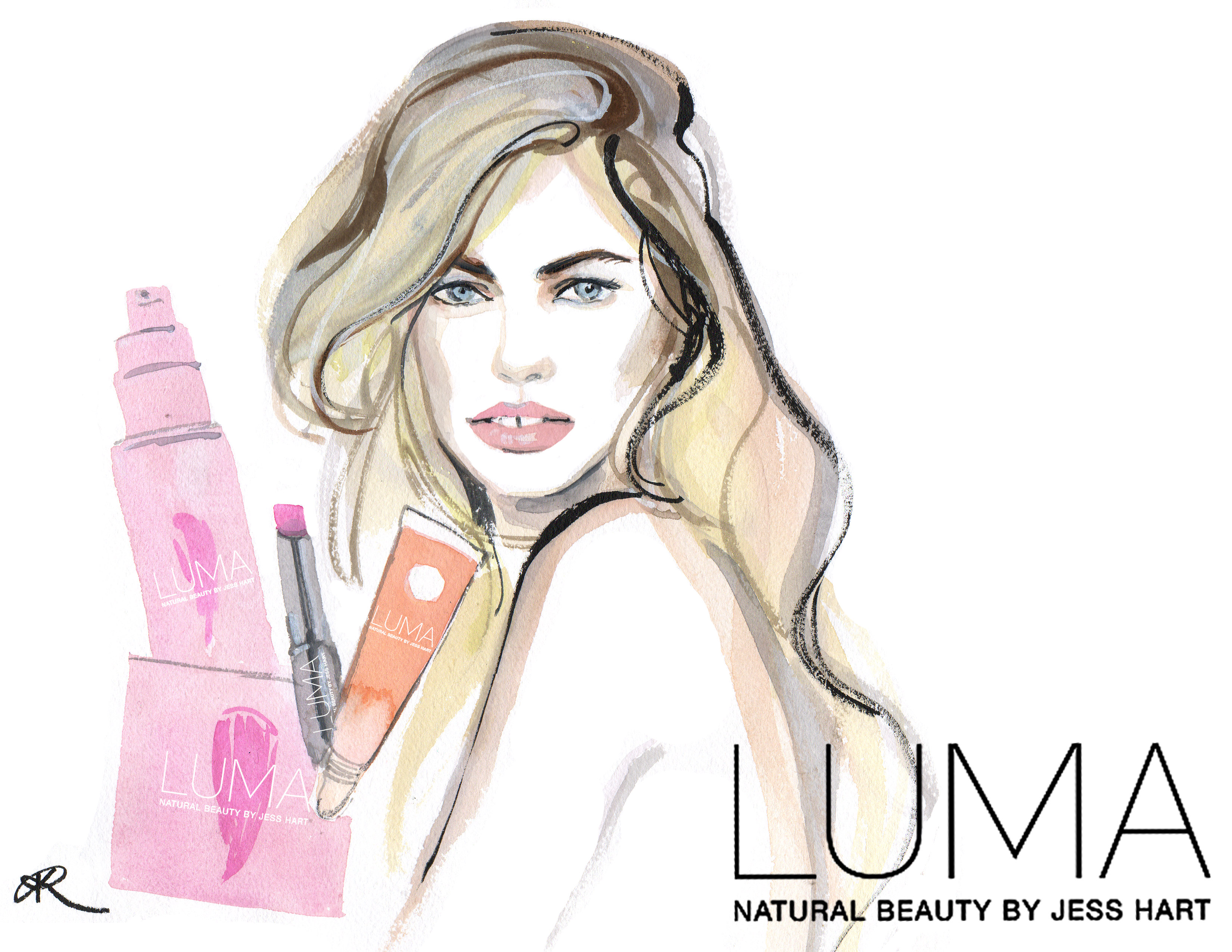 x
Subscribe
Receive all things Romy & The Bunnies direct to your inbox. Don't worry – you information is secret safe with us!