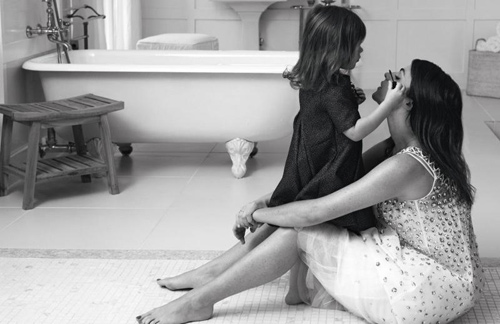 For busy multitasking moms, making an effort to take care of yourself while juggling baby bathing and toddler entertaining can prove more difficult than a 10 step skincare routine. What I've found to help me the most is investing in products that Romy and I can both use. Whether it be an organic cream for sensitive skin or a natural balm for chapped lips, I find comfort in knowing that what I choose to use on my daughter can be a healthy staple for me as well.
JUICE BEAUTY ECO CLEANSING CLOTH Made out of bamboo fibers, this cloth is extra soft whether I am using it to clear my face free of foundation from an event or wiping Romy's sensitive skin clean after an early Spring day spent outside.
WIPES BY BABO AND BOOGIE Having wipes on hand as a mom is priceless. Babo's 3-in-1 wipes help clean up an ice cream covered chin and the sticky hands moms inevitably end up with. Boogie Wipes are great for blowing stuffy noses, young or not, as they are hypoallergenic and soft on our face's sensitive skin.
HONEST DETERGENT General cleaners and detergents, most laden with chemicals and unknown ingredients, are not products I want to use on myself nor my daughter. Using a detergent that is made up of natural ingredients ensures the whole family ends up with fresh, clean, and non-irritating laundry.
MOOGOO SUNSCREEN This sunscreen is perfect for kids when they are going to be playing in the sun all day. As it has a high percentage of zinc oxide, it is a little too thick for an everyday sunscreen but is great for all of us on the most exposed areas of the face and body when at the beach or directly in the sun.
BONPOINT BODY OIL  Although I initially bought this for my daughter, it makes my skin so soft and smooth that I will usually apply it to my own skin after I apply it to Romy's. It's light, non-greasy, and truly a staple for both of us.
ENFANCE PARIS BODY WASH This is a great gentle cleanser for the whole family. It is natural, has a beautiful scent with floral notes, and can be used from birth.
CREME FACE MASKS These mommy and me sheet masks allow beauty time to also be bonding time. Collagen masks for mommy (helping us to look bright and youthful) accompany coconut milk kitty shaped masks for daughter, making this a fun and beautifying activity for both!
GRPYH AND IVYROSE BATH SOAK This bubbly bath soak makes bath time fun while moisturizing skin smooth and refreshed. Kids love the bubbles, and if time allows, throwing it into a nighttime wind-down bath for mom is a bonus.
AVEENO BABY CREAM This cream is an affordable staple that you can pick up nearly everywhere. It is extra hydrating without leaving a greasy residue and I can apply it to myself and Romy in the same go.
BURTS BEES LIP BALM This lip balm is rich and natural and can be used to soften babe's chapped lips in the winter and mom's anytime.
ORGANIC RESCUE BALM and LA ROCHE-POSAY BODY CREAM Both of these are great for sensitive, dry skin. In the winter months, when we need to lock in more moisture and add more hydration to our body care routine both of these do the trick. The body cream is perfect for all over moisture, while the scent-less balm is a healer for those particularly dry spots.
x
Subscribe
Receive all things Romy & The Bunnies direct to your inbox. Don't worry – you information is secret safe with us!