Olivia, what do you love the most about becoming a mother?mensclub24
I love being a mother and the amazing love it has ignited. I love how it has made me more patient.  I love how my intuition has become stronger and I feel more grounded.
What surprised you the most?
knew I was going to love my daughter but I didn't realize how much I was going to love her. Now I understand the feeling that other mother's talk about.
Did you enjoy being pregnant? Upside, downside?
Being pregnant was wonderful and terrible. Some days I felt practically omnipotent like a pregnant super hero that never gets sick. Other days, I could hardly stand the tremendous exhaustion and insane nausea, but somehow looking back it doesn't seem that awful.
What was your day-to-day pregnancy look and how did it evolve as you were growing more and more?
I wore my same favorite designers and went up a size as my belly grew. This way I could still wear the clothes that I loved with a visit to the tailor. My typical look was skinny pants or AJ Jeans, a button down shirt from Derek Lam or Rag & Bone, a Stella McCartney blazer and Lanvin ballet flats. I also wore dresses by Victoria Beckham and Giambatista Valli. In the winter I wore Brunello Cucinelli cashmere sweaters, scarves and coats because they were so comfortable and still chic. I lived in my Jimmy Choo motorcycle boots that slip on easily which was especially helpful when it became difficult to bend down.
How did you manage to stay in such impeccable shape?
Oh I didn't! I was not allowed to workout during my pregnancy except during my second trimester. I did pre-natal yoga, which really helped to keep my muscles feeling limber as my belly grew. It was also great for deep breathing which I feel like I never do enough of. I mostly did acupuncture which I think really made a difference in how I felt at every stage of my pregnancy.
As a beauty entrepreneur, we all want to hear about your beauty routine before and after giving birth! What are your favorite and most efficient products?
When I was pregnant I was grateful that I didn't have to adjust my skincare  routine very much. It was reassuring that everything I was using was safe for my baby and I. My Chantecaille products are high in natural botanicals, they are free of synthetic dyes and fragrance, parabens, sulfates and phthalates. I couldn't get enough of our Pure Rose Water to refresh especially during the summer.  I actually went through a couple bottles in the hospital to help calm and soothe, plus it's anti-bacterial. I also loved using our Jasmine and Lilly Healing Mask to keep my skin balanced, hydrated and radiant. For my body, I used The Mamma Mio Tummy Rub Butter and the Lucky Legs Cream.  Otherwise I stayed away from any products that had retinols or glycolics. Now with the lack of sleep, I live for our Gold Energizing Eye Recovery masks that help eliminate dark circles and wrinkles.
You manage and run your own business, how do you organize your time so that you can look after your company while spending time with your baby?
I am still trying to figure this out!!  I adore my baby and I love my job. It's important for me to find a healthy balance and also set a positive example for my daughter.
You were born and raised in NYC, but from French parents. I know you try to speak French as much as possible with Delphina. In which other ways will you try to make her have a feel of the French culture while growing in NY?
I read French children's books to her that my parents and grandparents read to me, and we sing and dance to French nursery rhymes. Eventually I think
it would be great for her to take classes at La Petite Ecole in Tribeca. Of course, I will also take her for tea and macarons at Laduree!
What are your favorite things to do together with your daughter?
Nothing brightens my day like a snuggle with my daughter. She melts into my arms and its pure heaven. We also love to dance and sing around the apartment to music. And our most favorite thing is to watch her blow bubbles with her mouth. It's still pretty simple stuff but it makes us happy.
What are your favorite baby brands?
Bonpoint, Petit Bateau, Babycottons, C de C, Oeuf and Makie
What are your favorite baby care products?
I love Erbaviva for their shampoo, body wash & bath oil. Delphina has never had a rash or breakout; her skin is always incredibly soft and yummy.
I also use Badger Balm which contains three simple all natural ingredients for her cute little tushy.
What are your favorite baby toys or nursery decor brands?
Delphina's nursery is decorated with a sweet and simple palette of white and shades of rose. I filled her room with her favorite things – flowers, butterflies and bunnies.  My go to brands are Serena & Lilly and Restoration Hardware for Furniture. For toys, now that Delphina is grabbing and hugging everything – she loves her Jelly Cat stuffed animals, they are incredibly soft and always make her smile. She spends hours playing with her wooden Hape toys and listening to her Rafe songs one her Bose Sound Touch too.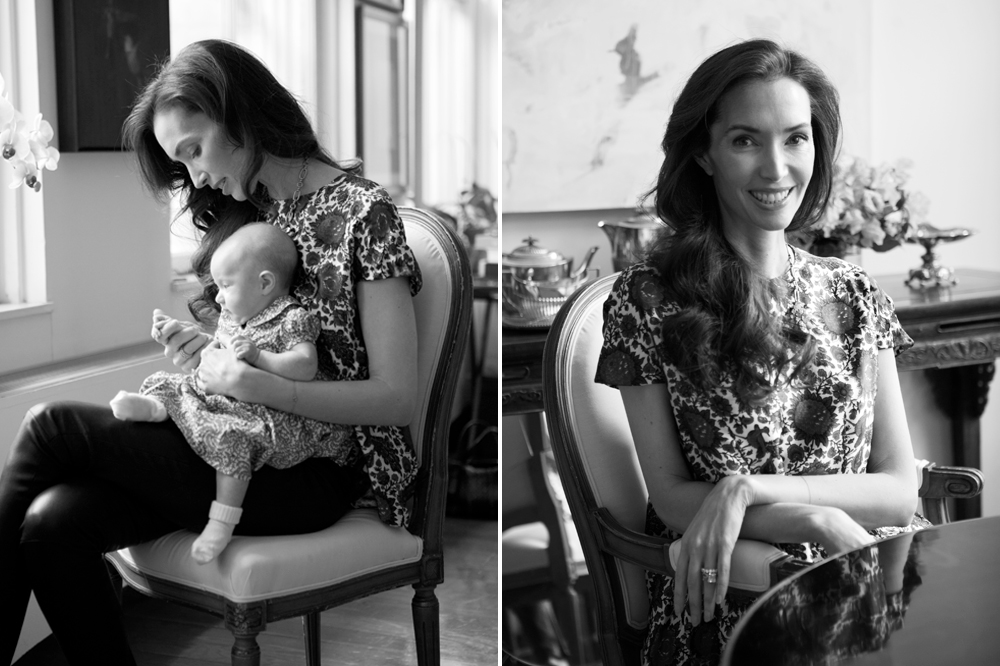 x
Subscribe
Receive all things Romy & The Bunnies direct to your inbox. Don't worry – you information is secret safe with us!