Sometimes talking to our kids about topics that include hate, violence, and injustice is hard to maneuver. Thankfully, there are several books out there written by intelligent and thoughtful authors that illustrate not only what is going on in the world today, but how we can get our kids involved and help them to spread messages of love, equality, and community as they grow.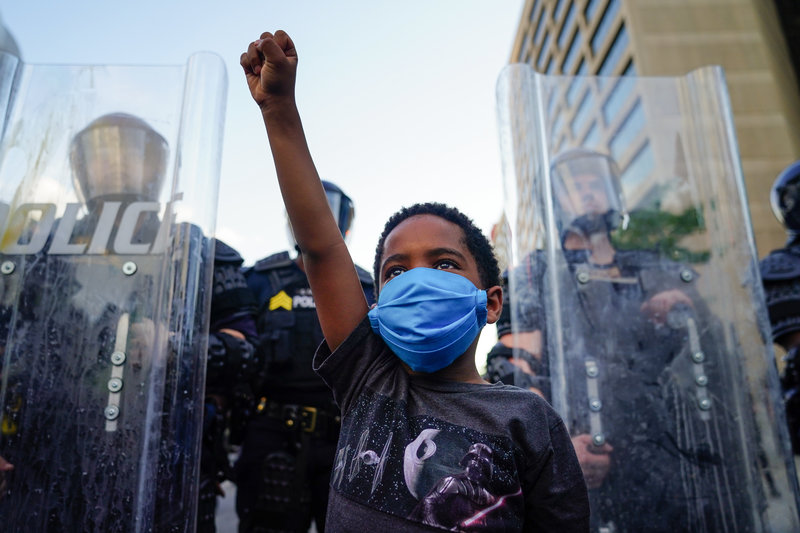 Sit-in : How four friends stood up by sitting down by Andrea Davis Pinkney
Pinkney's book teaches children about the 1960 sit-in at Woolworth's lunch counter in North Carolina, a groundbreaking moment in the civil rights movement of the mid century.  Illustrated with creative images and artistic prose, Pinkney tells of four black college men stage a protest when they sit at the "White's only" counter.
Recommended ages: 7-12 years old
Something Happened In Our Town: A Child's Story about Racial Injustice by Marianne Celano, Marietta Collins, and Ann Hazzard
This book, written by three child psychologists, helps teach children about police shootings. It follows two classmates, one white and one black, and reveals important messages about racism, black resistance to racism, and countering racism.
Recommended ages: 6-10 years old
Daddy, There's a Noise Outside by Kenneth Braswell, Joe Dent, and Julie Anderson
This is a great book to help explain protesting to children. When two children ask what the noises they hear outside are their dad takes the opportunity to teach the young ones about protests, including Martin Luther King Jr.'s Million Man March, and how protesting can make a difference.
Recommended ages: 5-9 years old
I, Too, Am America 2012 by Langston Hughes
A classic by celebrated American poet, this book's words and illustrations call for equality. As it follows the life of a railway porter, Hughes uses prose and metaphor to teach us about race and equality in America.
Recommended ages: 6-10 years old
We March by Shane Evans
Evans recounts the 1963 March on Washington for Jobs and Freedom with sparse words and heavy illustration. Following a family of four, we learn about what it is like to join a march, be part of history, and take a stand for equality and freedom.
Recommended ages: 4-8 years old
x
Subscribe
Receive all things Romy & The Bunnies direct to your inbox. Don't worry – you information is secret safe with us!