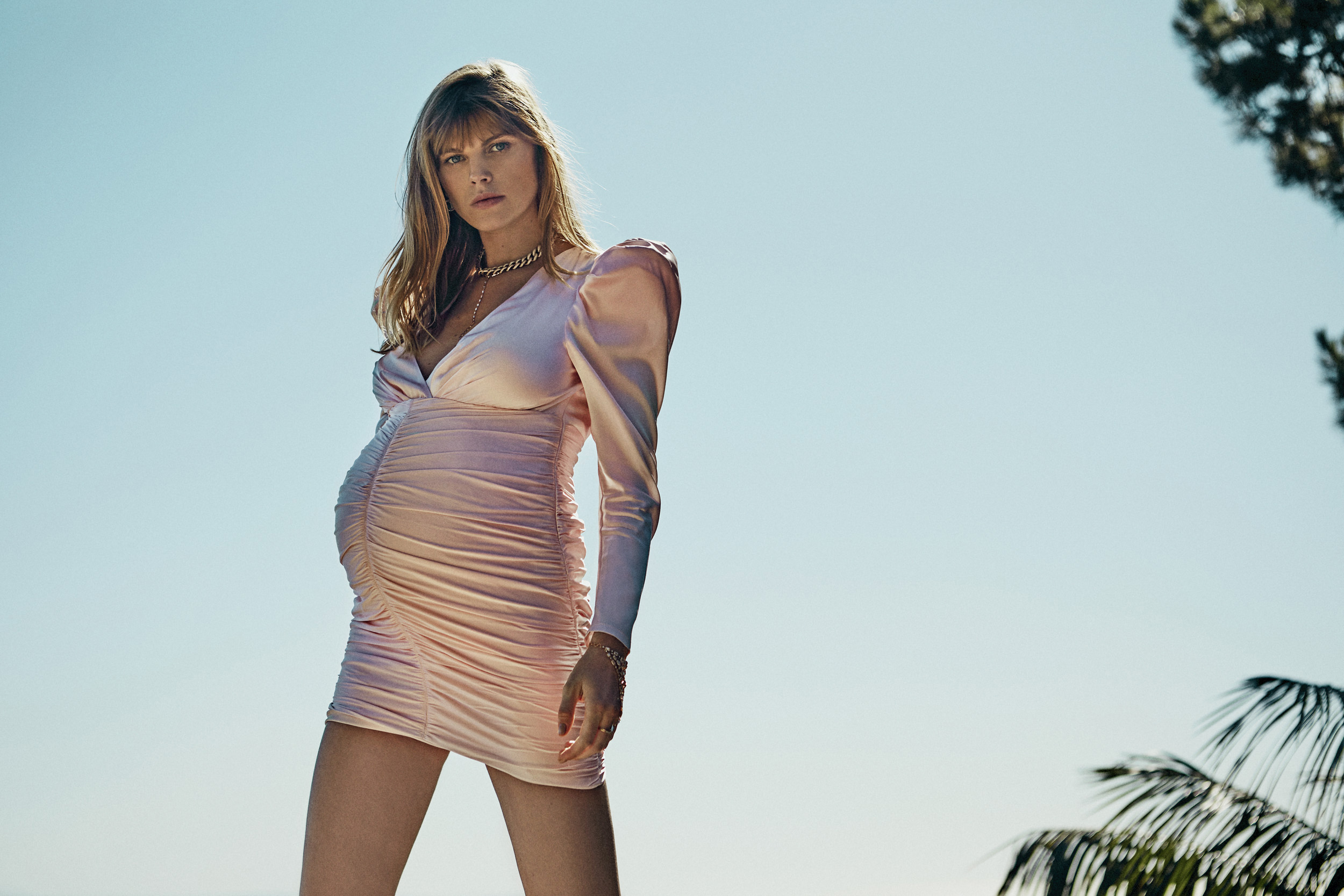 What has been the most exciting parts of your pregnancy?
Definitely the little baby kicks , it's like a real entertainment  trying to figure out which part is she kicking with!
Also getting her room set up and baby clothes and all the preparations before meeting her!
The most difficult or unexpected?
My morning  sickness lasted trough my entire pregnancy so that's been pretty tough.
You have had the most amazing pregnancy style through your pregnancy! What has been some of your favorite pieces to wear?
Thank you! I love being pregnant actually, its fun to dress the bump up! I wore a lot of short dresses , nice stretchy comfy ones for more casual occasions, and  mode dressy ones for going out , especially my favorite of the moment, my Ronny Kobo one. Ronny made my baby shower dressed it was so adorable! Also shorts with crop t-shirt and  sweatshirts  or  men oversized shirts and blazers!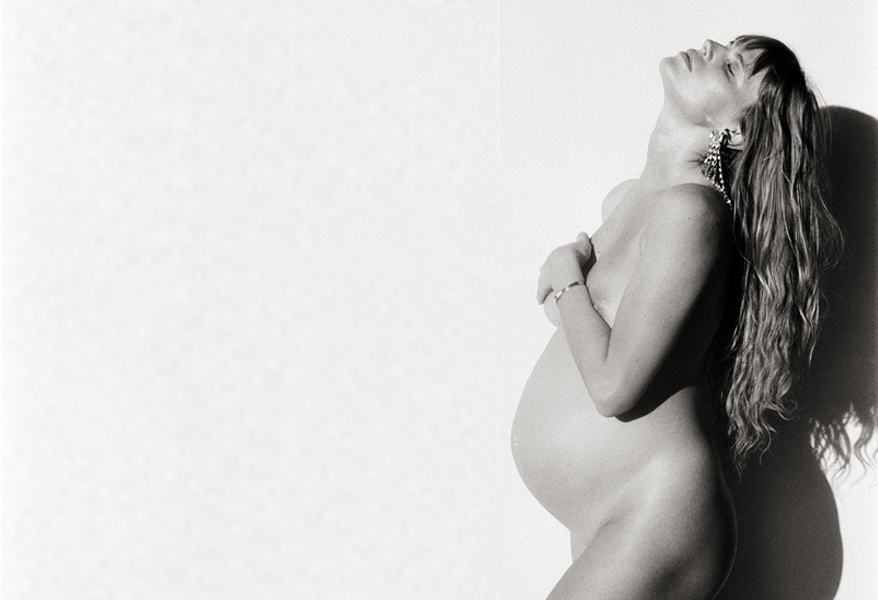 Did you give at all into maternity wardrobe though?
I honestly did not buy one maternity piece of clothing other than my work-out leggings that I found at at Pea in a Pod and someone gifted me a dress from BIANCA BALTI maternity collection. They super nice,  high-end and beautiful.
Could you share any style tips?
Well for merit  definitely worked to keepmy legs out so you don't look too covered and big.
Also tight stretchy dresses are the most comfortable. Long or short and they always look chic,  you can dress it up or down.
You have always been quite active and athletic, how have you kept in shape during your pregnancy?
That was very tricky for me because in my regular life I'm extremely active and I pretty much do every sport , so I always though when I get pregnant I will be one if these moms at the gym, but as I mentioned before,  my morning sickness were so strong that I had to give up on trying to work out after couple of months and surrender and enjoy my pregnancy , but I did do yoga the whole time and walked around 5 miles a day. As for diet I've been always a healthy eater and all my cravings have been very healthy , all mostly plant based , fruits and veggies and of course I had to add som  nutrition of the baby development , such as proteins , bone broths etc
Do you feel any pressure to stay in shape and get your body back after baby?
Of course pressure is definitely  on , but I will at least give myself couple of months to enjoy motherhood before fully coming back to work and work out routine
You never looked so Glowy, what has been your diet?
Pregnancy glow they say:)  as I mentioned before, my diet has been  super healthy , mostly plant based with some healthy proteins , and I really try to avoid anything that is not for my and my babys health benefit , but of course occasional French fries or ice cream for the soul is ok:)
You have always been into clean and green beauty, what were your top 5 beauty products during your pregnancy?
I do mostly use natural products a lot of oils and especially coconut oil all over , my face, hair , body. My face routine didn't change I keep using
DR Barbara Sturm

 products
 , which are hypoallergenic and pregnancy safe , but for my body I had to add heavier oils to prevent stretch marks , my favorite are the 
MUTHA body oil
and 
Erbaviva body oil
and
butter.
You have always been into clean and green beauty, what were your top 5 beauty products during your pregnancy?
Massages are my favorites, also taking baths, relaxing facials,accupuncture and doing prenatal yoga.
Any addresses in LA that you would like to share? SPA, Gym, etc?
I love going to the Bel Air hotel spa, it's so relaxing there you feel like you are out of the city, yoga works has the best prenatal classes, skin worship spa for a facial.
You moved from NYC to LA during your pregnancy, how did it affect your routine?
LA is a completely different pace of life, I'm much more relaxed and happier to be pregnant here, NY will always be my home , but it's just stressful and I love to be able to walk down to the beach and go for  a "pregnant' walk its just much easier.
Have you started shopping yet for baby?
I did! My baby room and everything else has been ready for a while! Everything we got is completely toxic free and chemicals free which was really important factor in choosing them.
You had quite amazing baby shower, can you tell you more about it? What was the best part?
Honestly didn't plan on such a big production baby shower , but when I ask my friend Erica to do it she took it really seriously and organized the cutest shower ! We had a yoga and meditation class to start with, then we made cakes with LADUREE which was so fun and cute , then we had lunch picnic and pool time!
What was on the top of your Babyshower Gift List?
It's really hard to choose, but if I had to chose, getting little baby newborn clothes is the cutest thing! Also I was very exited about my ELVIE pump and my Cybex stroller.
What are you most looking forward to in becoming a mother?
I'm looking forward to new chapter of my life and into stepping into unknown of bringing new life to  this world.
What makes you the most nervous?
I am definitely nervous about being a good  mother and riasing my kid to be good person.
x
Subscribe
Receive all things Romy & The Bunnies direct to your inbox. Don't worry – you information is secret safe with us!